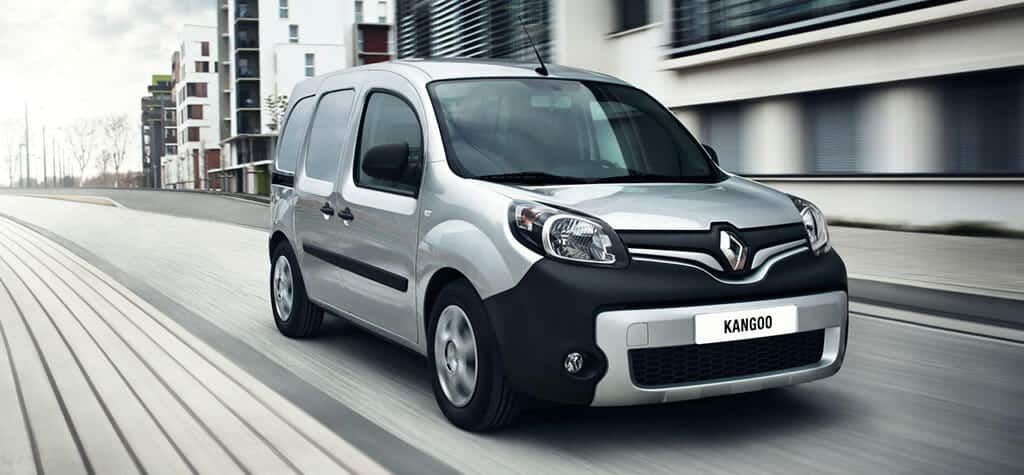 The Renault Kangoo Refrigerated Van is a modern and reliable commercial vehicle that's great for a wide range of business uses.
The Kangoo Van is the perfect vehicle for any small business on the go, and with features such as a high roof and tailgate door, plenty of storage, fuel-efficient engines and standard equipment that's designed to help you make the most out of your day; you'll agree it's a solution that works.
This Renault Kangoo Refrigerated Van is a popular compact van in Europe, but it hasn't yet won the UK market, especially when compared to heavyweights like the Citroen Berlingo and Ford Transit Connect.Nonetheless, Renault boasts that the electric version is Europe's best-selling electric LCV.
Can the new Renault Kangoo Van be fitted with a freezer compartment?
The Kangoo Van can be fitted with a freezer compartment to transport chilled goods. The light commercial Kangoo Van is positioned as the ideal replacement for campervans, minibuses and entertainment vehicles. It's comfortable, practical and has all the space you need for your gear.
Renault Kangoo Van Refrigeration Systems
Today's market has a wide range of refrigeration systems to choose from. The temperature inside the Renault Kangoo refrigerated van can range from 30 degrees Celsius to minus 30 degrees Celsius for products that require freezing storage. While most businesses only require one loading compartment, many require two (or even three) loading compartments, allowing them to transport two or three products at different temperatures at the same time.
Our Refrigerated/Freezer Van Insulation Options
The type of insulation employed will have much impact on the Renault Kangoo freezer van's internal temperature. There is no better insulating material than Styrofoam. It's not only very light, allowing you to carry a bigger weight, but it also provides excellent thermal insulation.
We utilise it in all of the vehicles we supply. The thickness of the insulating Styrofoam will vary depending on the desired temperature. For chilled compartments, Glacier Vehicles commonly utilise 50mm Styrofoam. We use 75mm Styrofoam for freezer compartments and an extremely thick 100mm Styrofoam insulation for the deep freeze.
A protective 'finish' will be applied after the insulating material has been put. This can be done in one of two ways: wet-lay or dryline. We believe that wet-lay is the most effective way, particularly for transporting food. A resin is applied to the interior of the compartment, which cures to form an impenetrable covering on top of the insulating material.
What makes the new 2022 Renault Kangoo Refrigerated Van so special?
Plenty, to begin with, including a completely new design. Its bold front end and stunning headlights with C-shaped LED daytime running lights to look like they came directly from Renault's passenger car lineup.
There's also a new cab, as well as some clever loading features. One of the standout features is the sheer level of driving tech available – the Kangoo can be equipped with up to 20 ADAS (advanced driver assistance systems).
These include both standard technologies like autonomous emergency braking and more unusual ones like a semi-autonomous driving mode for automatic cars that can handle both steering and speed in highway and traffic jam situations.
Renault Kangoo engines
The new Kangoo is available with eight different front-wheel-drive engine options. However, it is unclear whether all of them will be offered to UK purchasers at this time.
There's a 1.3-litre turbocharged petrol with 100 or 130 horsepower, or a 1.5-litre turbo diesel with 75, 95, or 115 horsepower. Both the 130hp petrol and the 95hp diesel are available in 'Ecoleader' efficiency options.
All manual transmissions are six-speeds, as opposed to the five-speeds seen on many competitors. The 130hp petrol, as well as the 95hp and 115hp diesel, come with a dual-clutch automatic transmission.
The all-electric Kangoo E-Tech, which replaces the existing – and bestselling – Kangoo ZE, employs a 75kW (about 100hp) motor and 44kWh battery pack to give a stated 165-mile range.
What is the driving experience?
The fact that this small van has keyless entry and start is the first surprise. But once behind the wheel, you'll notice a low, car-like driving position that's more akin to the new Volkswagen Caddy Cargo than the taller Citroen Berlingo van.
The 1.5-litre 'Blue dCi' diesel engine in the new Kangoo was put to the test, with a power output of 95hp. It's an acceptable combo when paired with a slightly stiff six-speed manual gearbox. It's a well-tuned engine, albeit a little suffocating.
The Kangoo's steering is light and precise, and visibility is good – though it's difficult to assess from an LHD test vehicle – and we can see this being a particularly good small van for city users.
When you get onto quicker routes, the smooth engine is immediately drowned out by wind and road noise, just like the Caddy. At high speeds, it feels comfortable and steady, and the adaptive cruise control works well while remaining a novelty on a van.
Interior and cabin
The Kangoo's cab cues Renault's passenger car lineup, but with a few twists. In general, though, nicking parts from the Clio and Captur production lines has improved the Kangoo's interior to make it an enjoyable place to sit.
Although Renault claims to have the most shoulder and elbow room in the class, long-legged drivers may find it difficult to adjust their seats far enough back to be comfortable.
The cab has plenty of storage possibilities, including an open tray at the top of the dashboard, a covered cubby behind the gauges, and plenty of space in the centre console for models with a single passenger seat.
Our LHD model had a huge glovebox, but this isn't always the case in RHD (right-hand drive) regions, where it has to compete for space with the fuse box.
Renault has fitted the Kangoo with its mid-tier infotainment system, which, while a touch clunky in function, is usually easy to understand. It's certainly easier than the VW Caddy's – and is complemented with very basic physical climate controls underneath it. Apple CarPlay and Android Auto are also included.
Is it worth it to buy a new Renault Kangoo Refrigerated Van?
The Kangoo van is stylish, easy to drive, and has a payload capacity of up to 1.0 tonne (which is comparable to the best vans on the market). It also comes with a dazzling variety of safety features.
Whether you're looking to help out with a big project or just need something to carry all your groceries home in, this van has you covered. The new Renault Kangoo Van is designed as a workhorse, but it also offers a comfortable ride while you're on the go.
Contact Glacier Vehicles today for your Renault Kangoo refrigerated van
Do you have a business that needs to keep its products refrigerated while on the road? Then you need a reliable and trustworthy refrigerated van, like the stunning Renault Kangoos available at Glacier Vehicles.
From small to large refrigerated vehicles, Glacier Vehicles can offer you a new Renault Kangoo Refrigerated Van. These vans are ideal for any business looking to transport food and drink to their customers.
Glacier Vehicles are here to help. We sell and lease a range of high-quality refrigerated vans to suit any need. To find the right van for your business, call us today on 0208 668 7579