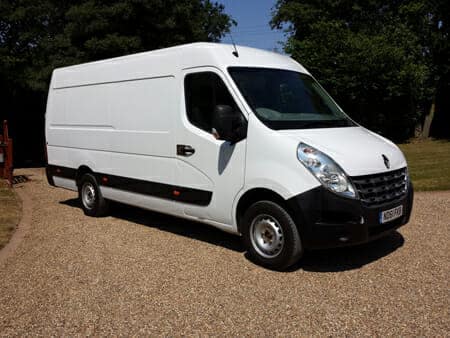 Having just hit the refrigerated vehicle market, the totally re-vamped and re-ignited Renault Trafic is going to battle it out with the Ford Transit Custom and the results should prove to be interesting, given the quality of both of the vehicles.
Loading area/space
With two different heights — the newly debuted height variant — and two different body lengths for you, the 2015 Trafic refrigerated van is 210mm longer than its predecessor and has a lot more space. Load cubes come in from 5.2m³ (L1H1) to 8.6m³ (L2H2) and a hatch in the bulkhead means that items with a length of 4,150mm can be accommodated in the long-wheelbase. You can get 16 to 18 load tie-down points, which are standard issue depending on which temperature controlled model you are going for.
Load length in this refrigerated vehicle comes in 2,537mm (L1) or 2,937mm (L2) with capacity width of 1,662mm, falling to 1,268mm between the wheel boxes. Load height is 1,387mm (H1) or 1,898mm (H2) and rear-loading height is 552mm in all models.
Gross payload capacities go from just shy of 1,100kg to nearly 1,250kg depending on which version chosen, and the newest Trafic is capable of towing a braked trailer grossing at up to 2,000kg. Realizing that many operators will want to harness this ability, the 2015 Trafic refrigerated van can be tailored to your needs with Trailer Swing Assist. If the trailer starts to run wild, emergency breaks are applied in such a way that the should almost immediately cease.
A good refrigerated van driving experience?
For a robust model designed to safely transport refrigerated cargo, the Trafic rode and handled smoothly, with a gearchange fared much better than all of its prior models.
There are a few dimensional issues in the cab interior that definitely needed addressing, such as the lid on the compartment on top of the fascia adjacent to the passengers seat simply didn't fit properly. This could be seen as clasping at straws; these issues definitely did not detract from a great experience driving a new van that impressed the more and more it went on.
The revamped cab interior doesn't grip you straightaway like the Transit does, and its digital speedometer was just aesthetically confusing. However, there are a few positives. These include a state of the art blind spot mirror, which, though initially tricky getting your head around, works well dense urban areas and might just save a few cyclists! However it gives off a slightly fuzzy image, which can make drivers feel pretty ill if drivers stare at it for prolonged periods of time. This happens often; as drivers of refrigerated vans know, safety is of paramount importance.
In conclusion:
Despite one or two nit-picky criticisms, is a well thought-out and well-executed refrigerated van, unlikely to disappoint. It has great green credentials, drives well in all areas, and has excellent temperature controlled storage space. However, Its only massive drawback can't really be helped. There is just no beating Ford's all round world beating Transit Custom.