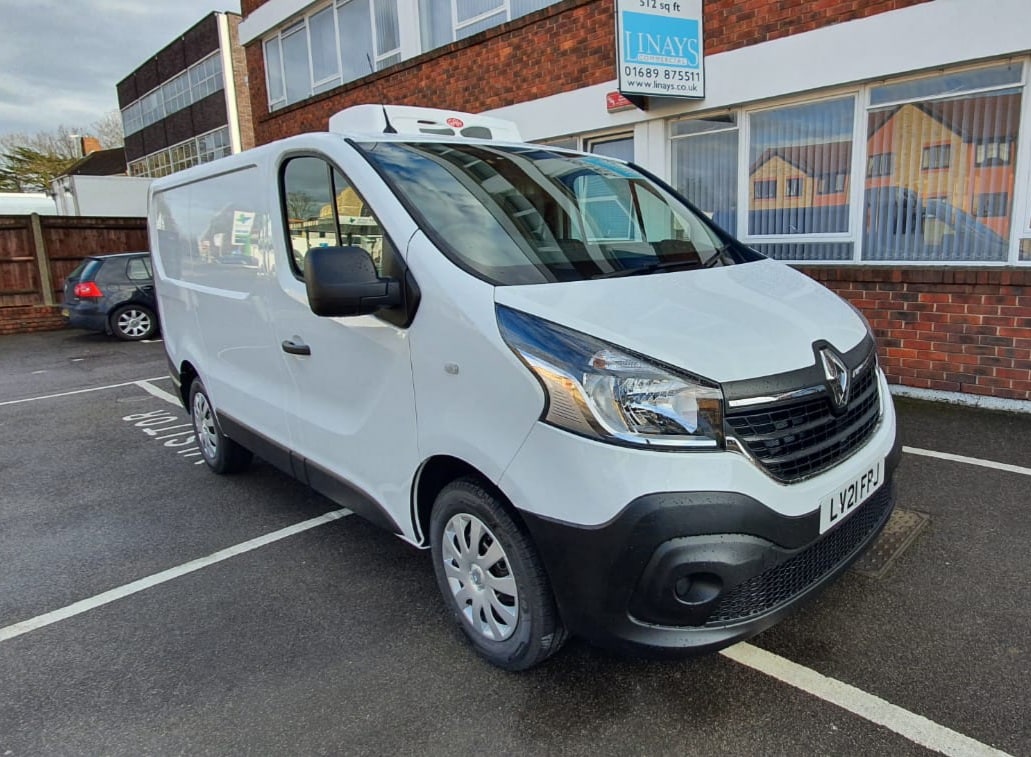 The Trafic is a versatile, comfortable and well-equipped cargo carrier that has been on the market for over 40 years. When it was first introduced in 1980, the Trafic created a stir in the commercial vehicle market, and it is still one of the best-refrigerated van options available.
The engine is powerful, the cargo is substantial, and the inside of the driver's cab has been beautifully built, as is typical of Renault.
A success story for the French automaker, it has sold more than 45 million units since its launch in 1980. It has become a popular choice for families who want a larger vehicle but don't want to spend too much on fuel.
The new 2022 model boasts a host of changes including an updated design and features that make it more appealing than before.
Can You Use the Renault Trafic as a Refrigerated Van?
The Renault Trafic 2022 is a van that can be used as a refrigerated van. It is a commercial vehicle, which means that it has been designed with features that make it easy to use in the business world.
The vehicle can be fitted out with special equipment for temperature control so that it meets the requirements of your business. For example, if you are transporting meat or other food products then your Renault Trafic can be fitted with a refrigeration unit so that everything stays cool during transport.
The Renault Trafic is not just a refrigerated van, but also a workhorse. This means that the vehicle has been built to last and can be used for many different purposes. The Renault Trafic is available in various body styles and can be adapted to suit your needs.
Renault Trafic Van Refrigeration Systems
There are several refrigeration systems to choose from. The temperature in the Renault Trafic refrigerated van can range from 30 degrees Celsius to minus 30 degrees Celsius for products that require extremely cold storage.
Although the most usual configuration is for a single loading compartment, there are times when a refrigerated van will have many compartments, each with its own temperature. Some refrigeration vans must operate even when the engine is turned off completely. Alfresco serving of chilled food at weddings, festivals, and other outdoor events is a typical application for this type of Renault Trafic refrigerated van.
They'll need to use a backup power system if this is required. This allows the Renault Trafic refrigeration van system to be powered by a regular single-phase or three-phase external power source, eliminating product spoilage.
Glacier Vehicles obtains equipment from all of the most recognised Renault Trafic refrigeration van equipment suppliers, and we are happy to create a custom system to meet your specific requirements.
Engines & Specifications
The headline news for the Renault Trafic is the addition of a new 2.0-litre dCi engine unit, which uses variable geometry turbocharging to develop more power and (more significantly) better low-gear pull under heavy loads.
The new 2.0-litre engine produces 109hp to 167hp at 1500rpm and 300Nm to 380Nm of torque between 1,500 and 2,500rpm, which makes it the most powerful diesel in its class. The dCi 110, dCi 130, and dCi 150 all have certified WLTP values of up to 40.9mpg, compared to 39.8mpg for the previous dCi 120. The dCi 170 comes in second at 40.4mpg, while the 150 and 170 engines can get up to 39.8mpg when equipped with an automatic transmission.
The other significant change concerns the manual transmission option. If you want to save money on fuel costs and reduce CO2 emissions further, Renault offers a manual gearbox with six forward gears instead of five. The new manual gearbox has been designed in collaboration with Getrag and helps improve fuel economy by up to 6%.
It also comes with Stop/Start technology as standard which should help further improve fuel efficiency when driving in traffic or at low speeds.
Performance and Driving
The Trafic offers better than average performance for its size.
The diesel engine is smooth, refined and powerful enough to make overtaking easy.
The Trafic's ride is comfortable on most roads and its handling is good around town, but it can feel unsettled on bumpy roads due to its tall ride height, which can put pressure on your backside over sharp bumps.
The Trafic's cabin is spacious and practical with plenty of storage space that can be accessed from outside the car via sliding doors at the sides and rear of the cabin (these doors also allow access to the load bay). The seats are comfortable even on long journeys thanks to their supportive bolsters, while they're adjustable too so they can be made more comfortable if needed.
Inside The Renault Trafic
The interior design of the Renault Trafic is modern and functional. The dashboard features a large instrument cluster with a digital display and an infotainment touchscreen. The new instrument cluster display features an 8-inch Easy Link display in the centre of the dash on all models save the entry-level vans and a 3.5-inch monochrome screen or a 4.2-inch colour display on Sport versions.
The front seats are comfortable and spacious enough for tall passengers. The back seats also offer good legroom, while the split rear seatbacks fold down to create more cargo room.
Are Renault Trafic Vans Good?
Renault Trafic Vans are one of the most popular refrigerated vans on the market, but are they good?
If you need to move chilled goods around, then a refrigerated van is the best way to do it. These are usually vehicles with space for up to 6 Euro pallets or so and plenty of room for your belongings too.
There are many different types of refrigerated vans available, but it's hard to think of one more iconic than the Renault Trafic. The French manufacturer has been making these vans since 1980 and they have been a staple in many garages across Europe ever since.
How Many Miles Is a Renault Trafic Good For?
The Renault Trafic has a service interval of every 24,000 miles or two years. This means that when you have reached this mileage, the car needs to go into the garage for maintenance and servicing.
The service includes checking all around the car and making sure that everything is in good working order. This includes checking fluid levels, tyre pressure and everything else that keeps your car on the road.
Overall Verdict
The Trafic is a great choice for families and small businesses. It's spacious and has plenty of power.
With a huge range of configurable seats, it's also a great way to carry lots of people or goods.
The Trafic comes with plenty of safety features as standard, including front and rear parking sensors, electronic stability control and automatic emergency braking.
It also has a low list price and high residual value – so you'll get some money back when you come to sell it.
One of the great things about the Renault Trafic 2022 is that it can be retrofitted for any business needs, including converting it into a refrigerated unit for businesses that require temperature control when moving goods from one place to another.
If you are in the market for a van for your cold business and want something that is easy to drive, easy to maintain, and refrigerated, then our stock of Renault Trafic here at Glacier Vehicles may be just what you need.
Get in touch for expert advice and we will help you make the best choice for your business needs. Call +44 20 8668 7579 today.