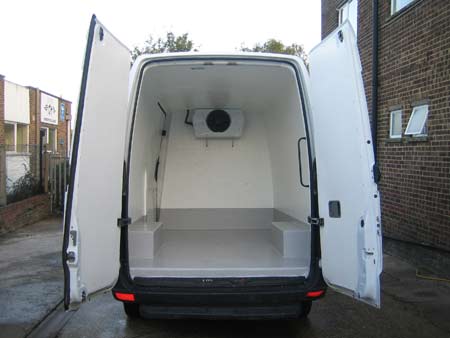 Mercedes vans remain some of the most popular choices for anyone needing to transport frozen or refrigerated goods. With some new additions and special features however, each of these 4 vans have something a little extra and even more exciting to offer than ever before.
Mercedes Citan
The first van from Mercedes to compete with the smallest models available on the market, The Citan brings great Mercedes design to a compact package. Different versions feature different lengths to pair with its extra long wheelbase, making it useful for urban and long-range delivers.  The most compact can still fit an impressive 2.3 cubic meters with the longest holding up to 3.8 cubic meters—meaning the potential of 735kgs of payload with a relatively small space. That's good news for a lot of smaller, city-based companies wanting to get as many deliveries in as possible. The engine is variable as well coming in 75bhp, 90bhp, and 100bhp. There is also an added option of the BLUEefficiency package, which will bring down fuel consumption through stop-start technology, brining the amenities of Mercedes classic, respected larger vans to an urban-friendly size.
Vito Freezer Van
The Vito brings the considerable size and luxury of Mercedes passenger cars to medium sized freezer vans, along with quite a few customizable options. Three lengths: compact, long, and extra long mean load volumes from 5.2 up to 7.3 cubic meters a substantial difference that should help the Vito accommodate a variety of users. It also features easy loading by sitting low to the ground and two rear doors, and a design that allows for a pallet to sit sideways between the wheel arches. Safety is of course a primary concern and the Vito comes complete with electronic stability programs, brake force distribution, automatic skid control, and an adaptive brake light. Also standard with the Vito is the ASSYST service computer alerting drivers to any potential service needs and an incredible 36.2mpg fuel economy. A safe bet for anyone looking for an excellent freezer van.
Sprinter Freezer Van
Often considered to be Mercedes' best commercial vehicle, the Sprinter has earned a well-deserved reputation that continues with the latest versions. Perhaps the most fuel-efficient van of its size, Sprinters with the Blue Efficiency package come equipped with power steering, low rolling resistance tyres, a gear shift indicator, and intelligent start-stop technology. These features allow the Sprinter to offer drivers up to 17 cubic meters in the largest variation while still getting 33 MPG. Smaller versions pick up right where the Vito leaves off offering 7.3 cubic meters, a much smaller cargo but still made impressive with the long list of extra features available. Also like the Vito, you can choose to have an ASSYST service computer in your sprinter, but it will come with the added advantage of Adaptive ESP electronic stability program, which regulates a speed limiter and an electronic engine immobilizer. These extras make the Sprinter one of the most efficient and advanced large freezer vans on the market today, perfect for business owners looking for the top of the line.
Refrigeration and Mercedes Vans
Once you've chosen a van that's perfect for your needs, the customization doesn't stop there. For each of these great vans, Glacier offers refrigeration equipment ranging from 30C to -30C depending on the particular cargo you wish to transport. We also offer Styrofoam insulation products that can be tailored to whichever Mercedes Freezer van you've chosen. Just like you expect incredible, reliable performance from your Mercedes engine, you can expect excellent service and unbeatable workmanship from our engineers. Our team will work with you to get the perfect refrigeration to match your van and your specific needs. Additionally, all of our refrigeration work comes complete with a 12-month manufacturers warranty guarantee on every product. You'll want only the best for the Mercedes van you've chosen and we are here to supply it.