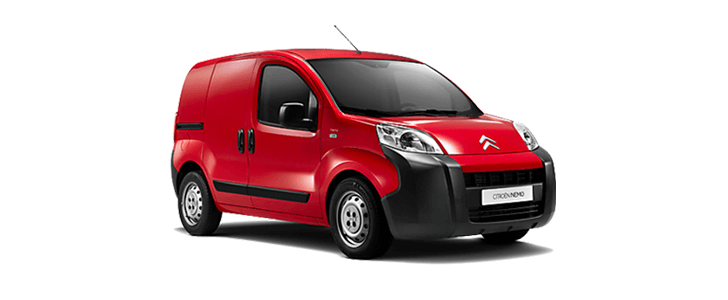 A compact van like the Nemo is hard to pass by, especially for a refrigerated business looking for something efficient, but affordable. Driving the Nemo feels like driving a car; meanwhile, its reasonable fuel economy is another notable plus point.  In addition to good fuel economy, it is relatively cheap and easier to navigate around the UK's streets than a full-size panel van. We like the Nemo, as it offers more space whilst offering the same advantages as supermini vans like the Vauxhall Corsavan and Ford Fiesta.
Citroën Nemo Freezer Van 2018: Driving and Performance
The Nemo drives like a car, because it's based on one – the Fiat Punto. It handles well and has a light power-assisted steering. However, the suspension is bouncy and stiff, which doesn't make for a particularly smooth ride. It also has a high load capacity of 660kg and a short wheelbase, making it easily thrown off by bumps and potholes. At motorway speeds, the Nemo can cruise easily with low mechanical noise, since the diesel engine pulls well.
Citroën Nemo Freezer Van 2018: Load Space and Practicality
As standard, the Nemo's driver's seat has a ladder-type bulkhead behind it and two unglazed asymmetric rear doors. You'll have a number of options to choose from when it comes to the bulkhead. The standard Extenso folding passenger seat can be used with an optional folding-cage-type bulkhead to provide extra protection for the driver when the load area is extended on the passenger side.
You can extend the length of the load area to 2,491mm from 1,523mm by lowering the passenger seat and locking it in place. Otherwise, the seat can be used as a table for the driver. While the load space is fairly regular is shape, the width is narrowed to 1,046mm by the rear wheel arches. Citroën offers a load volume of 2.5 cubic metres with this van and that can be increased to 2.8 cubic metres if the passenger seat is folded.
Compared with the Citan Compact, the Nemo offers a load space that's 53mm lower, 13mm wider and 154mm longer. It also allows generous access to the load space, with its 180-degree opening rear doors. While there's also an offside door option, the Enterprise and LX models come with a nearside sliding door as well.
Citroën Nemo Freezer Van 2018: MPG and Running Costs
The Nemo runs on a diesel engine badged HDi 80, which is powered by a 79bhp 1.3 MultiJet motor manufactured by Fiat. It's possible to find fuel economy between the mid-50s to 60mpg by driving carefully. Insurance is between 2E to 4E, while service intervals are set at two years/20,000 miles.
Citroën Nemo Freezer Van 2018: Buying Options
Citroën offers only one engine option for the Nemo. There's no choice of body height or wheelbase either, but there are three trim level options available – those being the Enterprise, LX and X. The Enterprise is the top-spec option, offering an upgraded stereo with Bluetooth connectivity, parking sensors and air condition, as well as electric windows, driver seat height adjustment and remote locking available in the LX.
The X is the entry level option and offers all the basics: a CD player, driver's airbag, ESC and ABS. For some added length in this short van, the passenger seat in all models is foldable in order to extend the load bay's length.
Security
The Nemo is fitted with a transponder/immobiliser and also features remote central locking with deadlocks (though only with the mid-range LX model). To access whatever else is offered in the security kit, you'll have to make your choice from the options list; this includes a vehicle alarm, security meshes for the rear windows and full steel or half-height with mesh bulkhead.