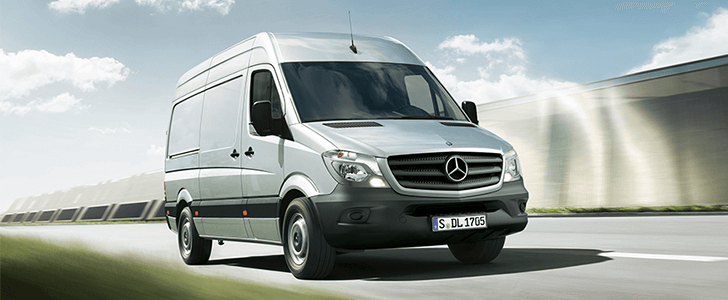 This third generation Sprinter van is the first all-new Sprinter since 2006 and certainly doesn't disappoint. It features the new MBUX infotainment system that Mercedes introduced this year, as well as a classy interior (that will remind you of the E-Class) and a brand new exterior design. It is a perfect addition for all freezer businesses. For our eco-conscious customers, the eSprinter is also available; this is an electric variant, which has a range of approximately 100 miles, powered by a 41.4 kWh battery pack.
Mercedes Sprinter Freezer Van 2018: Load Space and Practicality
Mercedes have designed the Sprinter to have a maximum cargo volume of 600 cubic feet or 17 cubic metres and can carry 12,125 pounds or 5.5 metric tonnes, which of course is highly impressive. For almost limitless access, cargo models are fitted with sliding doors, which are wide enough to take a standard shipping pallet, as can the rear access. You can fit just about anything, from moveable pallet supports to metal panelling and plastic flooring.
There's no limit to how you can have the Sprinter configured, as it's offered in over 1,700 variants, with different options such as the trim, roof height, payload capacity, drivetrain option, body length, and cab. It's merely a matter of letting us know your needs, for which Glacier Vehicles will find you a highly customised freezer van that's ideal for your business.
Alongside four-wheel drive (4WD) and rear-drive (RWD) layouts, there is a less expensive and lighter front-wheel drive (FWD) version, which is something of a first. Engineers were able to increase the FWD's payload by 50kg and lower its floor by 80mm by removing the heavy driveshaft.
Mercedes Sprinter Freezer Van 2018: Engine
There are six and four-cylinder turbodiesel engine options available, as well as a four-cylinder gasoline engine. The e-Sprinter is equipped with a 41.4 kWh battery, offering a range of 100 miles or so. You'll have options for both manual and automatic transmission, while the 4×4 version will be sold with Mercedes' off-road tyres, lifted suspension and 4WD powertrain. Most Sprinter versions are expected to feature rear-wheel drive.
These are not the only options available, as there's a heap of other engine choices you can make. Most are designed to use a 'reworked' OM 651 2.1-litre diesel, available in various tunes, ranging from 130kW/400Nm to 84kW/300Nm. If you choose the RWD, you'll have the option of a seven-speed auto or six-speed manual. Also, you can expect a quiet drive, as the Sprinter has considerably lessened vibrations and clatter.
Mercedes Sprinter Freezer Van 2018: Interior
Many of the controls and switches in the Sprinter van are used in the E-Class, as well as the vents made in turbine style. As well as boasting a sleek look, there's a good serving of cutting edge technology as well. Meanwhile, the optional MBUX (Mercedes-Benz User Experience) infotainment system is designed to work with voice recognition.
Mercedes Sprinter Freezer Van 2018: Safety and Infotainment Tech
The Sprinter has an optional 360-degree camera system, which can make it much easier to drive in tight spots. You can even enjoy 3D mapping with the 10.25-inch HD screen. The gauge cluster has a full-colour information screen, which offers directions from the navigation system, audio info, vehicle parameters and computer.
There are other optional safety equipment, such as Mercedes' Crosswind Assist, pedestrian detection and Blind Spot Assist. Automatic emergency braking and adaptive cruise control are just two autonomous safety features with which the van is equipped.
In addition to talking to the robot assistance like you would Siri or Alexa, there are also Cloud-based updates available and – as you might expect – an LTE-capable internet connection. Other cool tech features include rain sensors, memory seats, keyless start, parking pilot, lane assist, 230V power sockets, speed-sign recognition, live traffic updates and a Qi wireless smartphone charging pad.