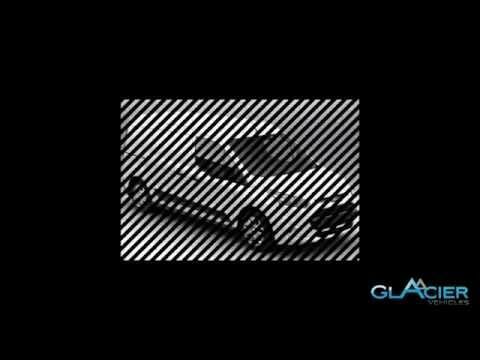 The Mercedes Citan is the smallest refrigerated vehicle in the Mercedes line up, and is generally regarded as one of the best small vans available in the UK market. It is often used as a refrigerated van for urban deliveries and reasonably short journeys.
The Citan is a fairly versatile refrigerated van, with a range of different sizes available. The smallest Citan, the Compact, has a refrigerated cargo carrying capacity of 2.3 cubic meters, while the largest version can pack away 3.8 cubic meters. The factor that sets the Citan apart from the competition is the width of the cargo bay. It has been very cleverly designed so that a standard sized pallet can easily fit between the wheel arches. While it may not be quite as long as some competing vehicles, this extra width is incredibly useful if you use pallets in your deliveries. The smallest Citan can haul cargo weighing 330kgs, with the largest Citan capable of moving 735kgs of refrigerated goods.
Loading the cargo bay is fairly easy. Buyers can choose between twin rear doors or a tailgate, and there is also the option of sliding doors on either side if you need access to the back of the refrigerated compartment. These doors are incredibly useful if you have to load and unload in the urban environment, especially if you are delivering refrigerated goods to retail locations.
There are several different engines available in the Citan. All of them are 1.5 liter diesels, and they all have the same reliability and fuel economy that Mercedes are renowned for. You can choose between 75bhp, 90bhp and 110bhp power outputs. The larger two engines come with a six speed gearbox, which can make this refrigerated van more useful while driving over long distances. Unless you need to move a huge amount of refrigerated goods, the 75bhp model will be the best for urban deliveries.
Mercedes have made fuel economy a priority when designing the Citan, and the engine has plenty of innovations to keep fuel consumption as low as possible. The Citan achieves a fuel economy of 65.7mpg, which is a very impressive figure that can be further improved if you choose to add the Mercedes BlueEFFICIENCY package of fuel saving innovations. This is included on the largest engine Citan model as standard, but will costs slightly extra for drivers of smaller Citans. On the whole though, this is an initial investment that will pay dividends in reduced fuel consumption, especially if your refrigerated van will be driven in the urban environment.
The interior of the cab is well designed, and all the controls will be extremely familiar to Mercedes drivers. As you'd expect from Mercedes, the finish is great throughout the interior. The gear change stick is mounted on the dashboard, which is an extremely ergonomic design that makes long journeys much easier. The driver's seat is adjustable, so drivers of all heights will be able to find a good driving position. Overall, the Citan makes a great refrigerated van, whether you choose the smallest version or the largest one.
New Mercedes Vehicles
USED Fridge Vans In Stock by Size
Mercedes Citan Van Refrigeration Systems
There is no shortage of refrigeration systems available to pick from. Temperatures inside the refrigerated van vary dramatically, from a moderate 30c for merchandise which should be kept room temperature in the height of summer, to arctic conditions of minus 30c for exceptionally volatile products which require very cold temperatures. Some Mercedes Citan freezer vans possess a variety of different compartments kept at differing temperatures. There can be two, and some even have three, although the most frequent arrangement is simply to have a solitary refrigerated compartment in a single-vehicle. Sometimes the ongoing operation of the Mercedes Citan refrigeration van will undoubtedly be needed even without the engine running at all.For example, businesses who do outside occasions such as weddings and festivals, may have to maintain their produce refrigerated without the motor running. When this is required, we shall need to use a backup power system. The auxiliary electricity supply will generally be an outside source, most generally three phase or single period. This keeps the merchandise cold, even when the motor is not running. We supply a wide selection of products to fit the needs of any customer, and we will happily fit equipment that is specifically configured for your particular uses.
Freezer/Refrigerated Van Insulation
The sort of insulating material used will have just as big an influence on the internal temperature of the Mercedes Citan freezer van as the refrigeration system. We at Glacier Vehicles think there's certainly no better choice for insulation material than Styrofoam. It is not only extremely light, which means you can take a heavier load, in addition, it has incredible thermal insulation properties. We use it in every vehicle we supply. The thickness of the Styrofoam is what establishes the level of insulant. For cooled compartments we use 50mm Styrofoam, for frozen compartments we'll use 75millimeters and we allow the utilization of 100millimeter Styrofoam for deep freezer compartments that will keep a temperature as low as minus 30c. There are two distinct alternatives to 'finish' the insulating material: wet-lay and dryline. We believe that wet-lay is the best method, which is the sole one we use. A resin is applied to the inside of the compartment and left to dry, creating a completely sealed washable coating around the insulant.We value our engineers enormously, and so does the wider engineering community. That is why they have won several awards for their work on Mercedes Citan freezer vans.Another benefit to the wet-lay process is that should the resin become broken by way of pallet loading and so forth, it is very easily rectified back to an as new condition. Dry line is a more innovative method for creating Mercedes Citan freezer vans, but we feel it isn't an improvement to the standard wet-lay coating. It consists of multiple panels that are joined using a sealer, which can degrade and trigger the forming of mould, an enormous danger in the transportation of food.
Mercedes Citan Refrigeration Van Engineers
They help answer any technical questions that our customers have about the Mercedes Citan freezer vans creation process, and they make certain that all of our jobs are completed promptly and within budget. In addition to the fitting the refrigeration systems, our engineers undertake any and all of the bespoke requirements our clients have.
Van Warranty
It doesn't matter whether you are purchasing one of our new or used Mercedes Citan freezer vans, all of our vehicle refrigeration conversions use brand-new equipment which comes with a full 12 month manufacturers warranty.Unless otherwise specified by the client, we fit GAH and Hubbard refrigeration equipment as these companies products are of fantastic quality, and their after-sales care is to match. Their engineers will come to any place in the mainland UK to repair any problem, in the unlikely event a problem arises with your Mercedes Citan freezer van.
Glacier Vehicles Video