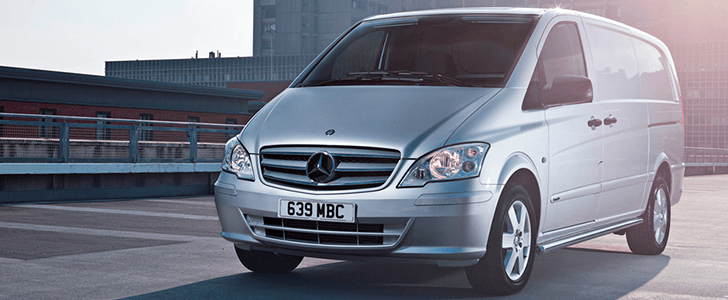 If you're in the market for a freezer van that's inexpensive yet durable enough for your business needs, take a look at the 2018 Mercedes Vito. An entry level freezer van, it features the rugged strength of German technology combined with the practicality that makes it suitable for commercial usage.
The Mercedes Vito freezer van has much to offer business owners, irrespective of their cargo or the nature of their business.
Mercedes Vito Freezer Van 2018: Engine
The Mercedes Vito freezer van is the perfect example of German and French technology. Powering the Vito is a 1.6 litre, Euro 5 single turbo diesel engine from French manufacturer, Renault. Like some of its Renault counterparts, Mercedes Vito comes with a six-speed manual gearbox, powering a front wheel drive. The manual gear is very good, with a light clutch and reasonable shift pattern. The modest torque of 84kW means that you can dart hither and thither throughout the city, without fear of burning up fuel.
These 'under the hood' features are what make the Mercedes Vito freezer van a great-selling product.
Loading the 2018 Mercedes Vito Freezer Van
This van comes in two variants: the short-wheel base and the long-wheel base. The former has a pretty impressive load area and is 4900m in length, 2240mm wide and just under 2m tall. Inside the load area is 1270mm between the tyre arches and a loading length of nearly 2.6m. Certainly, this is sufficient space for any cargo.
The large sliding doors and tailgate at the back makes loading cargo a lot easier, unlike with other rival brand models. Furthermore, you can also enjoy the option of barn doors that open up to 270 degrees, albeit for a little more expenditure.
Driving the 2018 Mercedes Vito Freezer Van
The Mercedes Vito freezer van provides sound ergonomics for both the driver and passenger, allowing for an excellent driving position. It comes with ample seats, light steering wheel (with adjustments), intuitive switchgear, a high driving position and some surprising features, seemingly borrowed from the Mercedes SUV luxury range of vehicles. These include cruise control and window switches – the likes of which add a touch of glamour to this modest freezer van.
The interior of the cabin is top-notch, featuring built-to-last vinyl/hard plastic components and floor. Indeed, this is the type of freezer van that will still look new 10 years on if you can take good care of it.
Cabin Features of the 2018 Mercedes Vito Freezer Van
The dashboard and instrument panel of the Vito 2018 freezer van is a cluster of useful buttons and knobs. The infotainment system is touchscreen, so you'll need to keep your hands clean all the time or wear gloves when handling. Standard features include a 5.8 inch screen equipped with USB/memory card and Bluetooth capabilities, electric windows, air conditioning, cruise control, crosswind assist and an alert system for tired drivers.
The cabin is well insulated from outside noise, so the driver and passenger don't have to shout when speaking. Notably, it is even quieter with the windows up and AC switched on.
2018 Mercedes Vito Freezer Van: Safety Features
The Vito 2018 freezer van comes with the required safety components, such as front and side airbags, driver assistant system, blind spot monitoring, lane departure warning and collision warning. Some of these features are part of the optional add-ons that you can request.
Mercedes is known for a tradition of excellence. Therefore, it goes without saying that the Vito freezer van will make a great transport partner for your freezer business. So, why not fix a test run today? Call us on 0845 5212036 to make arrangements.