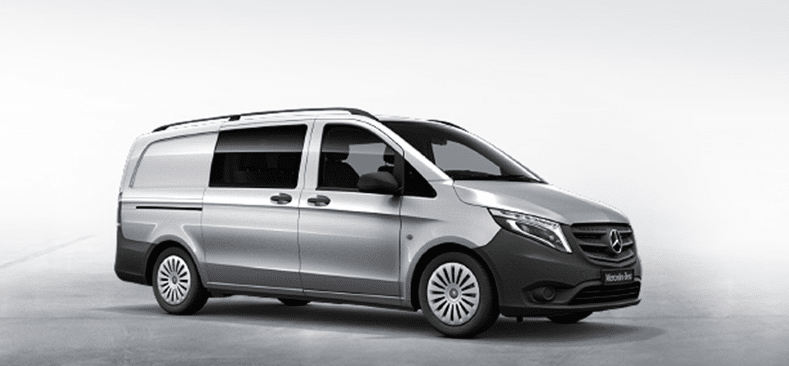 The order books are open for the 2016 Mercedes-Benz Vito Sport in the UK. Prices start at £24,495  for the 116 BlueTEC compact van. Different models will be available; both panel van and crew van versions with compact or long body lengths. There will be three lengths- 4895mm, 5140mm and 5370mm; the maximum height is 1910mm. The different sizes of this mid-size van make it a great option for refrigerated van businesses. When the speed is taking into consideration, it becomes obvious why it would be a fantastic addition to any refrigerated van business. The engines are 116BlueTEC or 119BlueTEC, and are compliant with Euro 6 emission regulations.
The van is built to handle cold conditions like snow and ice, so your refrigerated van business won't suffer during the winter months. With the top model having 190 horsepower this car will fly. Deliveries can now be completed faster than ever; just watch the speedometer to make sure you don't speed. The 7G-TRONIC Plus transmission has the job of transferring all that power to the ground, the combination adds an extra 9 horse power. The six-speed manual transmission is offered as standard.
What's new about this incarnation of the Vito is that it is now 4×4. The new front-wheel drive set up is lightweight and adds that extra traction. To stop, the Vito has powerful disc brakes, which are 16" or 17", depending on the model, in addition to ADAPTIVE ESP as standard.
When it comes to fuel costs this model has a fuel consumption of 36mpg, which is very healthy and will put smiles on faces of many refrigerated van business owners looking to cut down on fuel costs. In 2016, 7 years after the Sport introduction, Sport-X models will be available to further push the boundaries of the concept.
Mercedes have added chrome sidebars and a front grille trim to the van. There is also a unique rear model badge, tinted glass, tailgate chrome trim, colour co-ordinated bumpers and alloy wheels.
Do you run a refrigerated van business that honours night deliveries? When driving at night Mercedes offer the Intelligent Light System (ILS), which allows for fine-tuned control over illumination. There are LED indicators, LED daytime running lamps, LED low-beam headlights and main beams with a special cornering light function.
The Vito Sport is a great addition to the Vito line-up, and brings style and performance to the class. Inside the van is well-equipped for comfort, with air-conditioning, supportive seating and an Audio 15 infotainment system. Sport models have the option to include a Becker MapPilot satellite navigation system, which creates a car-wide ecosystem, connecting the Auto 15 heading and the visual display- which is full colour.
Safety-wise, this van is heavily endowed. There are airbags and seat belt reminders for the driver and passenger as standard. Vito Tourer Pro and Vito Tourer Select models come with window-bag as well as thorax and pelvis side bags in the front of the vehicle.
All in all, the new Mercedes-Benz Vito is an example of a high class vehicle that will be appreciated by all refrigerated van businesses, big and small; a great addition to the fleet, or sole van to depend on.