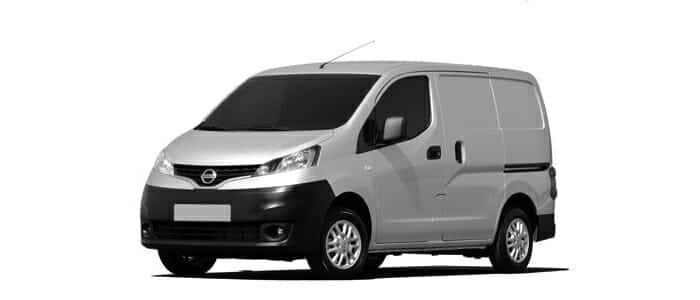 If you live in Britain, or indeed almost any country in the developed world, it's likely that you've seen plenty of Nissan NV200 models cruising around. They are extremely popular for many different uses, with modified models being used as taxis in New York City and, soon, London. They also adapt extremely well to use as freezer vans, particularly in the urban environment. A sizable proportion of urban freezer delivery vehicles are Nissan NV200 models.
Underneath the bonnet, the NV200 has a choice of two different engines, both of which are 1.5 liter diesels. The standard is an 89bhp model, and if you need a bit more of a boost you can go for a more powerful 115bhp output engine. The more powerful of the two engines has a six speed gearbox, as opposed to a five speed on the 89bhp model. This means the 89bhp engine is perfect for urban driving and short hops between towns, but you should really be thinking about the more powerful engine if you plan to open up this freezer van on the motorway. The fuel economy of the NV200 is very respectable, even when you take into account the small size of the freezer van.
The frozen cargo bay is deceptively huge when you consider the small dimensions of the exterior of the van. The load volume is a spectacularly ample 4.2 cubic meters, which is more than big enough for most freezer van urban delivery applications. It's extremely accessible for loading and unloading, with a door on each side included as standard, in addition to the two doors on the back. This type of accessibility is extremely helpful when doing frozen deliveries in built up areas where there may not even be a car park, let alone a proper loading bay. The loading height on freezer vans like this is usually fairly low, but the NV200 is a mere 524mm from the ground, making it the lowest in its class.
The interior of the cabin is extremely comfortable too. This is mostly thanks to the good design and the adjustable steering wheel, but the actual comfort of the seat helps a lot too.  This helps keep a smile on the driver's face even when the vehicle is bouncing around, fully loaded, or going up and down cobbled streets. Also helping driver morale is the fantastic radio and CD player, which is MP3 compatible with Bluetooth connectivity
The standard specification of this freezer van is very generous. Most notable is the addition of a rear view camera, to make parking easier. The driver can see the output of this camera in a small screen on the dashboard. This is a fairly unusual feature to be included in the standard model, and it makes the NV200 even more suitable for frozen deliveries in the urban environment. There's also ABS and EBD braking, an immobilizer, and remote central locking, as well as the aforementioned ICE system.
Overall there are few vehicles more suitable for use as an urban deliveries freezer van.
Used Freezer Vans In Stock by Size


Nissan NV200 Van Refrigeration Systems
A wide range of distinct refrigeration systems are currently available. The temperature inside the Nissan NV200 refrigerated van may differ radically, from highs of 30c right down to minus 30c for products that need extremely cold storage. Many large Nissan NV200 freezer vans have distinct sections which can be kept at different temperatures, although most have a solitary compartment. For specific applications, it'll be crucial to have a refrigeration van that will continue to work-even when the engine is switched off. One common use for this sort of Nissan NV200 refrigerated van is al fresco serving of chilled food at weddings, festivals and other outdoor occasions.In this scenario, a standby facility will be needed. This ensures that the electricity is drawn from a peripheral power source, such as a general single phase or three phase connection, keeping the product perpetually cold through the occasion. We supply a wide range of products to fit the requirements of any client, and we'll happily fit equipment that has been specifically configured for your particular uses.
Freezer/Refrigerated Van Insulation
Selecting the right sort of insulation is vital also. This will work in tandem with the refrigeration system to maintain a temperature which is perfect for your product. We think there's no better alternative for insulation material than Styrofoam. It is not only incredibly light, and that means you can carry a heavier load, additionally, it has incredible thermal insulation properties. We use it in every vehicle we supply. A different thickness of Styrofoam will be utilized for different levels of insulation, with comparatively thin Styrofoam (50mm) used in cooled compartments, moving to 100mm thick Styrofoam for deep freeze compartments.Nowadays there are two main types of 'finish' to the insulation; dry line and wet-lay. In our view, wet-lay is the best method, particularly for transporting food. The interior of the compartment is coated with a resin, which dries to create an impregnable coating on top of the insulation.They are award winning engineers in their own right, and we are very lucky to have such expertise in the Glacier Vehicles ranks! If the finish of resin inside the Nissan NV200 refrigeration van is damaged at any point, it can be fixed incredibly easily. This is another advantage of the wet-lay coating. Dry-line is a more innovative method for creating Nissan NV200 freezer vans, but we feel it is not an improvement to the traditional wet-lay coating. It consists of multiple panels which are joined using a sealer, which can degrade and trigger the development of mould, a big risk in the Transport of food.
Nissan NV200 Refrigeration Van Engineers
They are the ones we all turn to for answers to the many day-to-day questions we get from customers, and they're the unsung (except for this infrequent pat on the back!) hero's in regards to keeping the build process smooth and more importantly, on time for our customers! Our engineers also have the skills to make totally custom refrigeration solutions, tailored for nearly every customer requirement in both big and small Nissan NV200 refrigerated vans.
Van Warranty
It does not matter whether you're buying one of our new or second-hand freezer vans, all of our conversions use brand new equipment which comes with a complete 12 month manufacturers guarantee. We always use GAH and Hubbard refrigeration equipment in both our little and big Nissan NV200 refrigerated vans available, unless you have some particular requirements that these companies cannot meet. We really believe this is the most effective equipment available on the market, plus they have an excellent after sales care service. If any problems occur with the refrigeration compartment in your Nissan NV200 freezer van, these companies will both send an engineer to your location to fix the problem immediately, wherever you happen to be.
Glacier Vehicles Video