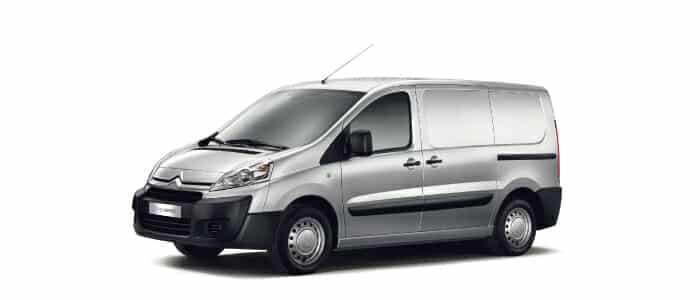 The Citroen Dispatch is a medium size refrigerated van. The main difference between the Dispatch and other commercial vehicles from the French manufacturer Citroen is the low height of the drivers cabin. The cabin is situated at the same driving height as a car, and doesn't require the driver to step up into the vehicle as they would in most refrigerated transports. This can be incredibly comfortable for people who are new to driving commercial vehicles, as the experience has the familiar feeling of driving a car. The steering wheel is adjustable for height as well as reach, and the seat is also adjustable to many different configurations too, which makes for an even more comfortable driving experience.
Despite the low height of the cabin, the Dispatch can carry a significant amount of refrigerated goods. It can handle a chilled payload from 988kgs all the way up to a substantial 1200kgs in the largest, most powerful model.  The short wheelbase model can cope with a maximum load length of 2200mm whereas the longer wheelbase variant can deal with items that are 2500mm long. The refrigerated load bay is accessible from sliding doors on both sides of the vehicle, and the back of the van opens up too for easy loading and unloading.
There's no shortage of power under the hood to carry these refrigerated payloads along. The most powerful model of the Dispatch has a 2.0 liter HDI engine, with a highly respectable 120bhp output, and a 1.6 liter engine with a 90bhp output is available in smaller models. This might not seem like an incredibly powerful engine, but it actually moves along at a good pace and feels relatively powerful when you are behind the wheel.  This also means that it achieves a combined fuel economy of 44.1mpg, which is extremely good for a refrigerated van of this size and can make a real difference to your bottom line.
This Citroen refrigerated vehicle comes with all of the conveniences that you'd expect from a modern vehicle as standard, including ABS with emergency braking assistance, a transponder immobilizer, remote control central locking with deadlocks, electric windows, and an excellent RDS stereo with an MP3 compatible CD player. There is also ample storage space inside the drivers cabin, although not as much as you would find in a large refrigerated van.
The standard specification also comes with an excellent Smartnav satellite navigation system, which is an incredibly useful feature in any commercial vehicle.  Rather than being mounted on the dashboard, the device is removable, so it can be used on foot and hidden away when the vehicle is not in use. It slots neatly into a cradle, so when inside the vehicle it is fully integrated with the van's electronics. This really is the best possible design for a satnav system.
Overall, the Citroen Dispatch is an excellent choice for a refrigerated van. It can easily handle fairly large payloads, and works well for local deliveries or longer distance hauls.
New Citroen Vehicles
USED Fridge Vans In Stock by Size


Citroen Dispatch Van Refrigeration Systems
There are a number of various kinds of refrigeration systems being manufactured. Some products only need to be stored under 30c, whereas other products have to be transported within a Citroen Dispatch freezer van with temperatures as low as -30c. Many large Citroen Dispatch freezer vans have different sections which can be kept at various temperatures, even though most have a solitary compartment. For certain applications, it is going to be essential to possess a refrigeration van that will continue to work even when the motor is switched off.For example, businesses who do outside events such as weddings and festivals, may have to maintain their produce refrigerated without the motor running. When this is required, we will need to use a backup power system. This makes it possible to run the refrigeration van system off a common single phase or three-phase external power source, stopping the product from spoiling.Glacier Vehicles work with all the main refrigeration manufacturers and can provide and fit the necessary fridge / freezer equipment to cover any bespoke requirement our customers have.
Freezer/Refrigerated Van Insulation
Insulation is an incredibly important component in Citroen Dispatch refrigerated vans, and it is this element, when along with the selection of refrigeration system, that will determine the interior temperature of the vehicle. We use Styrofoam insulation exclusively, as we consider its combination of lightweight and thermal insulation properties make it the best material to insulate a vehicle. A different depth of Styrofoam will be employed for different levels of insulation, with relatively thin Styrofoam (50mm) utilized in chilled compartments, moving to 100mm thick Styrofoam for deep freeze compartments.Nowadays there are two main sorts of 'finish' to the insulation; dryline and wet-lay. Wet-lay is the more traditional approach, and one which Glacier Vehicles embrace, because of the undeniable fact that once the 'wet' GRP resin has been implemented and dried, the loading area becomes a 100% sealed, washable and hygienic loading environment. We value our engineers enormously, and so does the wider engineering community. That is why they have won several awards for their work on freezer vans. The internal coating that is created by the wet-lay insulation can be incredibly simple to fix in the event of damage to the freezer van.The main difficulty with the more recent dry-line method of insulation, is that due to this being of a pre fab construction, once the roof, floor and walls have been installed in the back of the panel van, the connecting surfaces of the panels are filled with a sealant which, as time passes, can perish and have cause for condensation to penetrate the insulation itself and cause mould to form, which is never good when carrying food products!
Citroen Dispatch Refrigeration Van Engineers
Most of the credit for ensuring our Citroen Dispatch freezer vans build process runs easily and within time constraints goes to the hard work of our engineers, and they are constantly on hand to answer any client questions. Our engineers will be happy to create something for you, if you are looking to get a bespoke option to your refrigeration vehicle needs, whether you are looking for large or small Citroen Dispatch refrigerated vans.
Van Warranty
Purchasing a refrigeration vehicle from us means you will be given a full 12 month manufacturers guarantee on all equipment. This is because it's brand new, even in our used Citroen Dispatch freezer vans. GAH and Hubbard are our favourite refrigeration equipment producers. In our many years of expertise we've found they supply not only the best products, but also the best after sales service. Until you specify otherwise, we'll use their products in both our little and big Citroen Dispatch refrigerated vans for sale. These companies have technologists all on the mainland UK, and can come to a convenient place for you in the event the refrigeration van has any issues or requirements.
Glacier Vehicles Video