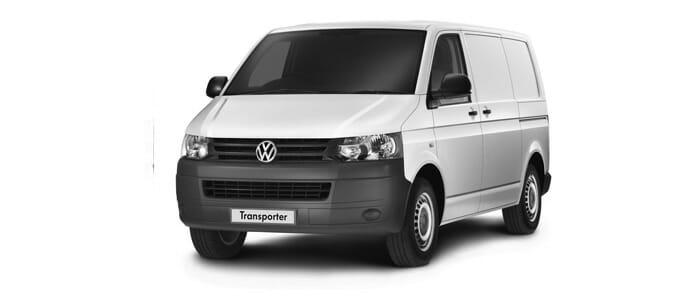 The Volkswagen Transporter is a great place to start no matter what freezer needs a business may have. These cavernous medium freezer vans are ideal for hauling heavy loads. Depending on what a company need, the Transporter comes with both single and double cab chassis varieties. With Volkswagen's range of advanced 2.0 litre TDI diesel engines and BlueMotion Technology, businesses will also be able tosave plenty of cash down the road.
Standard Features of the Transporter
All of the features available with the Transporter medium freezer vans for sale are too numerous to tell list here, but the best parts are: • Two door-activated interior lights • Rear door interior release lever • Thatcham Category 2 approved immobiliser • Manually controlled heating system with dust and pollen filter and air recirculation • Height and rake adjustable steering column • Anti-lock Braking System
Under the Hood
Fuel is one of the biggest running costs and burdens for businesses using used freezer vans these days. To combat this, Volkswagen used their many decades of experience when developing the advanced turbodiesel technology found in the Transporter's 2.0 litre TDI engine range. Compared to previous models, the fuel consumption is reduced by nearly twenty percent. Plus, more power is delivered with the Transporter. In their medium freezer vans for sale, the Transporter's range of engines is led by the 180PS twin turbo 2.0 litre BiTDI unit featuring significant power and torque for heavy loads. The 84PS 2.0 litre TDI is the ideal choice for those who want to put fuel efficiency above all else. And, if a company is looking to cut fuel costs and emissions even more, then the ultra-efficient Blue Motion model of the Transporter is optimal.
Load Sizes
With the Transporter line of freezer vans, there is an array of options that allow enterprises to deliver frozen goods as simply and efficiently as possible. With Transporters that have the optional roof packs, a load height of 1.94 metres and load volume of 9.3 cubic metres can be achieved. In addition, items of nearly three metres in length can fit in versions with the longer of the two wheelbases.
With a low floor height of 566 millimetres, getting cargo in and out is a breeze. Plus, the load will be secured with eight lashing rings available with the longer wheelbase version (and six with the shorter.)
New Volkswagen Vehicles
Used Freezer Vans In Stock by Size


Volkswagen Transporter Van Refrigeration Systems
Many different types of refrigeration systems are commonly used. Some goods only need to be kept under 30c, whereas other products need to be transported inside a Volkswagen Transporter freezer van with temperatures as low as -30c. Whilst most companies need one loading compartment, many businesses require double (even triple) loading compartments, providing them with the capability to transport two / three products at several temperatures simultaneously. Sometimes the continued operation of the Volkswagen Transporter refrigeration van (click here to learn more about these fridge vans!) will undoubtedly be needed even with no engine running at all. One common use for this type of refrigerated van is al fresco serving of chilled food at weddings, festivals and also other outdoor events.In this scenario, a stand-by facility will be required. This causes it to be possible to operate the Volkswagen Transporter refrigeration van system off a common single phase or three phase external power source, preventing the goods from spoiling. We supply a wide selection of products to meet the needs of any client, and we will happily fit equipment that has been specifically configured for your particular uses.
Freezer/Refrigerated Van Insulation
Selecting the proper type of insulation is essential too. This will work in tandem with the refrigeration system to create a temperature that is ideal for your merchandise. The combined light weight and highly thermal qualities of Styrofoam make it the best material for refrigerated vehicle insulation, which is the reason why we use it exclusively in our refrigerated vehicles. A different thickness of Styrofoam will be utilized for various levels of insulation, with relatively thin Styrofoam (50mm) utilized in chilled compartments, moving up to 100mm thick Styrofoam for deep freeze compartments.Nowadays there are two primary types of 'finish' to the insulating material; dryline and wet-lay. Wet-lay is the more traditional approach, and one which Glacier Vehicles adopt, because of the fact that once the 'wet' GRP resin is implemented and dried, the loading area becomes a 100% sealed, washable and hygienic loading environment. Our engineers are so skilled at creating Volkswagen Transporter freezer vans that they have even been recognized in several engineering awards, and we feel extremely proud to have them as part of our company. The internal coating that is created by the wet-lay insulation is also incredibly simple to repair in the event of damage to the Volkswagen Transporter freezer van. Dryline coating utilizes stiff panels that are installed within the Volkswagen Transporter refrigeration vans and then lined with a sealant. We've found that this sealant can sometimes harbour mould, a huge risk in food transportation and the key reason we use wet-line coating exclusively.
Volkswagen Transporter Refrigeration Van Engineers
They are the key members of the team that we refer any client questions to, and they're instrumental in ensuring our Volkswagen Transporter freezer vans are shipped within our customers time requirements. Our engineers are also responsible for our incredible bespoke service, where they will work to develop a system made specifically for your bespoke mobile refrigeration requirements in both big and little Volkswagen Transporter refrigerated vans.
Van Warranty
You will get a 12 month manufacturers warranty on all of our products, no matter whether they have been in our new or second-hand Volkswagen Transporter freezer vans. That is because all of the refrigeration equipment and insulating material we supply is brand new. Unless you have some particular requirements that these companies cannot meet, we consistently use Hubbard and GAH refrigeration gear in both our little and big Volkswagen Transporter refrigerated vans for sale. We actually believe this is actually the most effective equipment on the market, plus they've got an excellent after sales care service.They have engineers positioned throughout great BRITAIN mainland and go to the client's workplace (or wherever the van may be if out on deliveries) for any servicing / guarantee requirements.
Glacier Vehicles Video