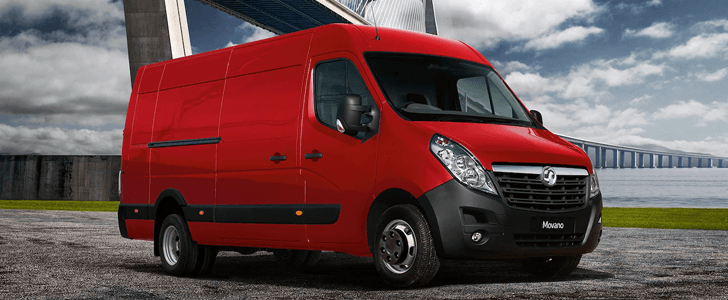 The Vauxhall Movano provides a comfortable driving experience and a variety of silhouettes from which customers can choose. Engines provide four different power outputs, with front-wheel drive and rear wheel drive options, powerful brakes and good traction. The cabin has a solid and simple design, maximised for comfort. A range of safety features are also provided to keep your mind at ease and fully focused on your refrigeration business.
 Vauxhall Movano Freezer Van 2018: Engine
The Vauxhall Movano runs on 2.3-litre CDTi common rail turbocharged diesel engines, with four different power options: 108hp, 125hp, 136hp and 161hp. Each van comes with the standard manual six-speed gearbox, though the 125hp engine comes with the option of a Tecshift automated six-speed gearbox. The Movano offers fuel efficiency at a competitive standard, with figures ranging from 29-41 miles per gallon. This combination of good fuel efficiency and power has kept the Mavano on par with its competitors. Emissions comply with Euro 4 regulations, while a diesel particulate filter can be bought to ensure Euro 5 compliance.
Vauxhall Movano Freezer Van 2018: Body Specifications/Loading Compartment
The Vauxhall Movano comes with a variety of dimensions to fit the needs of your business. There are four different lengths, three different heights, and a full-height steel bulkhead. The width of the van stays at 2.07m, with a load compartment width of 1.76m. However, the height differs, according to the style of the van, with the height of front wheel drives ranging from 2.3 to 2.7 metres; and that of the rear wheel drive ranging from 2.5 to 2.8 metres. The length ranges from 5m to 6.9m across.
The load compartment also has variations in height and length, with a width of 1.77m across all models. Load volume ranges from 8 to 17 cubic metres. Depending on the model, the Movano carries a payload of 994-2254kg, with an estimated gross weight of 2.8 to 4.5 tonnes.
Vauxhall Movano Freezer Van 2018: Cabin
The Vauxhall Movano's cabin features a range of amenities; the driver's seat is multi-adjustable, while the steering column is height-adjustable for a more comfortable experience. Audio controls are placed on the steering column, along with USB, aux line and Bluetooth connectivity. There are many storage compartments in the cab, including an overhead cubby, relatively large glove compartment, door pockets, bottle holders and a few storage boxes.
A pull-out map holder is located in the middle of the dashboard and an optional rotating laptop table attached to a fold-down seat. The driver's seat is fitted with an armrest, while electric windows complete the package, For a little extra expenditure, other options are available to increase comfort, including: air-conditioning, climate control, sat-nav, air-suspended driver's seat and cruise control. While the cabin of the Movano may lag behind some of its competitors, it is a solidly designed cabin with excellence visibility.
Vauxhall Movano Freezer Van 2018: Safety Review
Anti-Braking System (ABS) works with the electronic brakes distribution system, while the ESP-plus monitors traction on the road and adjusts the vehicle accordingly. These two features are standard on all Vauxhall Movano vans. Optional safety features include lane departure warning system, high beam assist, passenger airbags, corner lights, reverse parking sensors and a speed limiter. In the load compartment, Vauxhall provides additional options, such as half-height protective panels, side wall anchor rails and movable partitions, keeping your refrigerated load and insulation system in one piece.
Vauxhall Movano Freezer Van 2018: Security and Reliability
The Vauxhall Movano is a solidly built and durable van. An anti-theft alarm is fitted to the system, with deadbolts as an extra option to help secure all doors.
The oil change interval for the Movano is set at 25,000 miles. Chain-driven CTDi engines help reduce maintenance costs, while the brakes and clutch are designed for long-term use. The van comes with a two-year/100,000-mile warranty, with an overall service life of 250,000 miles.