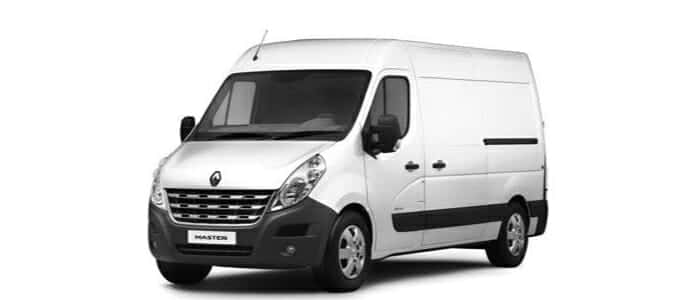 The Renault Master is an extremely versatile van that is suitable for a huge number of different freezer van uses. It has an impressively efficient engine and an extremely ergonomic cab interior.
The Master's engine, an impressive 2.3 litre diesel, is undoubtedly the star of the show. It has clearly been built with fuel economy in mind,
but that doesn't mean there isn't a good bit of power underneath the bonnet. There are three levels of power available: 100bhp, 125bhp and 150bhp. The most powerful engine is capable of hauling a deeply impressive 2254kgs of frozen goods, which is as good or better than any other freezer van available in the UK. The 100bhp model can still manage to move a respectable 1000kgs, meaning that eligible businesses can claim back the VAT on all Renault Master models. The fact that Renault have managed to make such powerful engines so highly economically practical is impressive, even by their engineering standards. The Master achieves a fuel economy of 35.3mpg on the combined cycle. The engine is also reliable, only requiring a service once every 25000 miles or two years.
The Master is available in four different load lengths and three different roof heights. If you are looking for any type of large to extra large freezer van, then there's an extremely good chance you'll find a Master model to suit your needs. The smallest Master can pack away 8 cubic meters of frozen goods, and the longest, highest roof model has a cargo bay measuring 17 cubic meters. A nearside sliding door is included as part of the standard specification, which is an almost essential piece of equipment on a freezer van, especially if you plan to be making multiple deliveries or pick ups and deliveries on the same run. The two rear doors swing open to 180 degrees, which is incredibly practical if you are loading at a loading bay.
The interior of the driver's cabin is one of the Master's greatest strengths. They say that when something is designed well, you don't notice the design at all, and that is certainly the case with the Master. Once you get used to driving this freezer van, it won't strike you how great the design is until you are forced to deal with a different model. Everything just works, and everything is within reach. It all just falls into place, making for a spectacularly comfortable driving experience on long journeys. There's also plenty of storage space, including a fantastic "secret compartment" underneath the passenger seat where valuables can be safely stowed away out of sight.
The Master's standard specification is packed full of great gear. There are ABS and EBD systems, and also a load adaptive ESC, which is a really reassuring safety feature on a freezer van of this size. There are also some slightly more frivolous extras, such as a CD player with MP3 compatibility, electric and heated door mirrors, and electric windows. There's also a Tom Tom live SatNav for unfamiliar delivery destinations.  Overall the Master is a versatile and reliable freezer van. You won't go far wrong with this one.
New Renault Vehicles
Used Freezer Vans In Stock by Size
Renault Master Van Refrigeration Systems
There are numerous various kinds of refrigeration systems being made. Temperatures in the refrigerated van change dramatically, from a moderate 30c for products that need to be kept room temperature in the height of summer, to arctic conditions of minus 30c for extremely volatile products that require really cold temperatures.Whilst most companies require one loading compartment, many businesses require dual (even triple) loading compartments, giving them the ability to transport two / three products at several temperatures simultaneously. For certain applications, it will be necessary to have a Renault Master refrigeration van that can continue to work-even when the motor is switched off. One example is companies that cater outdoor events where frequent cold storage is needed. When this is needed, we shall need to use a backup power system.This provides the capacity to plug the refrigeration system into a peripheral power supply (single-phase or three-phase), keeping their produce cool / frozen for an indefinite interval. Glacier Vehicles source equipment from all of the most reputable Renault Master refrigeration van equipment businesses, and we are very happy to develop a bespoke system for your particular needs.
Freezer/Refrigerated Van Insulation
Insulating material is an unbelievably important component in Renault Master refrigerated vans, and it is this element, when with the selection of refrigeration system, that will determine the inner temperature of the vehicle. The combined light weight and highly thermal qualities of Styrofoam make it the perfect material for refrigerated vehicle insulation, which explains why we use it exclusively in our refrigerated vehicles. The thickness of the Styrofoam is the thing that establishes the degree of insulant. For cooled compartments we use 50millimeters Styrofoam, for frozen compartments we'll use 75millimeters and we reserve the use of 100millimeter Styrofoam for deep freezer compartments that will keep a temperature as low as minus 30c.Nowadays there are two primary types of 'finish' to the insulating material; dry-line and wet-lay. Over the years, we've discovered that wet-lay is the greatest method, and it is the one we use exclusively. It uses a resin to ensure that the inner freezer compartment is completely sealed for safe transport of food products.They are award winning engineers in their own right, and we are very lucky to have such expertise in the Glacier ranks! Another benefit to the wet-lay procedure is that should the resin become broken by way of pallet loading and so on, it is very easily rectified straight back to an as new condition. The principal issue with the newer dry line method of insulation, is that due to this being of a prefab construction, once the roof, floor and walls have been installed in the back of the panel van, the connecting sides of the panels are filled with a sealer which, as time passes, can perish and have cause for condensation to penetrate the insulating material itself and cause mould to form, which is never good when carrying food products!
Renault Master Refrigeration Van Engineers
Most of the credit for ensuring that our Renault Master freezer vans build process runs easily and within time constraints goes to the hard work of our engineers, plus they are constantly on hand to answer any customer questions. Our engineers may also be tasked with producing bespoke refrigeration systems for customer's unique requirements, in both large and little Renault Master refrigerated vans.
Van Warranty
Every single-product and service we sell comes with a complete 12 months manufacturers guarantee. That covers both the insulating material and the actual refrigeration system. Even in our used vehicles, the freezer van conversions are brand new. We believe GAH and Hubbard are the very best producers of refrigeration products, and we have a tendency to use these products in all our small and large Renault Master refrigerated vans on the market unless the customer specifies otherwise. It is because we have found their products to be of exceedingly high quality, and their after-sales service is also excellent. These companies have engineers all over the mainland UK, and will come to a convenient location for you if the refrigeration van has any issues.
Glacier Vehicles Video