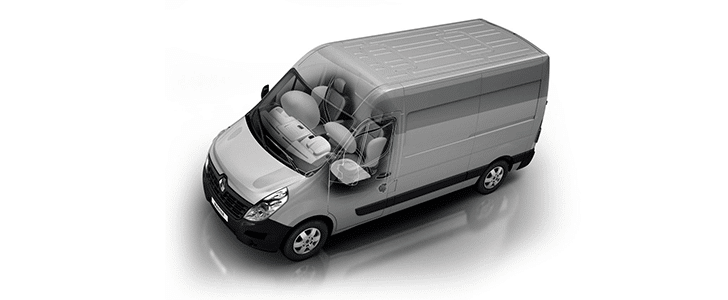 If you're in the market for a freezer van that combines practicability with massive storage and cost efficiency, the new 2018 Renault Master Freezer Van will make for a great choice. The Renault Master range of vans has come a long way since its launch in 2010 to compete favourably with other competitors in the market.
2018 Renault Master Freezer Van compared to previous models
The 2018 Renault Master freezer van boasts many new features not available in previous versions. For one thing, this new model is Renault's debut entry into the battery powered large van range. This conveniently makes the conventional Diesel Engine Master obsolete. Like every other e-vehicle, the electric freezer van has its limitations, but also provides numerous advantages, namely zero emissions and lower costs.
2018 Renault Master Freezer Van: Engine
As Master vans have been around for a while now, Renault took something of a shortcut, rather than build from scratch. From the look of things, it appears that the engine in a standard Master van was replaced with the motor and battery, similar to smaller range Renault vehicles like the Kangoo electric van and other Renault passenger cars. The 77hp electric motor – powered by a 33kWh battery pack -punches out an instant torque of 225Nm, which is adequate for a 1.0 ton plus payload. The 2018 Renault Master freezer van can be charged fully in six hours flat, providing enough juice to cover delivery in most urban cities.
2018 Renault Master Freezer Van: Payload Space
The 2018 Renault Master freezer van has enough cargo space to meet the demands of a regular delivery run. As Renault simply replaced the diesel engine in a regular Master with an electric one, the 2018 model has the same cargo space as the regular Master. The freezer van has a load volume ranging from 8 cubic metres to 13 cubic metres and payloads ranging between 975kg and 1.128kg. The van's loading height ranges from 540mm to 560mm, with swinging doors that open through to 270 degrees.
There are plenty of choices when it comes to the size of your Renault Master freezer van, with a combination of four different lengths and heights, and even a two chassis cab version for those who want to add a Luton conversion, which will extend the load space to a cavernous 22 cubic metres.
2018 Renault Master Freezer Van: Driving Experience
The 2018 Renault Master freezer van provides a very pleasant driving experience. Apart from the environmental benefits of driving a zero emission van, this electric vehicle allows for a more relaxing drive, providing easy manoeuvring in cities and urban areas than its diesel predecessor. This is due in part to its single speed transmission that is common to electric vehicles.
The standard bone-jarring shake associated with driving a large diesel vehicle is absent, and all you'll hear is the gentle whirr that demonstrates you're driving at urban speeds.
2018 Renault Master Freezer Van: Safety Features
refrigerated van businesses can rest easy with the new Renault Master freezer van, as it comes with various security upgrades not found in previous Master models. The fact the van is restricted to speeds of between 50mph and 74mph means that drivers will have to drive safely, whether they like it or not. The large side mirrors afford drivers better visibility, while there's also the standard central locking feature with deadlocks.
2018 Renault Master Freezer Van: Interior
As the 2018 Renault Master freezer van is very similar to the regular Renault Master, there's little difference in terms of the interior. However, one look at the dashboard will show that you're driving an electric van due to the signal clusters that displays battery use.
The rest of the cabin interior remains the same though, with vast amounts of cabin space, lots of storage compartments and a fold down seat-back that converts into a smart desk.
Of all the electric vans, the 2018 Renault Master freezer van is a great choice that provides ample payload space, an ideal driving experience and a very practical driver/passenger cab. Altogether, this is one van that gives great value for money.
Call Glacier Vehicles UK on 0845 5212036 for a chance to test drive this van before buying.