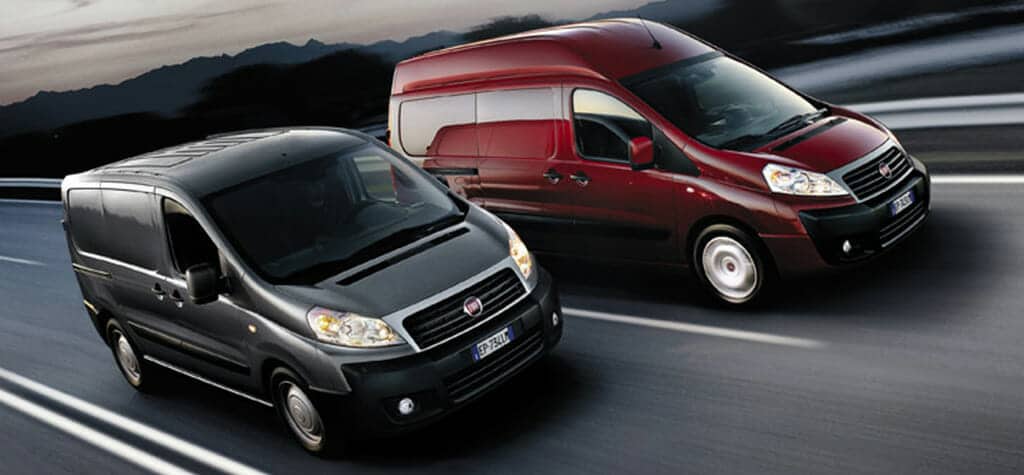 The Scudo is a small to medium-sized panel refrigerated van and was produced by the Italian carmaker Fiat. Production of the original version started in 1996 and it ceased in 2016.
The first series was built as a panel van or passenger van with or without air conditioning, but later a special version for light commercials only was also released under the name "MultiJet".
This new model is unique. The 2022 Fiat Scudo is based on the Citroen Dispatch and Peugeot Expert, just like the preceding mid-sized Fiat van, the Fiat Talento. The Fiat Talento was based on the Renault Trafic, and the Fiat Scudo before it was based on French vans.
Over time, the new Fiat Scudo now shares DNA with the Vauxhall Vivaro and Toyota Proace. The result is five vans in one, but one that is among the best in its class.
Two distinct output engines with a total of four power outputs provide the power. A Fiat Scudo with a 1.5-litre engine producing either 100 or 120 horsepower and mated to a 6-speed manual transmission, or a 2-litre engine producing 145 or 180 horsepower.
The 145hp engine is available with either a manual or an 8-speed automatic transmission, while the 180hp Scudo is only available with an 8-speed automatic.
There's also an electric Fiat E-Scudo with a 205-mile range if you're searching for something a little greener.
Can a Freezer Compartment be Fitted to a Fiat Scudo Van?
There are many different types of vehicles that can be used for temperature-controlled transport, including vans, lorries, and trailers. So, the answer is yes! You can install a temperature-controlled compartment in a Fiat Scudo Van. As a refrigerated carrier, the van has been fitted with a refrigeration unit that can maintain a constant temperature for cold chain transportation.
The system consists of:
Thermal insulation unit
Refrigerant
Evaporator
Condenser
Compressor
Fan
Temperature sensor
Controller
Defrost timer
Heating element
Door seal
Gasket
These features ensure that the right temperature is maintained in one of the van's compartments.
Fiat Scudo Van Refrigeration Systems
There are different refrigeration systems to choose from. The temperature required might range from 8°C to -30°C, depending on the product being carried.
While most firms only require one loading compartment, many require twin (or even triple) loading compartments, allowing them to deliver two or three products at different temperatures at the same time.
The Fiat Scudo refrigeration van must occasionally operate even when the engine is turned off. The Fiat Scudo refrigerated van which is used to serve cold food at outdoor events is the most common example of this. The only way to accomplish this is to use a standby power supply.
This allows them to connect the refrigeration system to an external power supply (single-phase or three-phase) and keep their produce cool or frozen indefinitely.
Glacier Vehicles obtains equipment from all of the most recognised refrigeration van equipment manufacturers, and we are happy to design a system tailored to your specific requirements.
Our Refrigerated/Freezer Van Insulation Options
The type of insulation employed in the Fiat Scudo freezer van will have just as much of an impact on the interior temperature as the refrigeration system. We believe that Styrofoam is the best insulating material available.
It is not only very light, allowing you to carry a bigger weight, but it also has excellent thermal insulation properties. We utilise it in all of the refrigeration vehicles we sell. The thickness of the insulating Styrofoam will vary depending on the required temperature.
We usually utilise 50mm Styrofoam for chilled compartments, 75mm Styrofoam for freezer compartments and an extremely thick 100mm Styrofoam for deep freeze compartments.
There are two ways to 'finish' the insulating material: wet-lay or dry-line. Wet-lay is the best way in our opinion, especially for carrying food. A resin is applied to the interior of the compartment, which cures to form an impermeable coating on top of the insulation.
Fiat Scudo Models
This Scudo refrigerated van, like its predecessors, is available in three different configurations: Van, Crew Cab, and Cab with Platform. There are three trim levels available: SX, Tecnico, and Business. There are two full-EV powertrains and four diesel engines. The Fiat Ulysse, a passenger-carrying version, is also available.
Even the entry-level vehicles come well equipped, including cruise control, a speed limiter, and a DAB audio system with Bluetooth. 17-inch alloy wheels, High beam assist, power-folding mirrors, and front parking sensors are included in the top variants.
How Practical is the Fiat Scudo?
The Fiat Scudo refrigerated van has an overall height of 1.90m, with a normal van height of 5m and a Maxi version height of 5.3m. The Fiat Scudo can now have a 6.6m3 loading bay with a weight of up to one tonne. The Fiat Scudo has a 1-tonne towing capability.
Standard load volumes are 5.3 or 6.1 cubic metres depending on the van's wheelbase, however with the Moduwork load-through compartment, these rise by 0.5m3. This converts the passenger seat into a workstation and a cargo compartment extension.
It also implies that the Maxi version of the vehicle can transport up to 4m lengths. All these make this minivan well suited for outdoor delivery in the Medical supplies industry, Pharmaceuticals industry, Beverage industry or Food industry.
What is the Driving Experience Like?
Everything about this van is recognisable and proven from earlier Stellantis Group mid-sized vans. So, with an EMP2 platform, you may choose between traditional diesel or full-electric power. The 1.5-litre diesel engine comes with either 100 or 120 horsepower and is connected to a 6-speed manual transmission.
A 2.0-litre Multijet diesel with 145 horsepower and either a manual or an 8-speed automatic transmission is also available. This 2.0-litre engine is also available in 180hp form, but exclusively with 8-speed automatic transmission.
If your business has moved on from smoky diesel, the two E-Scudo EV models, both of which employ a 136hp electric motor, will pique your attention. The standard E-Scudo model, which has a 50kWh battery and a range of 144 miles, will satisfy those whose deliveries are mostly urban. A longer-range E-Scudo model with a 75kWh battery pack extends the range to 205 miles.
On the move, drivers will appreciate the car-like driving stance, regardless of the engine. Thanks to load adaptive variable damping shock absorbers, which adjust the damping in response to the vehicle's ride height. The ride quality is excellent.
Camera-based features such as speed limit recognition, lane departure warning, Side Blind Spot Alert, and Driver Attention Alert are available on higher-spec models. There's also an ingenious 'Intelligent Speed Adaptation technology that lets you cruise at a consistent speed.
Fiat Scudo Standard Equipment
The Fiat Scudo comes in panel van, crew cab, and platform chassis cab configurations in addition to the refrigeration unit compartment.
The van also boasts enhanced obstacle notification and frontal collision warning systems. A 180° panoramic rear-view camera is available for reversing.
The Scudo comes in three trim levels, starting with the entry-level SX and ending with the top-spec Business.
The number of safety systems installed in the van has increased significantly. The redesigned Scudo now boasts a total of 14 ADAS (Advanced Driver Assistance Systems).
Automated traffic sign recognition, automatic emergency braking, lane departure warning, and blind-spot alert are among the features available.
Do you want to go off-road? A Grip Control system for gravel, rocks or even snow is available on the Fiat Scudo.
Contact Glacier Vehicles Today for Your Temperature-controlled Vans
Glacier Vehicles is your number one choice if you're looking to buy a temperature-controlled van. We offer a range of temperature-controlled vans which are designed to keep your temperature-sensitive goods at the correct temperature, no matter where you are.
Glacier Vehicles has over forty new and used refrigerated vans in stock at any given moment, all of which are guaranteed to perform to the highest standard from the first day of purchase.
So, whether you're a well-established business looking to expand your fleet of refrigerated vehicles or an individual just starting on their own, Glacier Vehicles will help you assess your storage needs and find a proper vehicle that meets your expectations.
Contact us today on 0208 668 7579