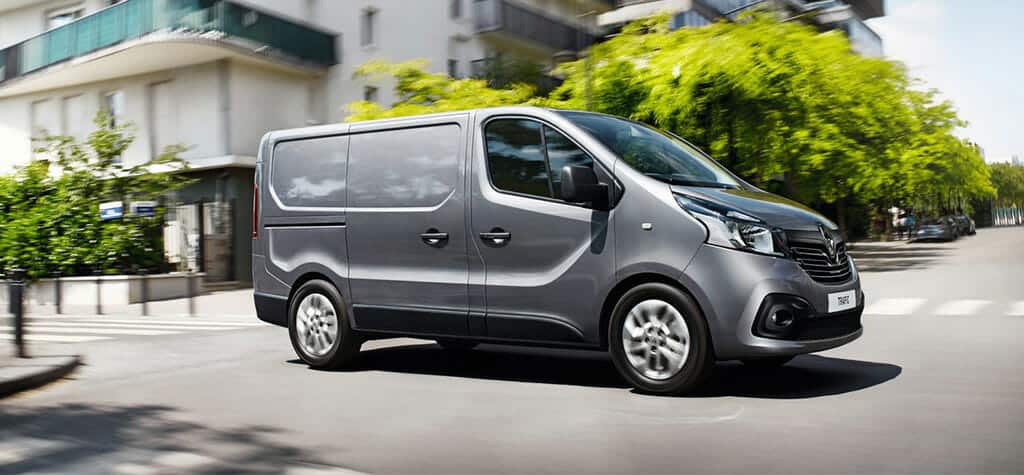 The new Renault Trafic is a great option for refrigerated van businesses looking for an efficient medium sized van. With the new design, incorporating new technology and practical functionality, the Trafic can excel in a wide range of terrains, and is a versatile logistics vehicle to add to your fleet.
Under the Hood
The all-new Trafic is powered by a new 1.6 turbodiesel engine that can offer 90PS or 115PS. Fuel economy on both models is impressive with numbers at 43.5mpg. Carbon emission is also good, clocked at 170g/Km of CO2. If you expect heavier work from your refrigerated van, there is a twin-turbocharged 1.6 litre engine version offering 120PS or 140PS and economy up to 47.9mpg. The torque available begins at 1250rpm.
Inside The Cabin Of The 2016 Renault Trafic
The cabin on the standard Trafic offers hands-free key card entry, DAB radio, Bluetooth, electrically adjustable and heated door mirrors, electric front windows, and a whole lot more. On the Sport model, there is a 7-inch sat nav with full postcode recognition ability, hands-free telephone, live traffic information, streaming from USB, AUX or Bluetooth.
The cabin has also been given a facelift, offering refrigerated van drivers maximum comfort. The new cabin creates an efficient mobile office space as there is a docking station for holding your tablet securely in place and an adjustable smartphone cradle. Folding the passenger seats down provides a solid workspace and there is additional storage in the backrest for a laptop.  Seat height, steering wheel and lumbar adjustments ensure optimum comfort while on the move for drivers. This is a vehicle that will keep your drivers happy; and happy drivers make for an efficient workforce!
Load Space
The new Trafic offers a load space of 5.2m3 on the short wheel base variant and 6m3 on the long wheel base version. The maximum payload on both variants is 1269kg, which is enough space for three Euro pallets- even on the short wheel base variant.  Apart from the standard loadspace, the cabin area offers further storage. There is 54 litres of storage under the bench seat, which will come in handy for storing vital business equipment out of sight. There has been plenty fo thought gone into the functionality of this impressive logistics vehicle.
Here at Glacier Vehicles, we believe that the new Renault Trafic is a versatile solution for all refrigerated van businesses due to the wide range of engines and body styles.  The flexibility on offer means that this medium sized van is practical for even the biggest refrigerated van business. You can mix and match this model to your logistics requirements so that your freezer van business has a fleet of Renaults that can tackle every requirement that your business faces. Come for a test drive from our showroom to see why this van is one of the bestselling vans across Europe.