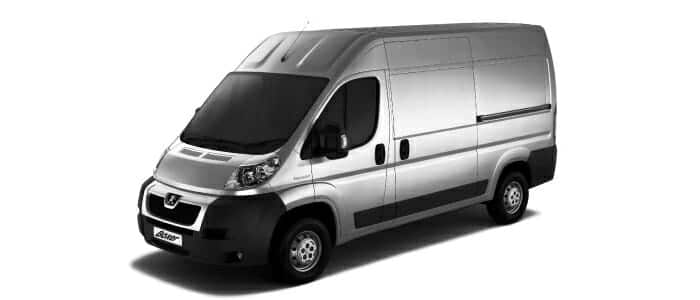 The Peugeot Boxer is the perfect choice for those who are looking for a seriously substantial freezer van. This vehicle is huge in every possible way, and even the smallest options can cope with carrying a very respectable amount of frozen cargo.
One of the biggest strengths of the Peugeot Boxer is the interior of the cab. It's absolutely huge. Freezer vans of this size tend to have large, roomy and comfortable driver's cabins, but the Boxer's is particularly large. It makes the ideal choice for particularly large drivers, or expeditions where a crew of three people will be along for the journey much of the time. Groups of three will be very comfortable sitting on the Boxer's wide seats, even on an extended journey. The seats are also incredibly comfortable, and the driver's seat is fully adjustable. The steering column height and reach is also adjustable, so no matter what size the driver is they will be able to find a comfortable driving position inside this freezer van.
There's also a huge amount of storage space in the cab, with plenty of room for personal possessions and delivery documentation. One great storage feature is the central storage box underneath the central console, which is more than big enough for a laptop computer. There's also an extremely handy clipboard in the middle, which can be used for delivery documentation. It's obvious that the Boxer is a freezer van that has been designed for practicality in every aspect.
Loading the Boxer is extremely easy, partly due to the fact it's a front wheel drive freezer van, so the rear is fairly close to the ground. This is also helped by the fact that the wheels are fifteen inches whereas most of the competing freezer vans in the Boxer's class use sixteen inch size wheels. The smallest boxer can pack away 8 cubic meters of frozen goods, whereas the largest one can deal with a gargantuan 17 cubic meters. The configuration of the cargo bay is also incredibly wide. It's nearly two meters wide, which makes it considerably wider than most other freezer vans of this class. As you'd expect, there are two rear doors and a side door so that you can access the rear of the cargo bay.
For a large freezer van, the fuel economy on the Boxer is surprisingly good. It manages to achieve 32.5 mpg on the combined cycle. It's driven by a 2.2 liter HDi engine, which can be purchased in either 110, 130 or 150bhp power outputs.
The standard specification of the Boxer is packed full of extras. Some of them are incredibly helpful and some of them are just nice to have. There are some great safety and security features such as ABS with Emergency Braking Assistance, a transponder immobilizer and remote control central locking with deadlocks. Other helpful standard features include a multi function on board trip computer, an over speed warning, and a powerful RDS stereo radio/MP3 compatible CD player.
If you're looking for a particularly large freezer van, then you won't go far wrong with the Boxer.
New Peugeot Vehicles
Used Freezer Vans In Stock by Size
Peugeot Boxer Van Refrigeration Systems
There are an array of refrigeration systems available on the market today. A variety of temperatures are available inside vehicles, from a reasonably ambient 30c to a minus 30c deep freeze. These temperatures fluctuate according to the merchandise within. Many big Peugeot Boxer freezer vans have distinct sections which can be kept at different temperatures, even though most have a solitary compartment.Another consideration is if the refrigeration system will have to work independently of the motor. This is most common with Peugeot Boxer refrigerated van that will be used to serve cold food at outdoor occasions. For scenarios like these, a back-up facility is needed. The auxiliary electricity supply will usually be an external source, most generally three phase or single-phase. This keeps the product cold, even when the engine is not running.Glacier Vehicles work with all the major refrigeration manufacturers and can supply and fit the required refrigerator / freezer equipment to cover any bespoke requirement our clients have.
Freezer/Refrigerated Van Insulation
It is just as important to pick the best type of insulation for the Peugeot Boxer freezer van as it is to choose the right sort of refrigeration system. After years of experience, we've decided that the most effective insulation for vehicular use is Styrofoam. The light weight keeps payloads high, and it's thermal qualities keep temperatures cold. For this reason we use it in every vehicle we supply. We'll use differing thicknesses of Styrofoam with respect to the degree of chilling required. These range from 50mm Styrofoam for our chiller compartments to ultra thick 100mm Styrofoam for compartments that are built to keep deep freeze temperatures. There are two distinct alternatives to 'finish' the insulation: wet-lay and dry line.Wet-lay is the more conventional method, and the one which Glacier Vehicles embrace, because of the fact that after the 'wet' GRP resin is applied and dried, the loading area becomes a 100% sealed, washable and hygienic loading environment. Many of our Peugeot Boxer freezer vans engineers have even won awards for their work, and we are extremely fortunate to work with them. If the finishing of resin in the Peugeot Boxer refrigeration van is broken at any given point, it can be fixed exceptionally readily. This is an additional advantage of the moist-lay coating. The dryline coating uses multiple panels in the freezer vans as opposed to a single, impregnable coating. These panels have sealer between them, which frequently breaks down and promotes the growth of mould. This can cause significant problems in a vehicle designed to hold food.
Peugeot Boxer Refrigeration Van Engineers
They help answer any technical questions our customers have about the Peugeot Boxer freezer vans creation process, and they make sure that all of our jobs are finished in time and within budget.In addition to the fitting the refrigeration systems, our engineers undertake any and all of the bespoke refrigerated vehicle requirementsour clients have.
Van Warranty
All of the equipment that we supply is completely new, even in our used Peugeot Boxer freezer vans. What this means is you will be covered by a full 12 month manufacturers warranty for your peace of mind. We have discovered that GAH and Hubbard are the greatest refrigeration equipment manufacturers in the whole world, and if you don't specify otherwise we shall use their merchandise in both our little and large Refrigerated vans for sale. This isn't just for their outstanding quality, but additionally their high levels of after-sales service. These companies have engineers situated all over the nation, if your Peugeot Boxer freezer van needs any servicing. These engineers will go to you, instead than you needing to go to them.
Glacier Vehicles Video