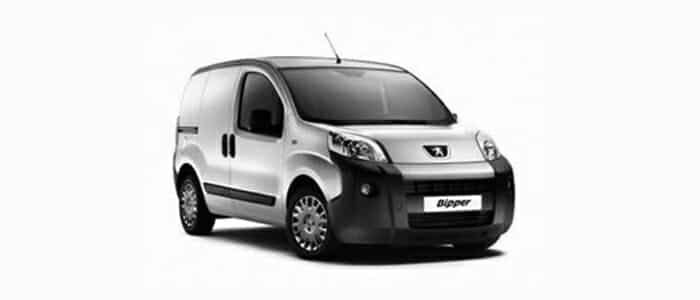 The Peugeot Blipper is a compact van that is specifically designed for use in the urban environment. When it has been converted for use as a refrigerated van, it tends to be used for deliveries to retail locations from a central warehouse in the same urban centre. Many Peugeot Blipper refrigerated vans can be found transporting refrigerated goods around London, Manchester and Britain's other urban centers. However, the Blipper is also versatile enough for slightly longer journeys, although it isn't ideal for motorway use.
Almost every vehicle on the road comes in a bewildering array of options, with many different permutations to get your head around. It's almost refreshing to come across a vehicle that has a single option that does one thing well. The Blipper comes in one size, which can easily cope with a loading volume of 2.8 cubic meters and a maximum payload of 610kgs. It's clearly built specifically for urban deliveries.
The size of the cargo bay and the maximum payload may seem small until you consider exactly how much mileage you can get on each gallon of fuel from the Blipper's incredibly efficient, 1.4 litre 75bhp HDi engine. The Blipper can achieve a fuel economy of 65.7mpg on the combined cycle, which is pretty impressive for a refrigerated van that can haul 610kgs of goods. The CO2 emissions are equally impressive, with 119g being emitted from the rear of the Blipper for every kilometer that it is driven.
These remarkable figures are partly due to the fact that this refrigerated van has been fitted with stop-start technology, another nod to the urban environment. If you aren't familiar with this type of equipment, it means that your engine will stop when the vehicle stops in traffic and then instantly starts again as soon as you get moving. As you can imagine this type of operation cuts down the amount of fuel burned on an urban journey considerably. The Blipper is one of very few vans in this class where stop-start technology is included as part of the standard specification.
The Blipper's engine is small, but it's also strong enough to make it move rapidly through the city. While the Blipper line up is incredibly simple, there is an "ATV" option, which adds a bit more power to the grip. Despite the name, this doesn't mean it will equip the Blipper for off road driving, but it will give a bit more grip on icy or wet roads. It might be worth investing in if you plan to use this refrigerated van in the north of the country. It also doesn't add anything to fuel consumption.
The interior of the Blipper is extremely well designed. It's simple, which in this type of vehicle can only be a good thing. The controls are intuitive and well within reach of the driver. Overall, if you are looking for a small refrigerated van of this size to do urban deliveries, there are few options better than the Blipper.
New Peugeot Vehicles
USED Fridge Vans In Stock by Size
Peugeot Bipper Van Refrigeration Systems
There are an array of refrigeration systems on the market today. A wide variety of temperatures can be found inside refrigerated vehicles, from a reasonably ambient 30c to a minus 30c deep freeze. These temperatures vary according to the merchandise within. Many large Peugeot Bipper freezer vans have different sections that are kept at different temperatures, even though most have a solitary compartment. Sometimes the continuing operation of the refrigeration van will undoubtedly be required even with no engine running at all.For instance, companies who do outside events like weddings and festivals, may need to keep their produce refrigerated without the motor running. In such a scenario, we are going to need a reserve power supply. These forms of Peugeot Bipper freezer vans will then be connected to a peripheral power supply, generally a typical three phase or single-phase source. This has the result of keeping the goods kept inside chilled, even with the engine fully off.Glacier Vehicles work with all the leading refrigeration manufacturers and can supply and fit the necessary fridge / freezer equipment to cover any bespoke requirement our customers have.
Freezer/Refridgerated Van Insulation
The form of insulation used will have just as big an effect on the inner temperature of the Peugeot Bipper freezer van as the refrigeration system.In all cases, Glacier Vehicles uses Styrofoam insulation which, although quite lightweight (aiding the vehicles payload), is a dense and highly thermal substance. The depth of the Styrofoam is what establishes the degree of insulating material. For chilled compartments we use 50millimeter Styrofoam, for frozen compartments we'll use 75millimeter and we allow the utilization of 100millimeter Styrofoam for deep freezer compartments that will maintain a temperature as low as minus 30c.Nowadays there are two main varieties of 'finish' to the insulation; dry line and wet-lay. We believe that wet-lay is definitely the superior approach, as after the wet resin has been installed and fully dries, it generates a hermetically sealed environment for food products to be transported in. For this reason it is the only process we use.Our engineers have even won several awards for their skills in creating  Peugeot Bipper freezer vans, and we feel extremely lucky to have them on board. The wet-lay resin coating is also quite straightforward to fix in the event that the interior of the Peugeot Bipper freezer van is damaged. Dry-line coating is a newer procedure , even though it has found some favour in the refrigeration van industry we would rather stick to the standard wet- lay It is because the sealant used to connect dryline panels could harbour mould growth, which is a huge issue when you are carrying food.
Peugeot Bipper Refrigeration Van Engineers
They are the ones we all turn to for answers to the many daily questions we get from customers, and they are the unsung (with the exception of this infrequent pat on the back!) hero's when it comes to keeping the build process smooth and more importantly, on time for our clients!In addition to the fitting the refrigeration systems, our engineers undertake any and all of the bespoke freezer van requirements our clients have.
Van Warranty
Whether you are buying a new or late, low-mileage used vehicle, the refrigerated van conversions (both insulating material and refrigeration system) are brand-new and supplied with the complete 12 month Manufacturers Guarantee. Unless you've got some specific requirements that these companies can't meet, we always use Hubbard and GAH refrigeration gear in both our small and big Peugeot Bipper refrigerated vans for sale. We really believe this is the best equipment available on the market, plus they have an excellent after sales care service. These companies have engineers all on the mainland UK, and will come to a convenient location for you personally in the event the Peugeot Bipper refrigeration van has any problems.
Glacier Vehicles Video