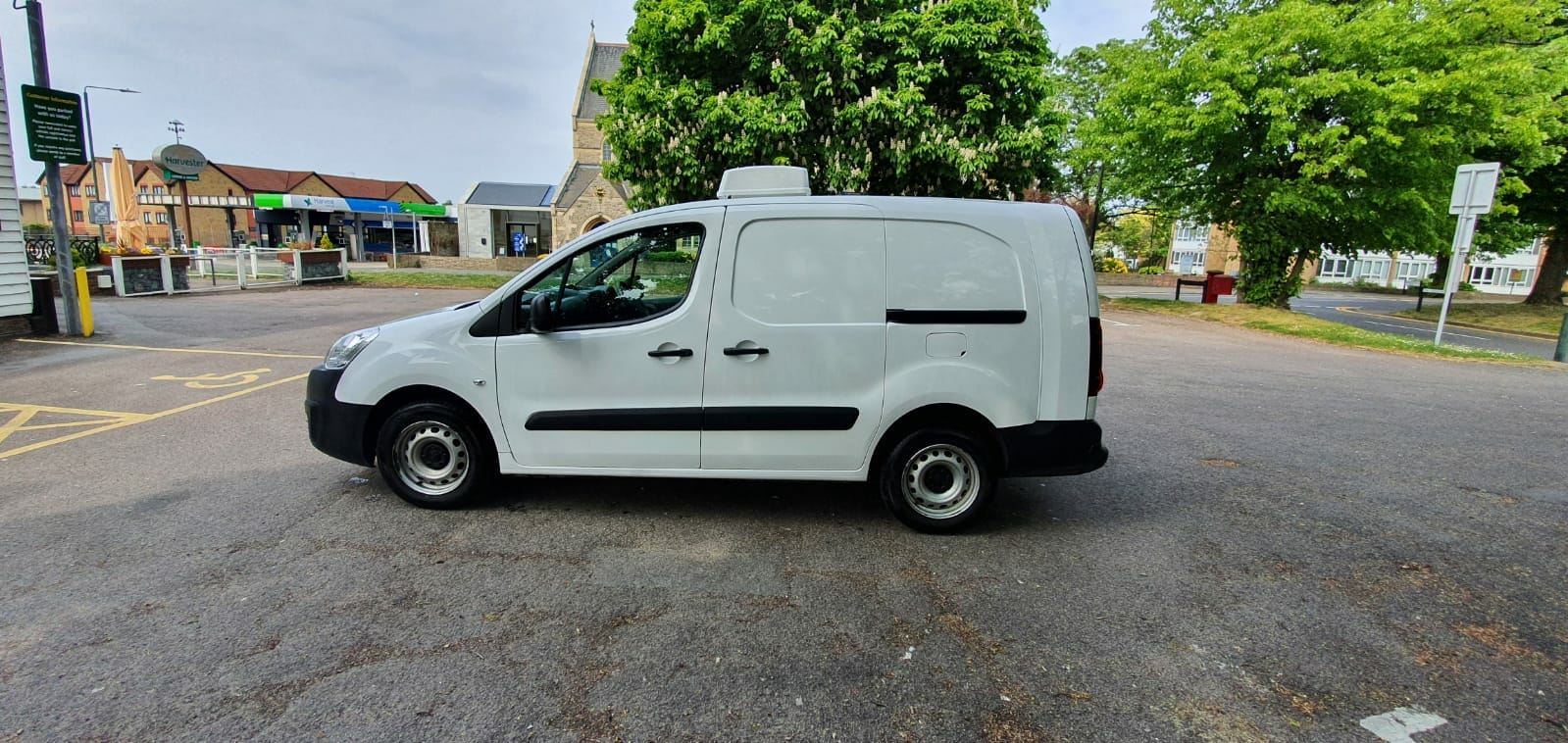 In 1996, the Citroen was the first to give customers a compact van-based MPV, and it has since become a phenomenon, selling over 3.3 million units and gaining a cult-like following.
With sizes and trim levels to fit practically any business, the Berlingo collection is very adaptable. The refrigerated payload capacity ranges from a modest 625 kg to a reasonable 825 kg.
There are two wheelbase lengths to pick from in this refrigerated van, and customers may choose between the X, LX or Enterprise trim levels. There are also a variety of engines to choose from, including three diesel engines and a 95bhp 1.6-litre petrol engine that can be converted to run on LPG if necessary.
The third-generation Berlingo model is more car-like than ever. It's a mix of the old Berlingo and PSA's latest EMP2 platform – underpinnings used by the likes of the Peugeot 3008 and the Citroen C5 Aircross.
The Berlingo keeps all of the things that made the previous model a great MPV – brilliant passenger and boot space, low running costs, great value – and improves on each even further.
The result is vastly improved refinement, infotainment and safety tech compared to its predecessor. Citroen Berlingo Refrigerated Van offers two engine choices which are between two petrol and three diesel. There is an option for electric-only Citroen too.
Can the Citroen Berlingo Multispace be fitted with a refrigeration compartment?
Yes, the Citroen Berlingo Multispace van can be installed with a refrigeration compartment. The Citroen Berlingo Multispace sold by Glacier Vehicles is already fitted with a refrigeration compartment. The specifications are available as an optional extra for your convenience!
The Citroen Berlingo Multispace is ideal for transporting chilled goods. These features make it easy to use as mobile catering or as a food delivery vehicle.
Citroen Berlingo Van Refrigeration Systems
There are many refrigeration systems available today. The required temperature ranges from 30°C to -30°C, depending on the cargo being carried. Even though most large Citroen Berlingo freezer vans feature a single compartment, several have multiple portions that may be set at varying temperatures.
It is important to have a refrigerated vehicle that can continue to perform even when the van is turned off for specialised purposes. Businesses that cater outdoor events and require long-term cold storage are one example.
A standby power supply is the only method to accomplish this. This allows them to connect the Citroen Berlingo refrigeration system to an external power source (single-phase or three-phase) and keep their produce cool or frozen indefinitely.
Here at Glacier Vehicles, we have a wide choice of refrigeration tools to meet the needs of any client, and we'll gladly install equipment that is specifically designed for your needs.
Our refrigeration/freezer insulation options
The type of insulating material employed, as with other refrigeration systems is determined by the required loading temperature. Styrofoam is the best material for refrigerated vehicle insulation because of its combination of lightweight and high thermal properties.
This is why we use it entirely in our refrigerated vans. The amount of insulation is determined by the thickness of the Styrofoam.
We use 50 millimetre Styrofoam for cooled compartments, 75 millimetre Styrofoam for frozen compartments, and 100 millimetre Styrofoam for deep freezer compartments that can sustain a temperature as low as minus 30 degrees Celsius.
A protective 'finish' will be applied after the insulating material has been put. This can be accomplished in two ways: wet-lay or dry-line. We've realised that wet-lay is the better way over time, and we utilise it entirely now.
Here are other reviews on the Citroen Berlingo Refrigerated Van
What's it like inside the Citroen Berlingo cabin?
There are 28 gadget compartments totalling 186 litres of storage in the standard Citroen Berlingo cabin. The boot can hold 775 litres of stuff,' which is 100 litres more than last time.
There are roof rails reminiscent of the C4 Cactus that can haul all sorts of vacation items, as well as a large, square-backed tailgate intended specifically for bike racks (which opens to show the normal ultra-low Berlingo loading lip).
Engines, performance and drive
The Berlingo platform is a mish-mash of PSA technology. The rear section of the car is essentially unchanged from the previous model, allowing for a similar big load area, while the front is built on the Peugeot/Citroen EMP2 platform. Citroen Berlingo has been able to add the most up-to-date safety technology and chassis modifications thanks to this part.
As a result, the Citroen Berlingo MPV drives more like a new car than a van for the most part. The steering is light, the turning circle is small, and the body roll is well controlled, even though the high centre of gravity is noticeable during heavy cornering. The brakes are powerful and reassuring, and the grip is enough.
There are two engines under the bonnet: 1.2-litre petrol with 108 or 128 horsepower, and a 1.5-litre diesel with 99 or 128 horsepower. The most powerful diesel produces 300Nm of torque, which comes in handy for transporting a full load of cargo.
The top-of-the-line diesel sprints from 0 to 62 mph in 11 seconds and on to 114 mph. On paper, the entry-level diesel is a tad slower, with a 0-62mph time of 12.7 seconds, according to Citroen.
Regardless of the fuel you choose, the Citroen Berlingo MPV remains very smooth and refined; the petrol variant is suitable for shorter trips, while the diesel is ideal for longer trips or towing activities.
The 108bhp petrol model's 11.5-second 0-62mph time translates to respectable real-world performance, and the Berlingo's linear power distribution makes it simple to drive at low speeds.
Citroen Berlingo doesn't provide performance data for the 128bhp petrol, but we expect it to be significantly faster than the Peugeot Rifter, which has a claimed 0-62mph time of 10.9 seconds.
A six-speed manual and an eight-speed automatic transmission are also available, albeit which one you get depends on the petrol and diesel engines you choose. On the 108bhp petrol and 99bhp diesel, the manual is the only transmission option; on the 128bhp, the automatic gearbox is the only option.
Electric motor, drive & performance
There's also now an electric version with a claimed 174-mile range which would be perfect for days out, You're unlikely to buy Citroen e-Berlingo MPV for the way it drives, but that doesn't rule out the possibility of a pleasant surprise behind the wheel. It nearly always feels like a car, not a van, and its chassis and tyres provide plenty of stability and grip.
Despite its towering roof and very high riding position, there isn't much lean in bends, and navigating is a breeze because of a compact turning circle and easy driving. The suspension is also soft enough that your passengers can fall asleep or play games without complaining about the bumpy trip.
The electric motor has 134 horsepower and can accelerate the e-Berlingo from 0 to 62 mph in 11.5 seconds, but it won't be able to keep up with a Tesla Model X in a toll booth. It does, though, offer rapid torque when you hit the foot, making it feel faster than its stats suggest, particularly at city speeds.
We were great fans of the 108bhp 1.2-litre petrol engine before the Citroen Berlingo went all-electric. It's smooth and enjoyable to drive. However, if you plan on transporting frozen food or all passengers in all seven seats, the 1.5-litre diesel's extra power becomes apparent. A smooth eight-speed auto gearbox was also offered for the petrol engine, which is well suited to city driving.
Interior design and technology
The Citroen Berlingo MPV was very 'no-frills' before, but now has a surprisingly nice interior, lots of kit and Citroen's latest safety features. The style of the Citroen Berlingo is slightly eccentric in keeping with the Citroen registered trademark. The external 'air bump' panels not only break up the massive metal panels on the sides but also protect the paintwork from parking lot knocks.
Feel models have wheel trims, while Flair models have 16-inch alloy wheels and Flair XTR models have even larger 17-inch alloy wheels. Colourful highlights offer individuality to the boxy shape that the Peugeot Rifter and Vauxhall Combo Life arguably lack.
Although those used to the squidgy plastics and damped switches of more conventional automobiles may find it a little agricultural, design and build quality has improved significantly over the previous-generation Citroen Berlingo. The plastics, while rigid, have a solid feel about them.
An eight-inch touchscreen infotainment system is standard on all variants. Although the system appears to be well-designed, several on-screen buttons are small and difficult to use. Built-in navigation is only available on Flair XTR models, while it is available on Feel and Flair as well, and Apple CarPlay and Android Auto are standard across the board.
On the Citroen's latest safety features, automatic emergency city braking, active lane-keeping assist and speed limit recognition are all included. Although it's a shame that an alarm is optional on all Berlingos.
An optional wireless charging plate enhances smartphone functionality even more. The six-speaker audio system produces adequate sound, but music-obsessed MPV/SUV buyers would be better served by the Skoda Karoq's optional Canton system.
While many other Citroen vehicles incorporate heating and climate controls onto a touchscreen, the Berlingo retains physical buttons and switches, which we believe are far easier and less distracting to use while driving.
Flair models add 16inch alloy (rather than steel) wheels, roof bars, electric rear windows, rear parking sensors and those clever individual rear seats, so it is worth the extra.
So, if you're happy to forgo sleek styling in the name of superb space and practicality then the Citroen Berlingo Refrigerated Van is well worth a look. It is at least the most interesting to look at next to its Vauxhall and Peugeot competitors.
MPG, CO2 and running costs
Running costs are kept low by frugal engines and low CO2 emissions, but popular crossovers will hold greater value. The petrol works well despite its comparatively small capacity and was our pick before it was discontinued. However, if you're looking to fully load the Berlingo often, tow with it or cover lots of miles, the extra pulling power and fuel economy of the higher-power diesel make more sense.
However, whether you choose a petrol or diesel engine, the tiny PSA group engines consume less gasoline than the bulk of competitors. The top-spec BlueHDi diesel with 128bhp is the pick of the bunch, offering 45.1 to 50.3mpg. As a result, the various versions of the same 1.5-litre unit yield identical results.
The 1.2-litre turbocharged petrol variants are less fuel-efficient, providing 37 to 43 mpg, allowing for a real-world range of up to 500 miles from its 61-litre fuel tank. Stop/start technology is standard on both petrol and diesel models, which helps to save fuel in heavy traffic.
Practicality, comfort and boot space
Most MPVs are designed with practicality in mind, but few (except for the Rifter and Combo Life family) do it as well as the Citroen Berlingo MPV. The Berlingo Refrigerated Van is enormous in every internal dimension. It's also easy to get in loads, thanks to the huge sliding rear doors.
The spacious cabin is complemented by a large cargo compartment. The M model's 775-litre boot is 100 litres larger than the basic Citroen Berlingo Multispace, and the XL gets a rather absurd 1,050 litres.
Folding the front passenger seat is as simple as flicking levers in the boot or on the seats themselves, and all three individual seats drop into the floor for a near-level loading area, if necessary, through levers in the boot. The sixth and seventh seats are completely removable if they are installed.
Reliability and safety equipment
One of the key advantages of Berlingo's use of the Citroen EMP2 platform upfront is that it can take advantage of all of PSA's latest safety technology. Lane keeps assist, speed limit recognition, active emergency braking, and driver attention monitoring are standard on all Berlingos, with active cruise control available as an option on the Flair and Flair XTR trims.
So far, there isn't much to go on in terms of dependability data, but past results haven't been kind to Citroen Berlingo: the brand came in 18th out of 30 in our 2020 Driver Power satisfaction poll. However, PSA cars based on the EMP2 platform have performed admirably in recent surveys – the Peugeot 3008 SUV was voted the second-best car to own, and cars like the Peugeot 308 and Citroen Grand C4 SpaceTourer were also highly rated by owners – so the Berlingo could be significantly easier to live with than its predecessor.
Want to buy Citroen Berlingo Multispace with a refrigeration compartment?
Contact Glacier Vehicles today and we will help you choose your ideal refrigerated van.
Glacier Vehicles is unique in the industry with not only several decades of experience and unmatched knowledge of all types of fridge vans and freezer vans on the market, but also in our dedication to our customers over our bottom line.
We don't want to sell you the most expensive refrigerated vehicle on our lot – we want to look at your specific refrigerated van requirements and give you our unbiased advice on what kind of fridge van to buy or how best to convert your existing vehicle.
This approach ensures that you get the refrigerated van that is best for you and your business. If our customers are happy, we're happy.
Call 0208 668 7579 And We'll Help You Choose Your Ideal Refrigerated Van.