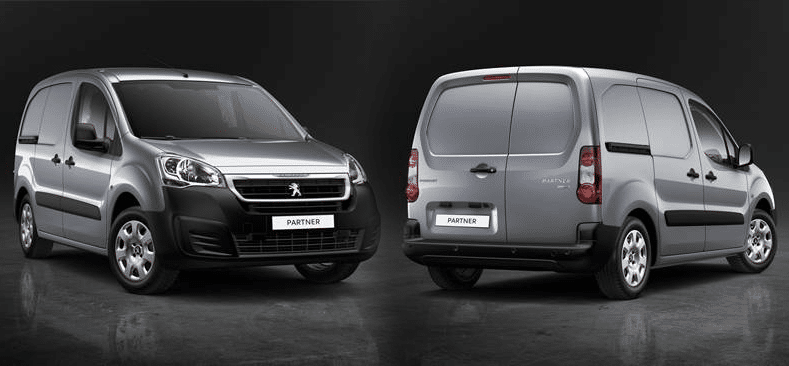 The Peugeot Partner is a compact van loved by many small business owners, especially refrigerated van businesses.   It is the middle ground for people running businesses that have outgrown a Peugeot Bipper that are not quite big enough for the Peugeot Expert. The 2016 model features a facelift that has refreshed the front-end of the vehicle, upgraded its engine, and generally improved equipment levels.
The 2016 Peugeot Partner offers the choice of S, SE and Professional trim levels. The options are offered in regular L1 and L2 body lengths, and each length sits on the same wheelbase. The L2 can also double up as a crew van that has extra rear seats. The standard L1 van form offers refrigerated van businesses a payload capacity as much as 850kg. The longer model offers a 750kg capacity.
The power in the 2016 Peugeot Partner Van comes from the PSA Peugeot Citroen 1.6 HDi diesel engine. It is offered in guises of 92bhp, 100bhp and 75 bhp, and the 100 bhp variants benefit from Peugeot's latest Euro6 compliant BlueHDi technology and a stop and start system that is even more fuel efficient.
Regardless of your choice of engine, power is sent to the front wheels via a 5-speed manual gearbox. If you would rather enjoy automatic transmission, there is the option of a six-speed electronically controlled Peugeot ETG automated transmission you can go for.
Interior Of The Peugeot Partner Van
The interior of the 2016 Peugeot Partner is light and tidy. All the basics are covered. Perhaps the best indicator of space on the dashboard is the fact that the electric window switches are mounted on the dashboard instead of the doors where they are typically found.
How Safe Is The New Peugeot Partner Van?
The new improved 2016 Peugeot Partner features improved safety. ESP stability control can be found on the standard spec list. The van, however, features only driver's airbag as standard. Side airbags and front passenger airbags are only available on the extras option list. Additional items that can be found on the standard spec sheet include the ladder-frame bulk head behind the driver and hazard lights that are activated with hard braking.
One of the most impressive safety features on the 2016 Peugeot Partner is the Active City Brake, which applies the breaks automatically as soon as an impending collision is detected. This only cuts in when driving below 20mph. This feature is interesting because it lowers the insurance group of the van, thereby cutting down insurance premiums for refrigerating van business owners. Optional safety/usability features include Parking sensors and reversing cameras.
Security wise, the 2016 Peugeot Partner features central locking with deadlocks on all variants.
The 2016 Peugeot Partner is efficient, durable and business friendly; a great choice if you are looking for a versatile refrigerated van.