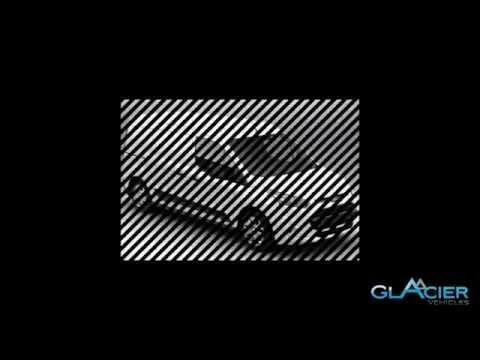 The Mercedes Benz Sprinter is one of the most popular vans on Britain's roads, and is the biggest selling van in the Mercedes light commercial vehicle range. Its boxy appearance is an incredibly common sight in British towns and on the motorway network, as it makes up the majority of the fleet of many large logistics companies. It's also a very popular choice for smaller businesses, and is often converted for transporting refrigerated goods.   The Sprinter is an extremely versatile vehicle, and is available in four different wheelbase lengths, from short to extra long. All variants are roughly equally popular.
Mercedes have focused heavily on improving fuel consumption and CO2 emissions in the latest Sprinter model. Largely this is done through the BlueEFFICIENCY system, Mercedes's proprietary set of fuel economy and environmental engine improvements. The most impactful of these is the stop-start mechanism, which completely cuts the engine when the refrigerated van is stopped in traffic or at lights. As you can imagine this brings huge fuel savings, especially when the Sprinter is being driven in an urban environment. The stop start system, in addition to the other BlueEFFICENCY innovations, brings fuel consumption down to 33mpg on the combined cycle.  This is incredibly impressive for such a huge refrigerated vehicle.
And make no mistake; this is a seriously large refrigerated van. Or at least, it can be. The maximum refrigerated cargo compartment size is an absolutely cavernous 17 cubic meters. This vast capacity can be found in the longest wheelbase model. If you have slightly more modest refrigerated haulage ambitions, you'll also find Sprinters with cargo bay sizes going all the way down to 7.5 cubic meters.
Despite the fact that the Sprinter achieves an admirable fuel economy, it still has a huge amount of power underneath the hood. Let's face it, it has to if it's going to haul a gargantuan 2515kg of refrigerated cargo. Of course, again, there are many smaller Sprinters available, down to 734kg of cargo haulage capacity. Loading the cargo bay is just as simple as you'd expect in this type of refrigerated van. The best part is the fact the rear doors swing all the way back to 270 degrees. This doesn't sound like much of a feature, but you'd be surprised how much it helps when you are trying to load as much into the back of the van as possible. It's also good for reversing all the way up to loading bays.
In addition to the aforementioned BlueEFFICENCY eco-efficiency system, the standard specification of the Sprinter comes complete with all the mod-cons you'd expect from a premium brand like Mercedes. Notable features include the ASSYST service computer, the ADAPTIVE ESP electronic stability program, and the Speedtronic variable speed limiter.  If you're looking for a truly superlative large refrigerated van then the Mercedes Sprinter is a very good choice. It performs well on the motorway, it's extremely economic in an urban environment, and it's absolutely packed with the latest German engineering innovations.
New Mercedes Vehicles
USED Fridge Vans In Stock by Size
Mercedes Sprinter Van Refrigeration Systems
There are a variety of refrigeration systems available on the market today. A wide variety of temperatures are available inside refrigerated vehicles, from a reasonably ambient 30c to a minus 30c deep freeze. Thesetemperatures change according to the goods within. Although the most frequently encountered arrangement is to have a single loading compartment, there are specific situations where a refrigerated van will have a lot of compartments, each kept at a distinct temperature.Another consideration is if the refrigeration system will have to work independently of the motor. One typical use for this kind of Mercedes Sprinter refrigerated van is alfresco serving of chilled food at weddings, festivals and also other outdoor events. In such a scenario, we are going to require a reserve power supply.This gives the capability to plug the refrigeration system into an external power supply (single-phase or three-phase), keeping their produce cool / frozen for an indefinite period. Glacier Vehicles source equipment from all of the most reputable Mercedes Sprinter refrigeration van equipment businesses, and we are very happy to produce a bespoke system for your particular needs.
Freezer/Refrigerated Van Insulation
Insulating material is an unbelievably significant component in Mercedes Sprinter refrigerated vans, and it is this element, when with the selection of refrigeration system, that'll determine the interior temperature of the vehicle. We believe there is certainly no better choice for insulation material than Styrofoam. It is not only extremely light, and that means you can take a heavier load, additionally, it has incredible thermal insulation properties. We use it in every vehicle we provide. We'll use differing thicknesses of Styrofoam with regards to the level of chilling needed. These range from 50mm Styrofoam for our chiller compartments to ultra-thick 100millimeter Styrofoam for compartments that have been created to maintain deep freeze temperatures. Two different types of 'finish' are employed to coat the insulation after installation. These are known as dry-line and wet-lay. We believe that wet-lay is undoubtedly the superior process, as after the wet resin is installed and completely dries, it generates a hermetically sealed environment for food products to be transported in. For this reason it is the only process we use.Our engineers have even won several awards for their skills in creating Mercedes Sprinter freezer vans, and we feel extremely lucky to have them on board. An added advantage to utilizing wet-lay insulating material is that it's very simple to fix if any harm occurs to the inside of the Mercedes Sprinter refrigeration van. Dry line is a more innovative method for creating freezer vans, but we believe it's not an improvement to the traditional wet-lay coating. It consists of multiple panels that are connected using a sealer, which can degrade and trigger the forming of mould, a large danger in theTransport of food.
Mercedes Sprinter Refrigeration Van Engineers
They are the essential members of the team that we refer any customer questions to, and they're instrumental in insuring that our Mercedes Sprinter freezer vans are delivered within our customers time requirements. Our engineers will be happy to create something for you, if you are looking to get a bespoke option to your refrigeration vehicle needs, whether you want big or small Mercedes Sprinter refrigerated vans.
Van Warranty
All of the equipment that we supply is brand new, even in our used Mercedes Sprinter freezer vans. What this means is you will be covered by a complete 12 month manufacturers guarantee for your own peace of mind. We believe that GAH and Hubbard are the top producers of refrigeration products, and we tend to use these products in all our little and large Mercedes Sprinter refrigerated vans available unless the customer specifies otherwise. This is because we have found their products to be of exceptionally high quality, and their after-sales service is also excellent. These companies have engineers all over the mainland UK, and can come to a convenient place for you if the refrigeration van has any issues.
Glacier Vehicles Video