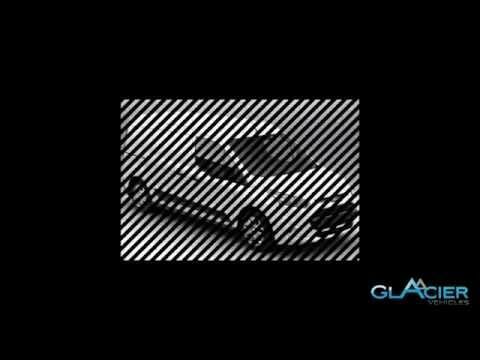 The Sprinter is usually regarded as the crown jewel in Mercedes's light commercial vehicle line up. It's certainly their biggest selling commercial vehicle, with thousands of Sprinters being used all over Britain. Many of these have been converted for use as a freezer van, which is no surprise considering how suitable the Sprinter is for this type of use.
The greatest strength of the latest model of the Sprinter are the incredible fuel saving innovations that Mercedes have packed in. It's clear that this formidable German company have applied all of their engineering know-how into making the latest Sprinter the most fuel efficient ever. It also emits a surprisingly low amount of CO2.
These savings are down to BlueEFFICIENCY, Mercedes's term for the set of innovations that they have installed in the vehicle. There are several components of the BlueEFFICENCY package, including a gear shift indicator, a power steering system that uses a minimal amount of energy, low rolling resistance tyres and a specifically designed mechanism for managing the battery and the alternator. Most notable though is the stop start system, which cuts fuel consumption in the urban environment considerably. Overall, these innovations contribute to the Sprinter's impressively low fuel consumption of 33 MPG on the combined cycle. For such a large freezer van, this is a staggering achievement. It also means CO2 emissions are kept down to a very reasonable 195g/km.
The Sprinter is available in a wide range of different wheelbase lengths. Overall there are four different lengths for potential drivers to choose from: short, medium, long and extra long. The extra long wheelbase has the most space in the back, with a mammoth 17 cubic meters of room to play with. The smallest variant can pack away a still respectable 7.5 cubic meters.
There are also a few different engines to choose from. All of them are 2.1 litre diesels which have been expertly tuned for fuel economy. They range from a modest 95bhp engine to an incredibly impressive 190bhp V6 engine that can haul an incredible 2515kg of frozen goods. This is a great freezer van for those who need to move a lot of frozen goods, fast.
The standard specification of the Sprinter is absolutely packed with innovation. In addition to the impressive BlueEFFICIENCY system mentioned above, the Sprinter also comes with an ASSYST service computer. This is a technological innovation that Mercedes have created to warn freezer van users that a service is required. This really helps ensure longevity of the vehicle, and cuts down the number of repairs required over the lifetime of the vehicle. It also comes with an ADAPTIVE ESP electronic stability program, a Speedtronic variable speed limiter, and an electronic engine immobilizer.
As a freezer van, the Mercedes Sprinter performs admirably. It's no surprise that it sells so well, and the newest version is the most impressive yet. The huge number of fuel saving innovations make it worthy of consideration for any savvy business owner.
New Mercedes Vehicles
Used Freezer Vans In Stock by Size
Mercedes Sprinter Van Refrigeration Systems
There are a number of different types of refrigeration systems being manufactured.Depending on the product being transported, the temperature needed can range from 30C to -30oC. While most Mercedes Sprinter freezer vans possess a single compartment that's kept at a single temperature, some big Mercedes Sprinter refrigerated vans  will have several compartments which are each kept at various temperatures for different goods. Sometimes it's important for the refrigeration van to work-even without the engine running. One typical use for this kind of refrigerated van is alfresco serving of chilled food at weddings, festivals along with other outdoor events.In this scenario, a standby facility will be necessary. The auxiliary power supply will normally be an external source, most normally three phase or single period. This keeps the product cold, even when the motor is not running. We supply a wide selection of products to fit the needs of any client, and we'll happily fit equipment that has been specifically configured for your particular needs.
Freezer/Refrigerated Van Insulation
It is just as important to choose the best type of insulation for the Mercedes Sprinter freezer van as it is to pick the right kind of refrigeration system.In all cases, Glacier Vehicles utilizes Styrofoam insulation which, whilst quite lightweight (aiding the vehicles payload), is a dense and highly thermal substance. The depth of the insulating Styrofoam will vary depending on which temperature is needed. We'll typically use 50mm Styrofoam for chilled compartments, 75mm Styrofoam for freezer compartments and an extra thick 100mm Styrofoam insulation for deep freeze.Nowadays there are two main varieties of 'finish' to the insulation; dry line and wet-lay. Wet-lay is the more traditional method, and the one which Glacier Vehicles embrace, due to the proven fact that after the 'wet' GRP resin is implemented and dried, the loading area becomes a 100per cent sealed, washable and hygienic loading environment. Our engineers are so skilled at creating Mercedes Sprinter freezer vans that they have even been recognized in several engineering awards, and we feel extremely proud to have them as part of our company.Another benefit to the wet-lay procedure is that should the resin become broken through pallet loading and so on, it is extremely easily rectified straight back to an as new condition. Dry-line is a more innovative method for creating freezer vans, but we believe it's not an improvement to the conventional wet-lay coating. It consists of multiple panels which are linked with a sealant, which can degrade and cause the forming of mould, a big hazard in the Transport of food.
Mercedes Sprinter Refrigeration Van Engineers
They are the key members of the team that we refer any client questions to, and they are instrumental in insuring our Mercedes Sprinter freezer vans are delivered within our customers time requirements.In addition to the fitting the refrigeration systems, our engineers undertake any and all of the bespoke freezer van requirements our customers have.
Van Warranty
You will get a 12-month manufacturers guarantee on all of our products, irrespective of if they come in our new or second-hand Mercedes Sprinter freezer vans. That's because all of the refrigeration equipment and insulation we supply is brand new.Unless otherwise specified by the customer, we fit GAH and Hubbard refrigeration equipment as these companies products are of excellent quality, and their after-sales care is to match. Their engineers can come to any location inside the mainland UK to mend any difficulty, in the unlikely event a problem arises together with your Mercedes Sprinter freezer van.
Glacier Vehicles Video