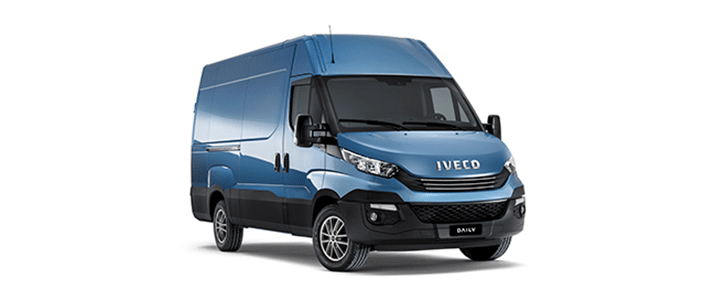 The Iveco Daily is something of a trendsetter in terms of size, boasting the largest gross vehicle weight and load capacity amongst panel vans currently on the market. In addition to its considerable size, high performance engines and a durable build make the Iveco Daily a strong contender for your refrigeration transport business.
Iveco Daily Freezer Van 2018: Engine
The Iveco Daily runs on two four-cylinder Euro 6 engines. The 2.3-litre turbocharged diesel engine provides power outputs ranging from 116hp to 156hp, while the 3-litre engine generates a powerful range of 150-205hp. The 3-litre is also available with compressed natural gas and only one output of 136hp. Customers have a choice between a six-speed manual gearbox and an eight-speed automatic transmission, though the latter is only available for diesel engines. The Iveco Daily's fuel economy lags behind other vans in this category however, with combined cycle returns of 34 miles per gallon. Additional features include start-stop, a Smart Alternator and EcoSwitch.
Iveco Daily Freezer Van 2018: Van Dimensions and Payload
The Iveco Daily is one of the largest panel vans on the market and unmatched in load space, gross vehicle weight and carrying capacity.  Various combinations offer five different wheelbases and three heights, leaving the consumer spoilt for choice. The shortest wheelbase is measured at 5,040mm and the shortest roof at 2,200mm. Meanwhile, the longest wheelbase measures 7,500mm, with the tallest roof standing at 2,780mm. The width of the van is 2,010mm.
The load volume of the Iveco Daily ranges from 7.3m3 to 19.6m3 – the largest on the market. The height of the load compartment ranges from 1,545mm to 2,100mm, and the length from 2,610mm to 5,125mm. The width of the van is 1,800mm, with 1,320mm between the wheel arches. Rear doors open to a standard 180° and an optional 207°, while the gross vehicle weight of ranges from 3.3 tonnes for the smallest van to 4 tonnes for the largest.
No matter the weight of your refrigerated or frozen products, the Iveco Daily comes in numerous variants from which you can choose.
Iveco Daily Freezer Van 2018: Cabin
The cabin of the Iveco Daily isn't as sleek as that of some of its rivals, but it's nevertheless functional and durable. Plenty of storage spaces are provided, while the cabin is designed to double as a mobile office, with a DAB radio and driving assistance app that can be installed on mobile phones. This provides a perfect setup as you handle the various logistics of your business. Optional cabin features include an air-suspended driver's seat; heated driver's seat and air conditioning; audio system with Bluetooth; steering wheel controls; USB ports and adapter cable; as well as automatic volume controls and amplifier.
Iveco Daily Freezer Van 2018: Driving Safety and Experience
Standard safety features on the Iveco Daily include ESP stability control, ABS+EBD, and a driver's airbag. The options list includes cruise control, lane departure warning system, electromagnetic retarder (on larger models), passenger and side airbags, rear parking sensors and fog lights.
The Daily's suspension system keeps the van balanced, with just enough grip for a comfortable driving experience, even with the largest vans almost fully loaded. The optional Differential Lock helps in low grip or muddy situations. The manual transmission has been described as slightly notchy, while the automatic transmission runs smoothly on all engines.
Iveco Daily Freezer Van 2018: Security and Reliability
Security in the Iveco Daily consists of remote central locking, deadlocks, and a full-height steel bulkhead between the cabin and load area, while an alarm is optional. Storage compartments in the cabin area can be closed and are somewhat hidden away.
All individual parts for the Iveco Daily are put through many rigorous tests for safety, conformity, endurance and robustness. While Iveco dealerships are not as widespread as other popular van dealers, it's worth finding one for a more personalised customer service experience. Iveco offers comprehensive roadside assistance (amongst other customer service options) and will equip your van with the specifications that suit your specific business needs.