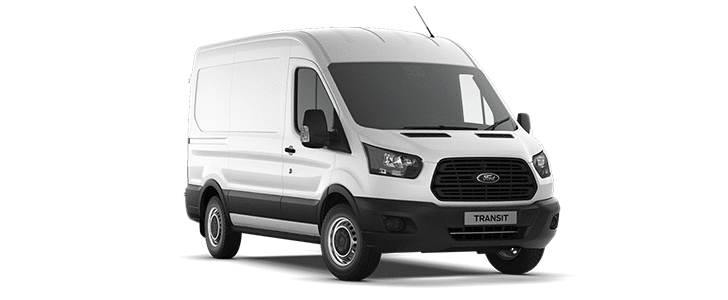 The Ford Transit comprises a range of light refrigerated and freezer vans available in various models. In ascending size, these include the Transit Courier, Transit Connect, Transit Custom and the Jumbo. In total, there are roughly 450 variants available, taking into account the various configurations which include options such as rear, front and all-wheel-drive, engine outputs, roof heights, wheelbases, bus modifications and chassis cab.
Ford Transit Freezer Van 2018: Cargo capacity
Depending on the model you choose, you can enjoy cargo space up to 15.1 cubic metres (as is the case with the Jumbo model for example). The cargo capacity goes up to 2.3 tonnes and total vehicle mass approximately 3.5 tonnes, which are significant improvements on the older Transit model.
Ford Transit Freezer Van 2018: Driving
In terms of noise control, the Transit doesn't do badly at all, as you won't hear any road or wind noise in the cabin. Furthermore, the engine is so quiet that you'll only hear it when functioning at the top end of its capability. The steering might not offer a lot of feedback, but it's reasonably precise and consistent. Suffice to say, you can expect a smooth ride – even with a load as heavy as 500kg in the back.
Although there is a high degree of body roll, the handling is predictable and safe, while lean is progressive. Overall, the Ford Transit is easy to drive – even in its largest configurations. This can be attributed to dual-unit door mirrors and excellent forward visibility, meaning blind spots are virtually eliminated.
Ford Transit Freezer Van 2018: Maintenance costs
According to Ford, the Transit does really well in terms of cost of ownership, as it's cheaper and quicker to replace the key components of this simplified design. You can enjoy more time on the road and reduced bills for the operator, as the time needed to service the rear brakes has been reduced by half. Some models have even had their residual values boosted by as much as £2,500 over 60,000 miles/3 years.
Ford Transit Freezer Van 2018: Engine
The Chassis Cabs and two-tonne panel vans all come with a turbodiesel engine at four cylinders and 2.2 litres. It is available with a manual gearbox, sporting six speeds and three power outputs. If you prefer a lower capacity engine, another option is available in three different outputs at two litres, which comes with the Transit Custom. There are various configurations, lengths and sizes for the Custom, though there's also the Transit Sport, which offers something with a little bit more stand-out appeal.
The engine ranges available for the smaller Courier and Connect variants mostly comprise of 1.5-litre diesel engines, though the 3-cylinder, 99bhp 1.0-litre Ecoboost engine by Ford is also an option. In LWB High Roof Transits, Ford claims the 2.2-litre 153bhp diesel has a reasonable 37.2mpg.
Ford Transit Freezer Van 2018: Specs and options
More than any other large van that's been made by Ford, the Transit is car-like in a number of ways. The design of the dash resembles that of Ford passenger models, including the audio controls, steering wheel and instrumentation, amongst other switchgear.
Similar to their car range, Ford allows you to choose from different trim levels. For instance, the Transit Courier is available in three different levels, each one with trailer sway control, hill start assist, device dock, Bluetooth, USB connectivity and DAB radio. The Connect follows that pattern, sporting the same specs as the entry-level version, except that it has an adjustable driver's seat and a full size spare as additions.
Similarly, the Custom is offered in three trims. However, the L1 H1 version comes in Sport trim, which includes an aggressive body kit, 18in alloy wheels, rear view camera and partial leather seats. Meanwhile, there are predominantly two trims for the 2-tonne version of the Transit.