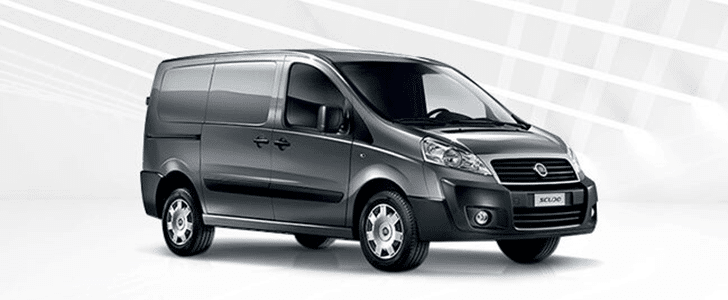 At Glacier Vehicles, we like the Fiat Scudo because it performs well in the fuel efficiency department and is cheaper than similar freezer vans on the market. It is a modern light commercial vehicle that will no doubt remind you of the Dispatch and Expert models. Depending on your requirements, you can choose from a range of trim levels, configurations and engines. Noise levels and performance are improved due to its steeply racked front-end. Plus, it drives well and features some of the latest safety systems installed.
Fiat Scudo Freezer Van 2018: Practicality and Specs
The Fiat Scudo features double mirror units housed in the wing mirrors, allowing for a fixed lower mirror and an adjustable view. It comes in three slightly different spec-levels – the most basic of which is Business; this includes a ladder-bulkhead behind the driver, a high-level storage shelf, a two-way adjustable steering wheel and a height-adjustable driver's seat.
When you move up to Comfort level, you'll get a load-area 12V power supply, an extra cup holder and electric front windows. Meanwhile, step up to Deluxe and you'll enjoy front fog lights, headlamp sensors and electric, heated door mirrors.
Standard features include mobile phone connectivity, lockable glove box compartment, halogen headlights, engine immobiliser, front seat cup holders, barn doors, AUX/USB input socket, air conditioning and power steering, amongst others.
Fiat Scudo Freezer Van 2018: Engines
As the Scudo is a joint development between Citroen and Peugeot, you'll have the option of choosing from three Peugeot diesel engines. These include two litre engines that are great for fuel consumption and provide ample pulling power at 161hp (340Nm) and 126hp (320Nm). There's also a slightly lacklustre 1.6 litre engine at 89hp1 (80Nm). Certainly, the two litre engine is a better choice if you'll be carrying heavy loads in your refrigerated van or if you need to cover long distances. However, you could find yourself wheel-spinning or stalling once the clutch 'bites'.
Fiat Scudo Freezer Van 2018: Safety and Security
The Scudo comes with a remote central locking system that lets the load compartment remain secured, even when the cabin is being unlocked. The more sophisticated vans are fitted with an electronic stability control system, which can be specified to ensure that in case of emergency, the driver can retain control. In addition, it is accompanied by a hill-holder facility, designed to prevent the van from rolling backwards when reversing or pulling away on a hill.
Visibility can be said to be generally good, despite a slight a blind spot due to the windscreen pillars, while the front-end slopes out of sight as well. There is an airbag for the driver's side and you can procure additional airbags optionally. As a standard feature, the Scudo is fitted with ABS braking, which serves to prevent skidding.
Fiat Scudo Freezer Van 2018: Maintenance
You can expect the engines to remain true, as they are renowned for their reliability. Since the fuel tank has been integrated with a fuel pump, you shouldn't need the help of a technician if the van runs out of fuel, as it will soon be working again after a refuel.
Fiat Scudo Freezer Van 2018: Interior
The working environment offered in the cabin area is straightforward; depending on the model, it could include get two or three front seats. Be warned that the three-seater can be a squeeze for three adults. The dashboard was made to resemble that of a car, with plenty of storage recesses for the dash top. You don't have to reach too far to locate the gear lever, which sprouts from the dash, while you'll find the handbrake lever on the driver's door side. For more comfortable driving, the height of the steering wheel can be adjusted.