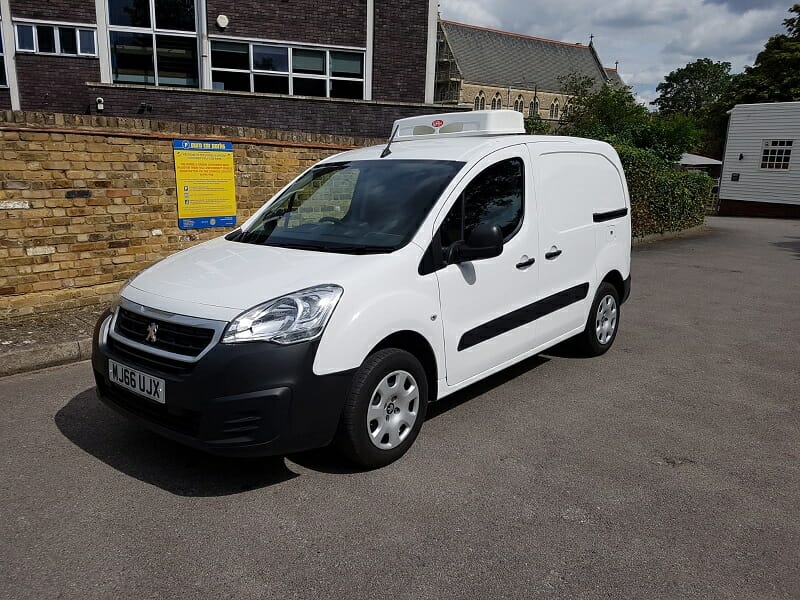 The Peugeot Partner fulfils all of the major requirements for a small refrigeration van. For this reason, the Peugeot Partner refrigeration van is one of the most popular models widely used in the food industry, beverage industry, medical supplies industry or pharmaceutical industry for cold chain transportation of goods.
Many of its key components are shared with the Citroen Berlingo, Vauxhall Combo, and Toyota Proace City — the four vans were designed concurrently, albeit each makes minor changes to the formula.
The Peugeot's cabin sets it apart from the competition since it features the same cockpit layout as many of the company's passenger cars. This entails a smaller steering wheel and an information display that is visible from above rather than through the wheel.
It may not be for everyone, but enough refrigeration van buyers are pleased with the setup that Peugeot has decided to include it in its most popular van.
Peugeot and its competitors have advanced the game in terms of practicality in the class, as you can obtain a Peugeot Partner with a maximum payload of up to 1000kg, a loading bay as large as 4.4 cubic metres, and a variety of variants to suit different demands.
A variation of the 'Grip' model, for example, is designed for active transportation like moving frozen foods within a city. They have three front seats, 30mm more ground clearance than usual, and improved traction control. The fuel consumption of the vehicle is a pleasant 48.7 miles per gallon.
In the Peugeot Partner temperature-controlled van, you can choose from three diesel engines or a petrol engine, with the diesel all being variations on the same 1.5-litre unit. They have a power range of 75 to 130 horsepower, with a 100 horsepower variant in the middle.
The 1.2-litre petrol engine produces 110 horsepower. The fuel efficiency is good all around, with the petrol models getting up to 45mpg and the diesels getting up to 55mpg.
The Peugeot Partner Fridge Van comes with some innovative technology that sets it distinct from competitors like the Ford Transit Connect Fridge Van and Volkswagen Caddy Fridge Van.
The overload sensor on the Grip is a clever piece of equipment that will help you make the most of the van's hauling capacity.
Read further to go through our Peugeot Partner review in detail.
Is the Peugeot Partner the best vehicle for transporting your chilled items?
Temperature-controlled transport requires careful planning and coordination to ensure that the goods are kept at the correct temperature throughout the journey.
The Peugeot Partner refrigerated van is an ideal first van for folks establishing a haulage business and needing a commercial vehicle for transporting refrigerated or chilled items over long distances. It is so simple to operate. It is, nevertheless, a consummate professional, with a version that can withstand a lot of abuse on harder terrain.
If you're looking for a small refrigerated van that can do practically any job, look no further than the Peugeot Partner Fridge Van.
Peugeot Partner Van Refrigeration Systems
There are several refrigeration systems to choose from. Inside the Peugeot Partner Van refrigeration system, temperatures can range from 8 degrees Celsius to – 30 degrees Celsius. These temperatures fluctuate depending on what you have inside the freezer.
While most firms only require one loading compartment, many others require twin (or even triple) loading compartments, allowing them to deliver two or three products at different temperatures at the same time. Some Peugeot Partner refrigeration vans are can run even when the engine is turned off completely. A standby facility will be required in this case.
Companies that cater outdoor events and require constant cold storage are one example. These Peugeot Partner freezer vans will then be connected to a peripheral power supply, which will most likely be a three-phase or single-phase source.
Even with the motor turned off, this has the effect of keeping the products inside refrigerated.
Refrigerated Van Thermal Insulation
As with refrigeration systems, the type of thermal insulation employed is determined by the required loading ambient temperature. We've found that styrofoam is the best vehicle insulation material after years of testing.
The lightweight styrofoam keeps temperature high and the thicker styrofoam keeps temperatures down. As a result, we use it in every vehicle we sell. Depending on the level of cooling required, we'll use different thicknesses of styrofoam. These range from 50mm for chiller compartments to extra-thick 100mm for deep freeze compartments.
Other reviews on Peugeot Partner Refrigerated Van
Comfort and design
The Peugeot Partner's best selling point is the so-called I Cockpit.
This consists of a miniature steering wheel that must be positioned so that you can see the dashboard instruments through it rather than through the wheel.
For some drivers, this will be enough, but for the best comfort, they will need to lower the steering wheel lower than they would like. You should be able to get comfortable with some adjusting. The small steering wheel feels compact and hefty in your hands, which is a plus.
The rest of the cabin is a little less bizarre. Basic seat adjustment is available on the Peugeot Partner S model, but you can also change the height and lumbar support as you progress through the trim levels. The footwell is spacious, and finding a driving position that will keep you comfortable on long rides is simple.
The rest of the cabin is as well-designed, with the gear lever raised slightly to provide the middle passenger more legroom. It is, nevertheless, still accessible. All variants save the base get an electric parking brake that sits next to the gear lever and eliminates the need to reach awkwardly down between the seats when parking.
What's the Peugeot Partner i-Cockpit all about?
The Peugeot Partner was the first van to have a variation of Peugeot's i-Cockpit interior design. That means the steering wheel is smaller than typical, and the instrument panel is higher on the dashboard than a traditional set of dials. Peugeot claims that this i-Cockpit dashboard layout creates a sportier feel in its automobiles,
Bluetooth, USB and Aux-in
12v socket
Unglazed asymmetric rear doors and nearside sliding door (Standard length) or twin sliding doors (Long length)
Overheard storage space
Six tie-down hooks in the load area
Remote central locking with deadlocks and separate cab locking
Full bulkhead
Electric front windows and door mirrors
Two individual front seats
Rearview mirror
Auto lights
DAB radio
Tyre pressure monitor
Driver's seat with height and lumbar adjustment
Multi-Flex modular folding passenger bench seat with load-through bulkhead and writing table
230v socket
Wireless charging
Front foglights
Four mid-height load securing rings in the load bay
LED lighting in the load area
Automatic electronic parking brake
Grip Control traction control system with hill-descent control
Underbody protection
30mm increased ground clearance
Mud and snow tyres
16-inch steel wheels
Overload indicator
One-touch electric windows with electric heated door mirrors
Tyre pressure monitor
Driver's seat with height and lumbar adjustment
Multi-Flex modular folding passenger bench seat with load-through bulkhead and writing table
8.0-inch touchscreen with Apple CarPlay and Android Auto connectivity
Front foglights
Air-conditioning
Rear parking sensors
Extended rear overhang
Cruise control with variable speed limiter
Automatic electronic parking brake
Alarm
Body-coloured rear bumper, mirrors, door handles and rubbing strips
Hard plastic floor protection
Peugeot Connect TomTom sat-nav system with voice recognition and multifunction steering wheel
Surround Rear Vision package with front and rear parking sensor plus rear and side (blindspot) cameras with a dedicated 5.0-inch screen
Comfort driver's seat
Extra sound insulation
Automatic wipers
16-inch alloy wheels
Which Peugeot Partner model/engine is the best?
The Professional trim will be the most appropriate for the great majority of temperature-controlled logistics transport. The Peugeot Partner S premium is just too under-equipped to be a pleasant all-around van, lacking even air conditioning.
Cruise control, rear parking sensors, and the Multi-Flex folding passenger seat that expands the loading length are all included in the Professional package. It also includes a colour display with Android Auto and Apple CarPlay compatibility, so you can stream satellite navigation from your phone if you have one.
The 130PS diesel engine is the finest choice for long-distance delivery drivers, thanks to its smooth acceleration and enticing 1000kg payload.
What other automobiles are comparable to the Peugeot Partner van?
The Partner Tepee is Peugeot's badge-engineered version of the equally convolutedly sounding Citroën Berlingo Multispace. It might look like a van with windows but the Partner Tepee/Berlingo Multispace has been designed as a passenger car from the outset. The Citroen Berlingo, Vauxhall Combo, and Toyota Proace City are the Peugeot Partner's main competitors because they share a basis.
There isn't much to choose between them, with the visual features being the most important distinction. If you don't like the Peugeot's smaller steering wheel, the others will appeal more, and the Toyota has a longer warranty.
The Ford Transit Connect, which is only available as a two-seater, is worth considering if you want something with a bit more driving thrill. In terms of driving pleasure, the Volkswagen Caddy is another car-like van, with a new model rolled out in 2020.
Space and practicality of Peugeot Partner Refrigerated Van
The Partner's basic form comes with just two seats, which provides plenty of space for both occupants. However, each model above the most basic includes a passenger bench seat that can accommodate up to three adults.
Note that these have been removed in the refrigerated van available at Glacier Vehicles.
The Long van has payloads ranging from 940-954kg, while the Crew Van has an 854kg payload. Cargo volume for the Standard van is 3.3 cubic metres, while vans with the Multi-Flex front seat have a combined maximum load volume of 3.9 cubic metres, with an extra 600 litres of space when the front passenger seat is folded and the bulkhead door is open.
In virtually all circumstances, the primary loading bay has a wonderful payload, as long as you avoid the less powerful engines. These can carry roughly 650kg of payload, while the more powerful engines can carry around 1000kg, which is a significant improvement over the Transit Connect and Volkswagen Caddy.
Each Peugeot Partner has a wide range of efficient engines and receives one side sliding door, with the possibility of adding a second. There are 1.2m of space between the back wheels, which means two Euro pallets can fit. Six lashing hooks come standard, with an additional four available as part of the Loading Pack. There's also LED illumination in the back, as well as 12V and 220V power outlets.
What about the engines and six-speed manual gearbox?
The Peugeot Partner range comes with three diesel engines and one petrol engine. The entry-level 75PS diesel model may be inexpensive, but it falls short of the practicality of the other diesels, with a payload that is roughly 350kg lower than the majority of the rest of the range.
The 100PS model has a little extra low-down pulling power to keep you going on the highway. It does not, however, have a sixth gear, so it is less relaxed at higher speeds than the 130PS 1.5-litre diesel, which is undoubtedly the best of the range.
When the Peugeot Partner van was first introduced, it was also available with a 1.6-litre diesel engine with 75 or 100 horsepower. These were only available for the first few months of the van's life because they did not match the new 2019 emissions regulations.
However, enough were sold to make them available on the used market. They don't have the torque of contemporary engines, but the more powerful variant can still tow a 1000kg payload.
For those who don't want to go with the basic diesel, the 1.2-litre petrols are, predictably, considerably more suited to around-town driving.
In addition to the six-speed manual transmission, there is an eight-speed automatic transmission with a dial on the dash. It's quite smooth and makes a strong argument for itself if you'll be stuck in stop-and-go traffic for long periods of time.
Does the Peugeot Partner Refrigerated Van have safety equipment?
The Peugeot has up to 20 driver aid and safety systems, with the majority of them accessible as options.
Among safety kits are:
Automatic high beam
Cornering lights
Hill-start assist
Side park assist
Reversing camera
Trailer stability control
Grip Control with Hill Descent Assist (on certain models)
Overload indicator
Surround rear vision
Electronic stability control (standard)
Adaptive cruise control with stop and go function
Lane-departure warning
Driver attention alert
Coffee break alert
Traffic sign recognition
Blindspot visibility
Distance alert
Active safety brake
Many of the safety features are optional or only available on high trim levels, as is commonly the case with vans. Hill-start assist, a driver's airbag, and flashing danger lights are all standard on the S model.
The Professional adds an alarm, rear parking sensors, cruise control, and an automatic electronic parking brake to the higher variants. The overload indicator shows when the van is exceeding its maximum gross vehicle weight.
Although there is an astonishing quantity of equipment accessible, you must acquire optional packs to get more. A lane-departure warning system, speed limit recognition, an active safety brake, and a distance alert system are included in the Safety Pack.
The Safety Pack Plus adds auto lighting and driver attention aid, among other features.
The Overload Sensor, which comes standard on the Grip models and may be added as an option to all other variants, is the best piece of safety kit. It will sound an alarm if you go close to or exceed the van's maximum payload, increasing safety and efficiency.
What are the MPG and fuel costs?
The Partner's lowest-powered engine isn't always the most economical, as the 100PS diesel boasts the best-stated fuel economy, with an official figure of up to 55mpg.
The lower-powered diesel is the next most efficient, followed by the 130PS, although there isn't much to differentiate between them. Fuel economy is hardly a reason to choose one model over the other, as the 130PS offers an official value of up to 52mpg. Even the petrol models have a remarkable official efficiency rating, with theoretically up to 44mpg achievable.
Why not place an order for this temperature-controlled van today?
If you need a low cost, high-quality refrigerated vehicle or freezer van, then we've got just what you need. No other company matches the selection of both used and new refrigerated vans that Glacier Vehicles has to offer. Glacier Vehicles can offer you New Refrigerated Vans, Used Refrigerated Vans, New Freezer Vans and Used Freezer Vans at affordable prices.
Call us today on 0208 668 7579.