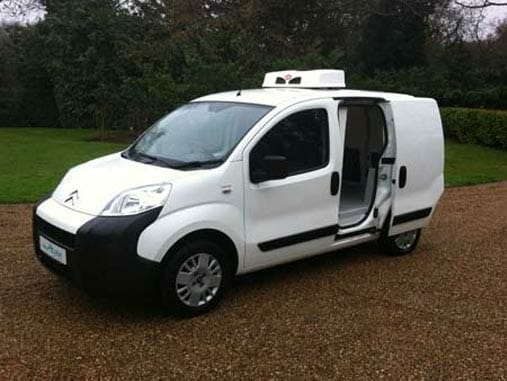 The Citroen Nemo has been called "the smallest biggest refrigerated van with big ideas". Lets investigate that claim. It has a large cargo hold with a reasonable price tag, and we can say with certainty that the Nemo is the ideal compact van for navigating the modern metropolis, with a large amount of space, and extremely eco friendly qualifications.
Key features
Its key features include its increased manoeuvrability due to its notable compactness, at 3864mm. It has a load volume of 2.8mᶟ and a load length of 2491mm showing that although it may be compact, it can certainly hold a robust load. It has asymmetric back swing doors and wide sliding side doors for convenience and space, with record-beating specs for fuel efficiency and CO₂ emissions, making it the ethical and economical van of choice.
It has intelligent traction control and a connecting box with a Bluetooth system and USB socket making it possibly the most up to date refrigerated vehicle on the market. Despite being a smaller option, the Citroën Nemo refrigerated van has bags of space. It has a load volume of 2.5mᶟ, a cargo hold of 660kg, folding Extenso passenger seats that add 2.8mᶟ of load volume and lets you carry an increased amount of refrigerated loads up to 2.49m long.
A refrigerated van that's as safe as houses
There's a guarantee that a trip with a Nemo refrigerated van is one of the safest you can get when it comes to compact refrigerated vehicles. It comes with ABS and driver airbag (with the choice of a passenger airbag). There is a range of options when it comes to bulkheads, including a modular mesh grille or full steel with inset window. This refrigerated van comes with an efficient and economical HDi 75 diesel engine with the option of a manual or clutchless gearbox – meaning the open road and the city shouldn't be a problem to traverse.
Feels and drives like a car, with the loading space of a van
Undoubtedly one of the best compact refrigerated vehicles around, the Citroën Nemo is a luxurious and easy drive, much like a passenger car. It has a comfortable driving position, a big bold and practical interior with 12 storage compartments. Due to it being based on the Fiat Punto, it comes as no shock that it drives like one. Only real problem is its stiff suspension that is most noticeable when loaded way below capacity. Potholes and bumps can throw it off, which can be an issue if your refrigerated vehicle needs to travel a long distance with a small amount of cargo. Similarly short models like the Ford Fiesta van and Vauxhall Corsavan arguably handle better. The Nemo can drive with ease at motorway speeds with little to no engine buzz.
A refrigerated workplace on wheels
The Citroën Nemo is far more than just a compact refrigerated van – it handles very well and makes for a great office space due to its driving and useful features including rear parking sensors, Bluetooth system, and EXTENSO passenger seat that turns into a table-top.