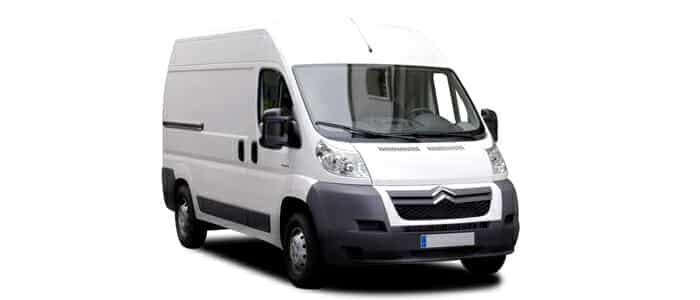 The Relay 35 refrigerated van, from the reliable French manufacturer Citroen, is a seriously chunky vehicle. It has an extremely imposing appearance, and won't fail to be noticed on the road by virtue of sheer size alone, even in the smallest wheelbase version.  Of course, if this isn't enough, then the Relay 35 refrigerated van is also available with a medium, long, or even a mammoth extra long wheelbase.
It's never going to be the most beautiful vehicle, but the huge loading potential makes it a practical and economic choice for a refrigerated van. Load volumes go from an ample 83 (L1 H1 model) to a cavernous 17m3 (L4 H3 model) and it can handle a refrigerated payload from 1140kgs (30 L1 H1 model) all the way up to 1990kgs (40 L2 H2 model).  The load bay is accessed through a huge, full height sliding door in the side of the vehicle. If you'd prefer, you can also load and unload through the two doors at the back.
In a large refrigerated van with such a high payload potential, you really need a powerful engine. The Relay doesn't disappoint, with a fierce 2.2 litre engine under the hood, available in 110, 130 and 150BHP variants. This highly respectable combination of power and payload makes the Relay refrigerated van an impressive long distance refrigerated workhorse, capable of hauling chilled products from Lands End to John O'Groats or even across international boundaries if required.
While the six-speed gearbox and gargantuan haulage potential means the motorway is the most natural habitat for this arctic behemoth, it also has the manoeuvrability to navigate even the most intricate and confusing town centres. These two traits combine to make it the ideal backbone for a national refrigerated van delivery fleet, and smaller models are easily capable of handling more localized operations.
There are many features to make the driver's cabin an extremely comfortable working environment.  The ergonomics of the cabin are well laid out, with a fully adjustable steering wheel and a completely unobstructed handbrake. It also has a huge amount of storage space, with enough room to store the accoutrements of almost any road chilled goods haulage business. There is also plenty of personal space for both driver and passenger, with all of the bottle holders and cup holders that you'd expect. There's even a handy pull out work surface in the central console that can be used to deal with paperwork on the road.
The standard specification of a Relay 35 refrigerated van comes with a variety of modern conveniences to make trips easier, including heated door mirrors, electric windows, and a multi-function on board trip computer. A satellite navigation system is also included as standard. The stereo is more than capable of keeping drivers entertained over long distances, and is even compatible with MP3s that have been burned to a CD.
All in all, the Relay 35 refrigerated van is a safe, reliable vehicle that is an ideal candidate for refrigeration conversion, and will suit almost any business that needs to deliver refrigerated payloads around the country.
New Citroen Vehicles
USED Fridge Vans In Stock by Size


Citroen Relay Van Refrigeration Systems
A wide range of different refrigeration systems are available.Depending on the merchandise being transported, the temperature needed can vary from 30C to -30oC. While most freezer vans have a single compartment that's kept at a single temperature, some large  Citroen Relay refrigerated vans will have multiple compartments which are each kept at various temperatures for different merchandise. For specific applications, it's going to be essential to possess a refrigeration van that can continue to work-even when the engine is switched off. This scenario is most commonly found with businesses who need mobile refrigerated vans to serve cold products during outdoor occasions. When this is needed, we are going to need to use a backup power system. This helps it be possible to run the  Citroen Relay refrigeration van system off a standard single phase or three-phase external power source, preventing the product from spoiling. We supply a wide selection of products to meet the needs of any client, and we will happily fit equipment that is specifically configured for your particular needs.
Freezer/Refrigerated Van Insulation
As with refrigeration systems, the sort of insulation used depends upon the loading temperature required. We use Styrofoam insulation exclusively, as we believe its combination of lightweight and thermal insulation qualities make it the finest material to insulate a vehicle. The thickness of the insulating Styrofoam will change based on which temperature is needed. We'll typically use 50mm Styrofoam for cooled compartments, 75millimeter Styrofoam for freezer compartments and an extra thick 100millimeter Styrofoam insulating material for deep freeze. The insulation may be 'finished' in two different ways: wet-lay or dry-line. Over the years, we've discovered that wet-lay is the best method, and it's also the one we use exclusively. It uses a resin to make sure that the interior freezer compartment is totally sealed for safe transport of food products.We value our engineers enormously, and so does the wider engineering community. That is why they have won several awards for their work on Citroen Relay freezer vans. The internal coating that is created by the wet-lay insulating material is also very easy to fix in case of damage to the Citroen Relay freezer van. The dry-line coating utilizes multiple panels inside the freezer vans rather than a single, impregnable coating. These panels have sealer in between them, which frequently breaks down and promotes the development of mould. This may lead to significant problems in a vehicle designed to carry food.
Citroen Relay Refrigeration Van Engineers
Most of the credit for ensuring our Citroen Relay freezer vans build procedure runs smoothly and within time constraints goes to the hard work of our engineers, plus they are constantly on hand to answer any client questions. Our engineers are also responsible for our incredible bespoke refrigeration service, where they will work to build a system created specifically for your mobile refrigeration needs in both large and little refrigerated vans. To find out more please visit: https://www.glaciervehicles.com/bespoke-refrigerated-vans/.
Van Warranty
You will get a 12 month manufacturers guarantee on all of our products at Glacier Vehicles, irrespective of if they come in our new or second-hand Citroen Relay freezer vans. That's because all of the refrigeration equipment and insulating material we supply is brand new. We have found that GAH and Hubbard are the top refrigeration equipment manufacturers in the whole world, and until you specify otherwise we will use their merchandise in both our little and large refrigerated vans available. This is not only because of their exceptional quality, but in addition their high levels of after sales service. Their engineers will come to any location inside the mainland UK to mend any problem, in the unlikely event a difficulty arises along with your deep freezer van.
Glacier Vehicles Video