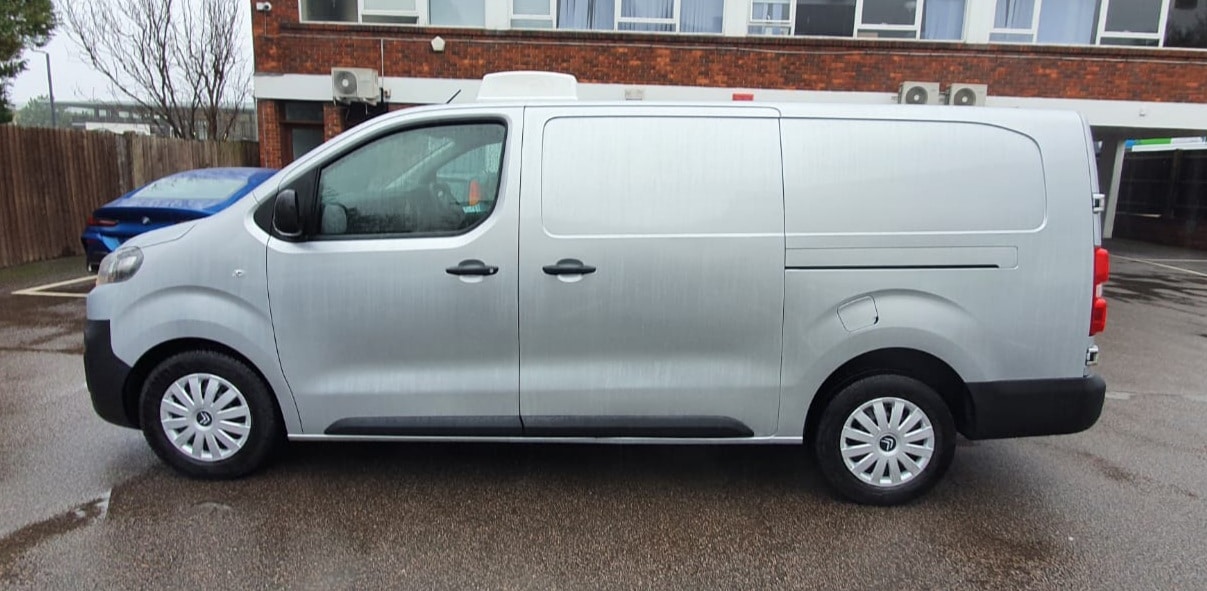 The Citroën Dispatch Refrigerated Van is a light commercial vehicle manufactured by French automaker Citroën. The vehicle was launched in 1994 as the 'Bumper' and is built on the same platform as the Citroën 2CV, C3 Pluriel and C8 models. For many years, the Dispatch shared body styling with these cars, but since 2006 it has been offered in a unique design closer to that of the Berlingo.
Combining innovative design with a unique sense of style and class, this visually stunning car brings a driving experience to the EPC and logistics segment. This 2022 Citroen Dispatch Refrigerated Van review is for the third-generation model, which was released in 2016.
The Peugeot Boxer is a great van for temperature-controlled transport. It's completely redesigned from the ground up and is based on the Efficient Modular Platform 2 (EMP2), which also underpins the latest Peugeot Expert, Toyota Proace, and the 2019 Vauxhall Vivaro.
Citroen Dispatch Van Refrigeration Systems
There are many types of refrigeration systems on the market. Some products can only be stored at a warm temperature of around 30°C, while others must be carried in a Citroen Dispatch freezer van at temperatures as low as -30°C.
In many cases, a single large Citroen Dispatch freezer van is all that is needed to transport temperature-sensitive items. However, there are times when multiple compartments are necessary in order to store items at different temperatures. In these instances, it is important to have a van that will maintain the desired temperatures even when the engine is turned off. Businesses that cater to outdoor events such as weddings and festivals, for example, may need to keep their produce refrigerated without operating the motor.
They'll need to use a backup power system if this is required. This allows the refrigeration van system to be powered by a common single-phase or three-phase external power supply, which prevents the product from deteriorating.
Glacier Vehicles works with all of the major refrigeration manufacturers and can supply and install the necessary refrigerator and freezer equipment to meet any customised requirements our customers may have.
Our Refrigerated/Freezer Van Insulation Options
Insulation is a critical component in Citroen Dispatch refrigerated vans, and it is this factor, coupled with the refrigeration system chosen, that determines the vehicle's interior temperature. We only use Styrofoam insulation because we believe it has the optimum combination of lightweight and thermal insulation capabilities for insulating a car.
For varying levels of insulation, different depths of Styrofoam will be used, starting with relatively thin Styrofoam (50mm) in chilled compartments and progressing to 100mm thick Styrofoam in deep freeze compartments.
Dryline and wet-lay insulation are the two most common types of 'finish' today. Wet-lay is the more traditional procedure and one that Glacier Vehicles uses because after the 'wet' GRP resin has been applied and dried, the loading area becomes a completely sealed, washable, and hygienic loading environment.
Transportation of temperature-sensitive goods requires a cold chain system to maintain product quality and safety and the Citroen Dispatch makes a great fit. An unbroken cold chain is an uninterrupted series of storage and distribution activities that maintain the desired low-temperature conditions of products.
What are the Variants of Citroen Dispatch?
Frozen food transportation demands a reliable and sturdy vehicle that can handle heavy loads and maintain low temperatures. The Citroen Dispatch is a versatile van that can be equipped to meet the needs of frozen food transport.
With three different body length options and a load-through bulkhead, the Dispatch can accommodate long and bulky items while still maintaining a low roof height for easy parking. The crew van option also allows for additional storage space and passenger seating, making it an ideal choice for frozen food
In addition to panel vans, there are crew van types and a platform cab that can be converted. There is only one roof height, unlike the previous model. This has been purposefully kept low to alleviate the stress of parking, albeit it does limit the number of items you can bring inside.
Engine options for Citroen Dispatch
Citroen provides five power levels at launch, spanning among upgraded versions of the previous model's 1.6-litre and 2.0-litre BlueHDI engines.
The 1.6 was replaced in May 2019 by a more modern 1.5-litre engine that complies with the current Euro 6d-Temp (or Euro 6.2) emissions requirements; revised 2.0-litre motors that also complied with these regulations were also launched at the same time.
Trim levels for Citroen Dispatch
The Dispatch was available in three trim levels at launch: X, Enterprise, and Enterprise Plus (really just an extension of Enterprise, as this suggests).
The lineup was extended to include Worker and Driver models in May 2019.
Fuel Economy
With the launch of the Euro 6 BlueHDi engines, fuel economy has greatly improved. The most fuel-efficient model is the 114bhp 1.6-litre, which achieves 55.3mpg and emits 133g/km of CO2. The base 94bhp engine with manual transmission achieves 51.3mpg, while the range=topping 178bhp engine achieves 46.3mpg.
Standard equipment for Citroen Dispatch
Until May 2019, the Citroen Dispatch was available in the following trim levels, with the following standard features.
Highlights of the Citroen Dispatch X's standard equipment include:
Electric windows
Full-size spare wheel
DAB radio
Bluetooth, USB and aux-in connectivity
12v socket in load area and cabin
Twin sliding side doors
Full steel bulkhead
Height-adjustable driver's seat
Dual passenger bench with storage tray
Cruise control
Highlights of Citroen Dispatch Enterprise standard equipment (in addition to X):
Moduwork load-through bulkhead and passenger bench
Automatic lights and windscreen wipers
The 7.0-inch touchscreen infotainment system
Air-conditioning
Rear parking sensors
Electrically adjustable heated door mirrors
Standard equipment highlights for Citroen Dispatch Enterprise Plus (in addition to Enterprise):
180-degree rear parking camera
Front and rear parking sensors
Electrically folding heated door mirrors
Connect Nav sat-nav system with an emergency call and breakdown assist
Metallic paint
Body-coloured bumpers, door handles and side rubbing strips
Front foglights
Reversing camera
LED daytime running lights
17-inch alloy wheels
Citroen Dispatch safety features
Head-up display
Blind-spot monitors
Traffic sign recognition
Lane departure warning
Driver fatigue monitor
Electronic stability control (ESC)
Autonomous emergency braking (AEB)
Adaptive cruise control
Driver attention alert
Intelligent speed adaptation
Speed limiter
Forward distance alert (warns you if you're too close to the vehicle in front)
Is the Citroen Dispatch available in an electric version?
The e-Dispatch, an all-electric variant with a claimed driving range of over 200 miles, went on sale in late 2020.
This, along with the closely similar Peugeot e-Expert and Vauxhall Vivaro-e are likely to become game-changers for the electric van market. Thanks to substantial payload ratings, competitive cost and the choice of two battery sizes.
Interior and cabin
The cabin is now much more car-like. The quality of the plastics used, as well as the appearance of the dash and steering wheel, has vastly improved.
Cruise control, remote central locking, DAB radio with Bluetooth, and USB and auxiliary device ports are standard on entry-level X models. It's a fantastic place to start for a vehicle that's both economical and competitively priced.
Enterprise vans with the middle trim level add one-touch electric windows, a 7.0-inch touchscreen, automated lighting and wipers, electric heated mirrors, and storage beneath the passenger seat.
Upgrading to the Enterprise Plus adds more essential features including front and rear parking sensors with a camera, electric folding mirrors, and a 3D Connected navigation system with voice recognition. You will also get exterior trim enhancements like body-coloured bumpers and LED daytime running lights.
With only a small radio-sized hole, an open glove box, and a thin shelf above that, storage is extremely limited. On the Enterprise and Enterprise Plus vans, the real storage is in the split level door pockets and under the seats.
Driving experience
Citroen emphasises comfort in its passenger cars these days, and it has always been one of the brand's strong points. Citroen may rightfully claim its status as one of the van industry's comfort leaders with the introduction of the new Dispatch.
The supple ride is due to the new EMP2 platform and the fact that PSA engineers began with the assumption that they would need to create a smooth-riding MPV variant. The engineering choices taken to attain that goal benefit all of the vans.
Cabin noise is also minimised in addition to the comfortable ride. When driving with an empty load bay, there is some boom through the normal metal only bulkhead, but it's not excessive, and the insulated version improves matters even more.
Even for tall drivers, the seats are comfortable. It comes with lots of adjustments in all directions and you get an excellent view out across the bonnet. Although the bonnet is tall, the Dispatch's squared-off snout from behind the wheel makes it simple to spot when parking or manoeuvring.
The high waistline and bonnet along with the low roof, create a letterbox view out of the cabin. Yet it isn't obstructive to visibility. The mirrors are more like MPV mirrors, with no wide-angle glass to help you keep a watch on your blind spots.
Passenger and cargo space
The Dispatch has more length options than typical vans in this class, with three to pick from. The 4600mm tiny XS variant competes with huge city vans like the Renault Kangoo Maxi and Nissan NV200. The maximum length of the storage space is 2160mm.
The ordinary M van is 4950mm long with a load length of 2510mm, while the largest XL variant is 5300mm long with a load length of 2860mm. A folding front passenger seat and load-through bulkhead opening are available for all three vans, providing an additional 1160mm of useful area for pipes or lengths of wood.
A combi minibus with three rows of seats and space for nine people, a six-seat crew van, and a platform cab for speciality alterations are available in addition to panel van models.
The three-body sizes have load volumes of 5.1m3, 5.8m3, and 6.6m3, respectively. The Dispatch is 1940mm tall overall, with a 1397mm internal load height.
The new Dispatch is up to 150kg lighter than the previous generation, depending on the model you choose, and the Peugeot-Citroen partnership is even happier that the van's kerb weight now compares favourably with the competition, giving the Dispatch a best-in-class payload of 1498kg for a 3.1-tonne van and up to 1100kg for lower-rated 2.6-tonne vans.
Twin side doors are standard, and a hands-free load space opening system is available as an option. The side door will open if you wave your foot under the rear bumper at the side of the van you want to open. It's not infallible, and you might look stupid doing it, but it's a fantastic technique to get the doors open on a rainy day when you don't want to drop boxes on the floor.
Please contact Glacier Vehicles If you need a low cost, high-quality refrigerated vehicle or freezer van
Glacier Vehicles is unique in the industry with not only several decades of experience and unmatched knowledge of all types of fridge vans and freezer vans on the market, but also in our dedication to our customers over our bottom line
No other company matches the selection of both used and new refrigerated vans that Glacier Vehicles has to offer. We can meet all of your exact specifications with a vehicle that's just right for you, thanks to our many years of experience in the industry, and we are happy to work with you until you are absolutely satisfied.
Call us today on 0208 668 7579