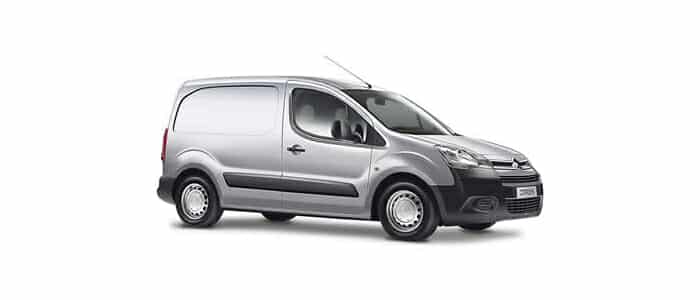 The Citroen Berlingo has been redesigned fairly extensively in the last year. As well as various aesthetic changes that have given it a sleeker, more modern look, this refrigerated van has been given a few tweaks under the hood to make it consume less fuel and emit less CO2.
The Berlingo range is incredibly versatile, with sizes and trim levels to suit almost any business. The refrigerated payload capacity stretches from a smallish 625kg to a respectable 825 kg, there are two wheelbase lengths to choose from, and buyers can decide whether they wish to go for the X, LX or Enterprise trim levels. There are also many different engines available, with diesel engines in three sizes and a 95bhp 1.6 liter petrol engine available that can even be converted to run on LPG if required.
Characteristically for Citroen, the driver's cab has been designed for maximum comfort. This is definitely a small refrigerated van, but you'd have no idea when you are in the extremely roomy cab.  There is a huge amount of storage space, with a dashboard tray, glove compartment, and a full width shelf above the windscreen all coming in handy on long journeys. The middle seat can also be folded down to reveal a useful work surface that even has straps to stop documents from flying around while the vehicle is moving. This surface is a lifesaver when you are trying to complete documents relating to deliveries while you are on the road. The driver's seat is fully adjustable for height, and the steering wheel can be adjusted back and forth, as well as moved up and down, for maximum driving comfort on long journeys.
The refrigerated loading bay at the back of the vehicle is extremely easy to load and unload, and measures 3.3 meters cubed on the short wheelbase model and 3.7 meters cubed on the larger model. There is a sliding door on each side, and a single door on the back of the vehicle that gives access to the entirety of the loading bay. This is extremely useful for trips where the vehicle won't be fully loaded and unloaded at each stop, as is common for journeys in a small refrigerated van like this.
The standard specification comes packed with features, including one touch operation electric windows, heated wing mirrors (that are also electrically adjustable), an RDS stereo with an MP3 compatible CD player, and even a Smartnav satellite navigation system. The screen of this system can be removed and stored away to avoid theft.  If you want to spend a bit more, the Enterprise Pack offers air conditioning, Bluetooth compatibility, and parking sensors that don't just bleep but also show you a visual representation of how close you are to the object behind you. It's an extremely clever feature that comes in very useful for parking in tight city center spaces, especially if you aren't used to driving a commercial vehicle.
The Berlingo is the ideal refrigerated van for small businesses, or for smaller local deliveries as part of a larger cold chain.
New Citroen Vehicles
USED Fridge Vans In Stock by Size


Citroen Berlingo Van Refrigeration Systems
A wide variety of distinct refrigeration systems are currently available.Depending on the goods being transported, the temperature needed can operate from 30C to -30oC.Many large Citroen Berlingo freezer vans have different sections which can be kept at different temperatures, even though most have a solitary compartment. For specific applications, it's going to be crucial to possess a refrigeration van that can continue to work-even when the motor is switched off. One example is businesses that cater outdoor occasions where prolonged cold storage is needed. The exclusive way to achieve this is to use a stand-by power supply.This provides the capability to plug the Citroen Berlingo refrigeration system into an external power supply (single-phase or three-phase), keeping their produce cool / frozen for an indefinite period. We supply a huge range of products to fit the requirements of any client, and we'll happily fit equipment that is specifically configured for your particular requirements.
Freezer/Refrigerated Van Insulation
As with refrigeration systems, the type of insulating material used depends up on the loading temperature required. The combined light weight and highly thermal characteristics of Styrofoam make it the best material for refrigerated vehicle insulation, which is the reason why we use it exclusively in our refrigerated vehicles. The thickness of the Styrofoam is what determines the amount of insulant. For cooled compartments we use 50millimeters Styrofoam, for frozen compartments we'll use 75mm and we reserve the application of 100millimeter Styrofoam for deep freezer compartments that can maintain a temperature as low as minus 30c. After the insulating material is installed, a protecting 'finish' will be used. This can be done in two different ways: wet-lay or dry line. Over the years, we have discovered that wet-lay is the better method, and it's the one we use exclusively. It uses a resin to ensure that the interior freezer compartment is entirely sealed for safe transportation of food products.Our engineers are so skilled at creating Citroen Berlingo refrigerated vans that they have even been recognized in several engineering awards, and we feel extremely proud to have them as part of our company.Another benefit to the wet-lay procedure is that should the resin become broken through pallet loading etc, it is very easily rectified straight back to an as new condition. Dry line coating a newer procedure van sector we prefer to stick to the traditional wet-, and while it has found some favour in the refrigeration lay It is because the sealer used to connect dry line panels can often harbour mould growth, which is a tremendous problem when you are carrying food.
Citroen Berlingo Refrigeration Van Engineers
Glacier Vehicles' clients often have questions regarding the build process, and our engineers are the best people to turn to for all of the technical details. They also work hard to keep our Citroen Berlingo freezer vans build process running smoothly, meeting the often tight time constraints of our valued customers. Our engineers can also be tasked with making bespoke refrigeration systems for customer's specific requirements, in both large and little Citroen Berlingo refrigerated vans.
Van Warranty
Whether you are buying a new or late, low-mileage used vehicle, the conversions (both insulation and refrigeration system) are brand new and given the complete 12 month Manufacturers Guarantee. We believe that GAH and Hubbard are the best producers of refrigeration products, and we have a tendency to use these products in all our little and large Citroen Berlingo refrigerated vans available unless the client specifies otherwise. It is because we've found their products to be of extremely high quality, and their after sales service is also outstanding. If any problems occur with the refrigeration compartment in your Citroen Berlingo freezer van, these companies will both send an engineer to your location to fix the issue immediately, no matter where you happen to be.
Glacier Vehicles Video