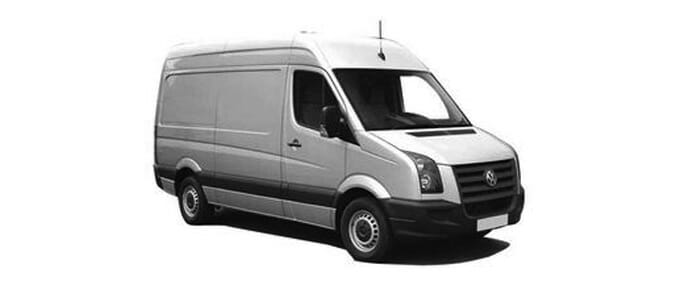 There are various kinds of refrigeration systems being produced. Temperatures in the Volkswagen Crafter refrigerated van change radically, from an average 30c for goods that need to be kept room temperature in the height of summer, to arctic conditions of minus 30c for exceptionally volatile products which require really cold temperatures. While most Volkswagen Crafter freezer vans possess a single compartment that is kept at a single temperature, some big refrigerated vans will have multiple compartments that are each kept at various temperatures for various products. Sometimes it's important for the Volkswagen Crafter refrigeration van to work even with no engine running. One common use for this type of refrigerated van is alfresco serving of chilled food at weddings, festivals and other outdoor events. In such a situation, we shall need a reserve power supply. These sorts of Volkswagen Crafter freezer vans will then be linked to an external power supply, usually a typical three phase or single-phase source. It's the effect of keeping the goods stored inside cooled, even with the engine completely off. Glacier Vehicles work with all the leading refrigeration manufacturers and can supply and fit the necessary fridge / freezer equipment to cover any bespoke requirement our clients have.
Freezer/Refrigerated Van Insulation
Choosing the right type of insulation is essential too. This will work in tandem together with the refrigeration system to maintain a temperature that is perfect for your product. After years of experience, we have decided that the best insulation for vehicular use is Styrofoam. The lightweight keeps payloads high, and it's thermal qualities keep temperatures cold. For this reason we use it in every vehicle we supply. We'll use differing thicknesses of Styrofoam with respect to the degree of chilling required. These range from 50mm Styrofoam for our chiller compartments to ultra-thick 100mm Styrofoam for compartments that are built to keep deep freeze temperatures. After the insulating material is installed, a protective 'finish' will be used. This is done in two ways: wet-lay or dry-line.Wet-lay is the more traditional approach, and one which Glacier Vehicles adopt, because of the fact that when the 'wet' GRP resin is implemented and dried, the loading area becomes a 100per cent sealed, washable and hygienic loading environment. Our engineers are so skilled at creating Volkswagen Crafter freezer vans that they have even been recognized in several engineering awards, and we feel extremely proud to have them as part of our company.Another advantage to the wet-lay procedure is that should the resin become damaged through pallet loading and so on, it's very easily rectified back to an as new condition. The dry line coating uses multiple panels in the Volkswagen Crafter freezer vans in place of a single, impregnable coating. These panels have sealer in between them, which frequently breaks down and promotes the growth of mould. This can cause significant issues in a vehicle made to carry food.
Volkswagen Crafter Refrigeration Van Engineers
They are the ones we all turn to for answers to the many daily questions we get from customers, and they're the unsung (with the exception of this rare pat on the back!) hero's when it comes to keeping the build process smooth and moreover, on time for our clients! Our engineers likewise have the skills to create fully custom refrigeration solutions, tailored for every customer's requirement in both small and big Volkswagen Crafter refrigerated vans.
Van Warranty
All of the equipment that we supply is brand-new, even in our used freezer vans. What this means is that you will be covered by a complete 12 month manufacturers guarantee for your own peace of mind. We believe GAH and Hubbard are the top makers of refrigeration products, and we have a tendency to use these products in all our little and large Volkswagen Crafter refrigerated vans on the market unless the client specifies otherwise. It is because we have discovered their products to be of exceedingly high quality, and their after-sales service is also exceptional. If any issues occur with the refrigeration compartment in your Volkswagen Crafter freezer van, these companies both send an engineer to your location to repair the issue straight away, no matter where you happen to be.
New Volkswagen Vehicles
Used Freezer Vans In Stock by Size