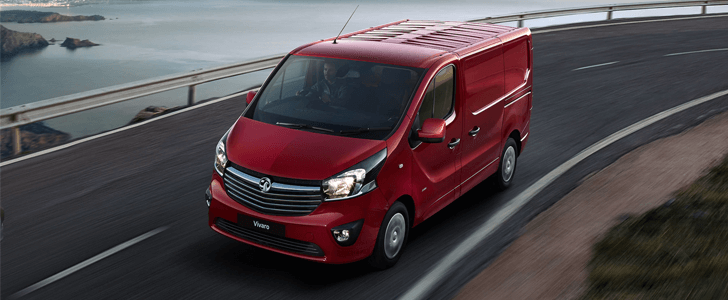 Manufactured in Britain, the Vauxhall Vivaro performs well in most important departments, including practical load area, ride comfort and engine refinement. We could argue that competing vans offer engines that deliver more power, but there's no denying that the Vivaro is a competent van. Medium in size, this model sticks to the winning formula found in the original Vivaro, which was produced over a period of 13 years, ending in 2014. The second generation Vivaro is equipped with a good number of upgrades and updates that can help make your day to day running of your  freezer van business easier.
Vauxhall Vivaro Freezer Van 2018: Driving and Performance
While the 1.6 litre engines don't sound like the perfect size for a panel van, they perform generally well. For open road tasks, we recommend the CDTi 115 (113bhp), as this model is better for weighty loads than the entry level CDTi 90 (89bhp), which is ideal for short urban trips – especially when fitted with the ecoFLEX modifications and stop-start. However, with the CDTi 120 (118bhp), refinement is the highlight, performance is strong and its fuel economy is the best of the entire Vivaro range.
Vauxhall Vivaro Freezer Van 2018: Load Space and Practicality
The cargo area of the Vivaro is fitted with the same racking and panelling as can be found in the older model (and which were much loved by users of the previous Vivaro incarnation). However, Vauxhall have added an extra load length of 100mm, which increases load volumes to 8.6 cubic metres in the L2H2 version and 5.2 cubic metres in the L1H1.
The short-wheelbase model offers a maximum load length of 2,537mm, which can be extended to 2,967mm or 3,750mm by specifying the 'load through' bulkhead. Even more capacity can be achieved in the high-roof model, as the load height of 1,387mm can be increased to 1,898mm. The split rear doors are asymmetrical and allow you to lock them independently. There's also a sliding side door and 20 eyes for lashing loads.
Vauxhall Vivaro Freezer Van 2018: Running Costs and MPG
The entire Vivaro range is powered by a 1.6-litre CDTi diesel engine, designed to use common-rail injection. In order to attain solid points for fuel efficiency, it uses either two turbochargers or one. Some models in this range feature the manufacturer's ecoFLEX efficiency branding, which comes with aerodynamic improvements, regenerative braking technology and stop-start.
Meanwhile, a 138bhp BiTurbo unit delivers 46.3mpg and CO2 emissions of 160g/km. Just below this is the 118bhp CDTi 120 BiTurbo, offering 47.9mpg and 155g/km. If you don't need as much power or economy, the 113bhp engine comes without ecoFLEX efficiency aids, like the entry-level 89bhp CDTi 90 version, which delivers 43.5mpg and 170g/km of CO2. The figures of the 89bhp improve to 46.3mpg and 160g/km when regenerative braking and start/stop are added.
Vauxhall Vivaro Freezer Van 2018: Reliability and Safety
From all indications, the Vivaro is a durable and reliable van. Every single version is fitted with ESP stability control, which includes load adaptive control, roll-over mitigation and traction control. There are rear parking sensors in the Sportive models, but all are equipped with an airbag for the driver.
Vauxhall Vivaro Freezer Van 2018: Security
Every model in the Vivaro range is fitted with an engine immobiliser and deadlocks as standard. There's also a smart keyless entry system, though this is only available from the list of options at an extra charge.
Vauxhall Vivaro Freezer Van 2018: Specs and options
The straightforward Vauxhall Vivaro range comes in three basic styles, two heights and two lengths. The body styles are Combi Bus, Double Cab and Panel Van; the heights are designated as H1 and H2; while the lengths are classed as L1 and L2. The manufacturer also offers a specialist modification-ready Platform Cab body style.