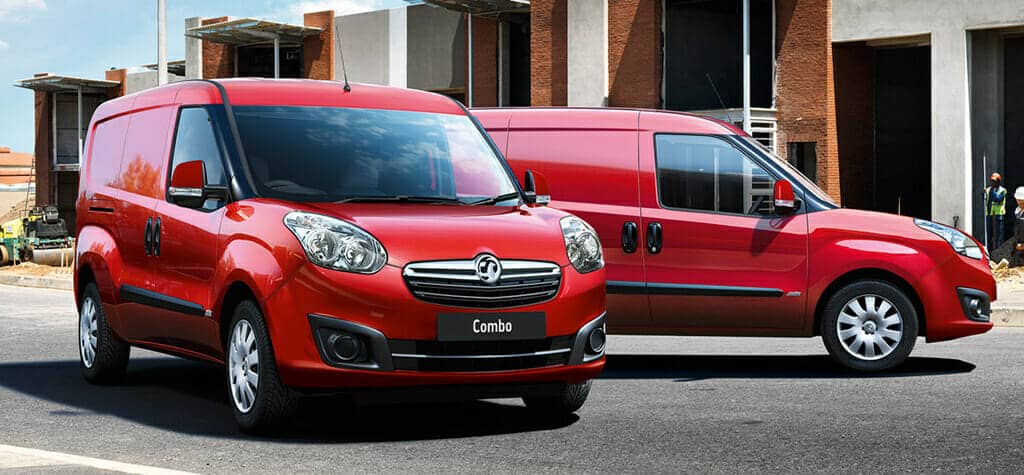 The Vauxhall Combo is a modern workhorse refrigerated van that's efficient, reliable and easy to use. Just one glance at its eye-catching exterior design with sculpted bumpers and grille makes it clear that this is a vehicle that stands out from the crowd.
The engine performs well and it's very economical to use. It's also quite easy to drive. It has lots of storage space and is ideal for use as a temperature-controlled van for transporting chilled goods.
What is Vauxhall Combo Cargo based on?
The previous Vauxhall Combo Life was based on the Fiat Doblo Cargo, whereas the 2018 model is based on the Citroen Berlingo and Peugeot Partner vans. In 2020, the Toyota Proace City join the Toyota Proace family.
Built from aluminium and steel using Peugeot-Citroen car and van parts, the new Combo has compact dimensions for its carrying capacity and current fuel-saving features like electric power steering, as well as access to a variety of active driver aids and other innovative features.
Those in the Food Industry, Beverage Industry, Pharmaceuticals industry and Medical supplies industry will find this cargo van well suited for their everyday temperature-controlled logistics supplies.
Vauxhall Combo van refrigeration systems
Refrigerated transportation is a key part of the cold chain management process, ensuring that products maintain their quality and integrity during transport. Therefore, a refrigerated van is required for those who frequently transport commodities that must be kept cold, particularly food. The Vauxhall Combo Refrigerated Van is the ideal vehicle for this type of transport.
The vehicle has an adjustable thermostat that can be set to as low as -30°C and as high as 8°C. The Vauxhall Combo is also one of the most sought-after vans in the market because it can keep the freezer running long after the engine has stopped.
This is accomplished by connecting the Vauxhall Combo to a peripheral power supply, which is typically a three-phase or single-phase source. As a result, it is able to keep the contents of the freezer nice and cool.
This feature is ideal for outdoor cold chain transportation, such as the delivery of perishable goods, blood products or even vaccines.
Up to five combination storage areas can be found inside the refrigerator. When numerous commodities must be transported at different temperatures, this can be extremely useful.
Freezer/refrigerated van thermal insulation
Without sufficient thermal insulation, the Vauxhall Combo refrigeration van would not function effectively. The refrigeration unit consists of:
Refrigerant
Evaporator
Condenser
Compressor
Fan
Temperature sensor
Controller
Defrost timer
Heating element
Door seal
Gasket
The use of a lightweight material called Styrofoam is what makes the refrigeration compartment tick. The thermal qualities of the Styrofoam insulation help to manage the temperature. The insulation, in particular, is able to keep the cold inside while keeping the heat out.
Because the material is so light, it does not add too much weight to the van. This frees up space in the fridge for even more food. The temperature of the refrigerator will be affected by how well the fridge compartment is insulated.
For instance, installing 50mm Styrofoam will just chill a compartment, however, installing very thick 100mm foam can make a space exceedingly chilly and frozen.
Other reviews on the Vauxhall Combo van
Body variants and trim levels for the Vauxhall Combo Cargo
The new Vauxhall Combo Life van is available in two body lengths: SWB L1 and LWB L2, but only one roof height.
The long-wheelbase version is also available as a Crew van, which can accommodate up to five people and has a partition wall in the back to separate passengers and cargo. To maximise load space, the backbench may also be folded down, and the divider can be moved and stored behind the front seats.
Edition, Sportive, and LE Nav are the three trim levels. The French cousins of the Combo give four options.
Space and practicality
There aren't many cars that compare to the Vauxhall Combo Life refrigerated van in terms of versatility. All variants are spacious and have a pair of side sliding doors, making it simple to get your frozen foods or other temperature-sensitive goods in and out.
The second row has three Isofix points, allowing three full-size child seats to be seated across the back. If you choose the XL wheelbase, you'll receive a third row of seats, making the Combo Life a usable seven-seater.
The middle row folds and slides forward with one handle, making access to the third row simple. There are plenty of places to store your water and takeaway coffees upfront, including a chilled top glovebox (thanks to the passenger airbag being located on the roof). There's also a hatbox above the windscreen, which isn't big enough for a trilby but can fit a small map.
Vehicles with the optional panoramic roof have useful overhead storage with LED lighting that runs the length of the vehicle's centre. A centre armrest and storage box are included in the mid-spec vehicles.
A large boot is located in the back. The long-wheelbase vehicles feature 850 litres of storage, while the five-seat versions have 600 litres. The massive tailgate opens wide and has a low loading lip, allowing access to the boot.
If you remove the seats, you'll have more than three metres of load length up to the front seats, which is ideal if you're using the car as a refrigerated van to transport drinks.
Note that all the seats in the Vauxhall Combo vans available at Glacier Vehicles have been removed and converted to a cargo refrigerated van.
Handling and ride quality
The Vauxhall Combo Life shines in terms of ride quality. The suspension is smooth and soft, making it ideal for smoothing out uneven road surfaces. Even speed bumps and potholes don't seem to bother the driver.
The Vauxhall Combo Life does not pitch or roll much when cornering, despite its soft and squishy suspension. The body, on the contrary, remains flat and composed.
The Combo Life's soft and powerful steering isn't meant for speed, but it has sufficient front-end grip, so it can maintain a moderate pace over a sequence of hairpin corners.
If you reside in a rural area (or require your Vauxhall Combo Life to handle difficult terrain), the optional 'All-Weather Pack' should be installed. To adapt to the driving conditions in snow, mud, or sand, this adds all-terrain tyres and five configurable driving modes.
Because of the lack of ground clearance, the Vauxhall Combo Life isn't appropriate for serious off-roading, but the increased traction control system adds a layer of usability in wintery weather.
Engines and gearboxes
The Combo Life was introduced with one diesel and one petrol engine, as well as manual and automatic transmission options.
The 1.5-litre turbocharged four-cylinder diesel is the most popular engine. It comes with 100 or 130 horsepower and is great for extended trips. The 130PS variant, in our opinion, offers the finest combination between performance and operating expenses. Because of its excellent low-gear acceleration, it's also the ideal match for the Combo Life's largest XL seven-seater variant.
Low-mileage drivers would appreciate the 1.2-litre turbocharged three-cylinder engine. It's based on the PureTech technology seen in Citroen and Peugeot cars. The 1.2-litre petrol engine comes with 110 or 130 horsepower, with the latter providing more power and acceleration.
The five-speed manual gearbox is standard on the entry-level petrol and diesel models, which can make the engine a touch noisy on the highway due to the high rev in fifth gear. At 70 mph, the six-speed transmission on the 130PS engines seems more relaxed. The 130PS engines are also available with an eight-speed automatic transmission from Vauxhall.
Vauxhall Combo Edition standard equipment
Sliding side door on the passenger side
Overhead storage
DAB radio with Bluetooth and 3.5-inch display screen
One-touch electric windows
Android Auto compatibility
Electrically adjusted heated door mirrors
Four-way adjustable driver's seat
Under-seat storage on the passenger side
Full-width overhead storage shelf
Automatic emergency braking
Forward collision alert system
15-inch steel wheels
Fixed steel bulkhead
Standard equipment on the Vauxhall Combo Sportive
Metallic paint
Body-coloured bumpers front and rear
Rear parking sensors
Cruise control with speed limiter
Alarm
Eight-inch infotainment touchscreen
Six-way adjustable driver's seat with lumbar support, armrest and storage
Four-way adjustable passenger seat
Reach and rake adjustment for the s
16-inch steel wheels
Enhanced traction control system
Air-conditioning
Front bumper with skid plate
16-inch alloy wheels
8.0-inch touchscreen infotainment system with Navi sat-nav, Apple CarPlay and Android Auto
Body-coloured door mirrors
Body-coloured side mouldings
Standard equipment on the Vauxhall Combo Life Crew van
Edition and Sportive trim levels are available for the LWB-only Combo Crew van.
It has a second row of seats as its main feature, but it also has a moveable cage-style bulkhead with two settings depending on whether the second row of seats is upright or stowed.
Optional equipment for the Vauxhall Combo Life Cargo
Construction Pack: 30mm raised suspension, Mud/Snow tyres and engine sump guard
Winter pack: heated front seats and steering wheel
FlexCargo Pack: load-through bulkhead, electronic parking brake, third front passenger seat
Safety pack: front camera, lane-keep assist, traffic sign recognition, autonomous emergency braking
Sight and Light pack: automatic windscreen wipers, automatic rear-view mirror (when fitted with rear glazed windows), high-beam assist for headlights
Parking pack: front and rear parking sensors, rear-view camera, Flank guard system, electric folding door mirrors, front fog lights with cornering function.
How good is the Vauxhall Combo Cargo?
It'll probably come down to the slimmest of margins if the Vauxhall Combo Life Cargo beats the Peugeot Partner, Citroen Berlingo, or Toyota Proace City for you. They all provide a similar driving experience and practicality, but the Vauxhall provides the most conventional van experience and performs admirably without any extras.
The Peugeot boasts a unique i-Cockpit driving posture, whereas the Citroen has a rougher look. The French duo also has higher ultimate payload ratings in their current versions, although by a few kilogrammes. On the other hand, the Toyota has a five-year warranty.
Which Vauxhall Combo Life model and the engine should you choose?
If you frequently use your car for short cold chain delivery trips around town, the 1.2-litre petrol will suit you. Because of its high level of lowgear acceleration, the 130PS variant is the best petrol engine. It also comes standard with a slick six-speed manual gearbox.
The 130PS 1.5-litre diesel is better suited to long-distance drivers who travel more than 12,000 miles each year. It comes standard with a six-speed manual gearbox and the option of an eight-speed torque converter automatic transmission, just like the higher-powered petrol.
Design, Energy, and Elite are the three trim options available. The mid-spec Energy model, in our opinion, is the best. It includes touchscreen infotainment, parking sensors, automatic headlights and wipers, among other features.
If you want factory-installed GPS, air control, and motorised rear windows, the Elite model is worth looking for. In our opinion, a glass panoramic roof is a must-have option, so don't buy a model without it.
Contact Glacier Vehicles today for your Vauxhall Combo Life refrigerated van
We provide exactly what you need whether you need a low-cost, high-quality refrigerated vehicle or freezer van. Glacier Vehicles has the largest selection of both used and new refrigerated vans in the industry.
Thanks to our many years of experience in the industry, we can fulfil all of your exact needs with a car that's just right for you, and we're pleased to work with you until you're completely satisfied.
Call 0208 668 7579 And We'll Help You Choose Your Ideal Refrigerated Van