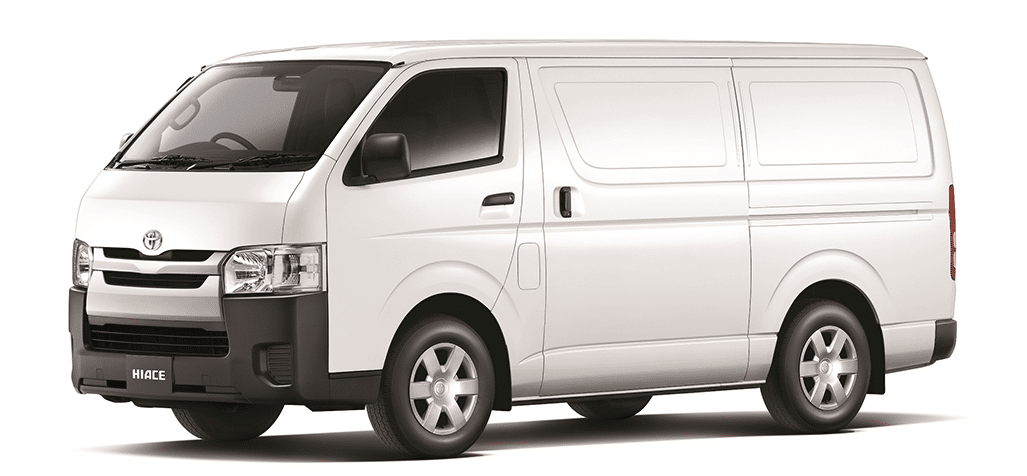 The Toyota Hiace has been around since 1967. From that time to now we have seen it in a wide range of body styles, including a wide super-long-wheelbase high-rooftop van, long-wheelbase high-rooftop van, wide long-wheelbase wagon, etc.  All of the forms we have seen so far were perfectly suited to numerous uses and it is no surprise that the models have been popular options for medium to large refrigerated van businesses.  The 2016 Toyota Hiace Van maintains this tradition.  The new instalment features a slew of refreshments.
Interior
The interior of the 2016 Hiace Van is the most impressive thing about it. The van has enough space for bucket seats that can hold 14 people.  Add the increased storage space behind and refrigerated van businesses have ample room to work with when the seats are removed and windows sealed.  The front row seats have been remodelled, making the drive around town pleasurable and more comfortable for both driver and passengers.  Other things of note on the interior include Toyota's air conditioning system, a CD player, a radio, a modern dash board, remote central lock, gated gear shift, USB ports, 2 speaker systems and a whole lot more. The interior is every inch luxurious for those long days on the road.
Exterior
The exterior of the 2016 Hiace van isn't that different from what we saw with the predecessors, but it complements the new interior improvements.
Engine
The engine in the 2016 Hiace Van is a 3 litre D4-D that can provide up to 134 bhp at 3400 rmp. The engine works seamlessly with the 4-speed automatic gearbox which gives it a new found edge in performance. The van also has a max torque of 300 NM at between 1200 – 2400 R.P.M and can go from 0-100 mph in less than 20 seconds; not that you should be doing 100 mph. The new improvements in the 2016 Hiace Van make it extremely fuel efficient.  It consumes around 12 to 13 litres of diesel per mile.
Safety
You'd have to look long and hard to find a Refrigerated vans in the market with better safety features than the 2016 Hiace Van. The 2015 model of the Hiace van came with a lot of safety advancements and the 2016 model retained all those features and added more. Some of the safety features you can find  on the 2016 Toyota Hiace van include an anti-skid braking system, emergency stop signals, an electrochromatic mirror, a reversing camera, vehicle stability control and a whole lot more.  Like the predecessor, the 2016 Toyota Hiace Van features 3 point seatbelts and dual SRS airbags.
The 2016 Toyota Hiace van is undoubtedly one of the best commercial vans around today.