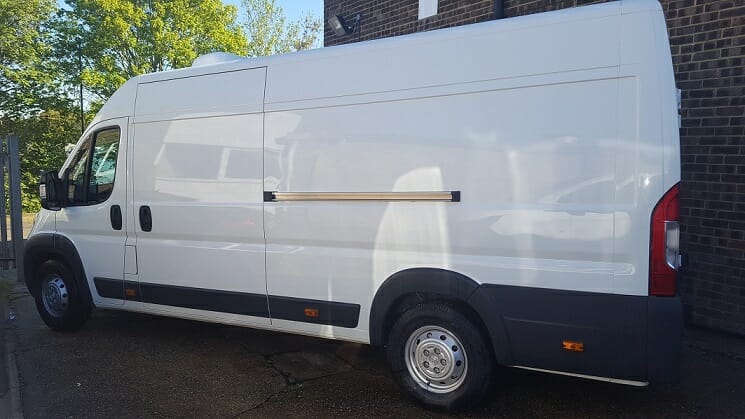 The Peugeot Boxer Refrigerated Van is the company's largest panel van on the market. Although it has been around for a long time, improvements in 2014, 2016, 2019 and 2022 have maintained its competitiveness in the class.
Peugeot also introduced the Peugeot e boxer electric drive as an off-the-shelf model, rather than an aftermarket conversion, with the most current update, which incorporated Euro 6 engines that comply with the most modern emissions standards.
Even though the Peugeot Boxer Refrigerated Van has been around for a long, the latest engines ensure that it remains a viable option in the large panel van market. The driving experience won't blow you away – it still can't compete with newer top models like the sleek Ford Transit, latest Volkswagen Crafter, or tech-heavy Mercedes Sprinter – but the Peugeot Boxer may still impress in terms of the total price, quality, and practicality.
Other competitors include the Renault Master, Vauxhall Movano, and Nissan NV400, as well as Peugeot's joint-venture stablemates, the Citroen Relay and Fiat Ducato, and the LDV V80, which is a large van for the price of a small van.
Refrigerated trucks are the most common type of vehicle used for temperature-controlled transport. This review is about the latest Peugeot Boxer which has been converted to a full refrigerated van by Glacier Vehicles for temperature-controlled logistics transportation.
Peugeot Boxer Van Refrigeration Systems
There are many refrigeration systems to choose from. The temperature required might range from 8°C to -30°C, depending on the goods being transported. Even though most large Peugeot Boxer freezer vans have only one compartment, several have multiple portions that are kept at varying temperatures.
Another consideration is whether the refrigeration system will be required to operate independently of the engine. Companies that cater outdoor events and require long-term cold storage are one example. They'll need to use a backup power system if this is required.
These Peugeot Boxer freezer vans will then be connected to an external power source, which will most likely be a standard three-phase or single-phase source. It has the effect of keeping things cool even when the engine is turned off completely.
Glacier Vehicles works with all of the main refrigeration manufacturers and can provide and install the necessary refrigerator/freezer equipment to meet any customised requirements our customers may have.
Contact us today on 0208 668 7579.
Freezer/Refrigerated Van Thermal Insulation
It is very important to select the appropriate thermal insulation in your refrigeration unit. This will function in unison with the refrigeration system to keep your merchandise at the proper ambient temperature. Glacier Vehicles uses Styrofoam insulation in all circumstances, which is a dense and highly thermal substance that is lightweight (improving the vehicle's payload).
Styrofoam of various thicknesses will be beneficial for various levels of insulation, with relatively thin Styrofoam (50mm) being used in chilled compartments and 100mm thick Styrofoam being used in deep freeze compartments. After installation, two distinct types of 'finish' are used to coat the insulation.
These are known as dry line and wet-lay, respectively. We've discovered that wet-lay is the better way over time, and we utilise it completely. It makes use of a resin to ensure that the internal freezer compartment is entirely sealed for safe food transit.
We are extremely lucky to work with many of our Peugeot Boxer freezer vans engineers who have won honours for their work. Wet-lay insulation has the added benefit of being very easy to repair if the interior of the Peugeot Boxer refrigeration van is damaged.
Dryline coating is a newer approach, and while it has gained popularity in the refrigerated van business, we prefer the traditional wet-lay method. It's because the sealer used to connect dry line panels could encourage mould growth, which is a huge problem for transporting food.
Other reviews and new additions to this Peugeot model:
Plenty of variants
The Peugeot Boxer refrigerated van is available in four different body lengths, three different wheelbase lengths, and three different heights. There are two body styles – Panel and Window van. A heavy-duty suspension option is available on the larger versions for improved axle distribution of load capacity.
In 2018, a new line of 'Built for Business' ready-made conversions was introduced to give customers even more options, and the number of trim levels was expanded from two to four.
Only two power outputs are available
While the number of trim levels was raised in 2020, the available engine power outputs from the newest 2.2-litre range were reduced to just two: a 120hp model with 310Nm of torque and a 140hp variant with 350Nm of torque.
The Peugeot Boxer panel van is thus one of the least powerful large vans on the market.
Similarly, the only transmission option is a six-speed manual gearbox; there's no automatic – sending power to the front wheels. Many competitors now offer highly effective automatic transmissions with many more ratios, making urban driving easier and maintaining engines quieter on the highway.
Practicality and load space
The Peugeot Boxer's vast body sizes and selection ensure that a vehicle to fit most cold chain transportation demands is available. For vans of the Peugeot Boxer's size, four body lengths and three roof heights are becoming standard, making the Peugeot ideal for a wide range of uses.
Aside from panel vans, the Peugeot Boxer is a popular choice for motor caravan conversions. The gross weight ranges from 3,000 to 3,500 kilogrammes.
The Peugeot Boxer, like the Fiat Ducato and Citroen Relay, has one of the largest cargo spaces in its class at 1,870mm, and the tallest H3 variant has an interior height of 2,172mm. The load length is an impressive 2670mm in the shortest model while the longest is just over four metres.
The Peugeot Boxer has a large 1,422mm between the wheel arches, thus a Europallet can be readily accommodated widthways. Pallet loading should also be possible through a side door with a width of 1,250mm. A full-height steel bulkhead is also included as standard.
A nearside sliding door comes standard, with an offside sliding side door available as an option. The rear doors open to 180 degrees as standard, while 260 degrees opening rear doors are available as an option.
Central locking is included, making loading and unloading the van easier. Reliability is another strong point, with no major faults reported despite the large number of Boxers that have no doubt amassed huge mileages. The power-assisted steering system does a good job at making a big van more agile at lower speeds.
Interior and Cabin
There is lots of storage space in the Boxer cab, including two large glove boxes, one in the centre of the dashboard and the other on the passenger side. On top of the dashboard, there are several more storage possibilities, as well as huge door bins, storage space behind the centre seat, and a shelf above the windscreen. When it comes to laying on spaces to store your belongings, the Peugeot Boxer is unrivalled.
A dual passenger seat is standard, with a single passenger seat available for no further charge. The driving position is very nice and high. A pull-down tabletop in the rear of the middle seat allows you to complete paperwork. DAB radio with Android Auto Bluetooth and USB connections are standard on all versions, as are electric heated door mirrors and deadlocks. Cruise control, manual air conditioning, and satellite navigation are included in the Professional trim level.
The latest Peugeot Boxer versions have a new steering wheel with large, chunky buttons and revised dashboard controls. The cabin's plastics are rough but durable, and the touchscreen system works well while giving the interior a sense of quality.
Safety inclusions across the range run to anti-lock brakes, a driver's airbag, a passenger airbag, and ESP electronic stability control with emergency braking assistance.
New audio systems are available, as well as a 5″ colour touchscreen display that may be used as a navigation monitor in Professional vans. Rear parking sensors are standard on the Peugeot Professional model, but an amazing reversing camera system is available as an option.
The rear parking camera, which is mounted on the top of the van, provides a bird's eye view of what's directly behind the vehicle and could be quite useful in avoiding parking collisions.
Peugeot boxer refrigeration van driving experience
Peugeot now offers two 2.0-litre BlueHDi diesel engines, both of which are equipped with diesel particulate filters. A 120hp unit with 310Nm of pulling power is at the bottom of the spectrum. The 140hp BlueHDi delivers 340Nm of torque, which is 20Nm more than the previous model.
The driving experience is improved with large brakes, a six-speed manual gearbox, sturdy suspension mountings, and a rigid body. BlueHDi technology has also improved performance. If operating expenses are critical and your office is located in a city, a fully electric variant is now available.
On this van, the ESP stability control system has been fine-tuned, with a Load Adaptive Control function that adjusts the point at which the ESP intervenes based on the load in the vehicle and its distribution.
Hill Descent Control is also included in the ESP programme. When the car is stationary, the engine is running, the brake pedal is depressed, the slope is greater than 5%, and the vehicle is in forward or reverses gear.
Under these circumstances, braking pressure is maintained for approximately two seconds after the driver releases the brake pedal, providing assurance and ease in moving off without the vehicle reversing, regardless of the load in the vehicle. Also, behind the wheel, you've got some stalks including cruise control and your speed limiter to step up to the professional trim.
The ride quality is passable, but the Boxer is showing its age when compared to newer rivals, with more bounce when unladen, and more body roll in corners when compared to vans such as the VW Crafter.
The lack of insulation and the relatively gruff engines mean there is a fair amount of road and engine noise while you are on the move and the cabin feels less geared towards comfort than more modern rivals.
Do you think the Peugeot Boxer refrigerated van is perfect for your thermal transport?
The reasons for purchasing a Peugeot Boxer panel van are more likely to appeal to the sound mind than the heart. It's a huge van that can carry a lot of temperature-sensitive goods and still be somewhat efficient while you're driving around with it all.
The gear lever is set up high up on the dash and close to the steering wheel, which means it's easily reached without risking bashing into your middle passenger.
One of the big selling points for the Boxer is its versatility and the wide range of different versions that are and have been available. There are dropside and tipper conversions, chassis cabs, Luton vans, crew vans and minibuses all available. If running costs are everything and your business is urban-based, there's also a full-electric e=boxer model too.
The electric e-Boxer is similar: it isn't particularly complicated, but it gets the job done. Although the payload of the electric e-Boxer is limited to 1,150kg in the biggest version, that figure is competitive with other electric vans. It feels largely the same as the regular Boxer: tidy enough, but not up to the standard of newer rivals from Mercedes and Renault.
So if you're an independent tradesperson in either the food industry or beverage industry and you're thinking about getting a large van which is tried and tested for your frozen food transportation or chilled food transportation, then this could be your perfect choice. Also, fuel economy is a key reason the Boxer has proved so popular, and it doesn't vary too much depending on the power output.
What are the best Peugeot Boxer panel van model and engines?
Many people will buy the Peugeot Boxer refrigerated van with utility in mind and will want to keep prices as low as possible, but the cost difference between the base S trim and the mid-range Professional is tiny enough to justify the upgrade.
For a relatively moderate financial improvement, the optional kit includes air conditioning, cruise control, lumbar support in the driver's seat, and satellite navigation.
If you don't require the larger models, the 120PS engine can still carry substantial weight. If you want anything other than the smallest and cheapest model, you'll have to upgrade to the more powerful engine, which comes at a significant price premium.
The Peugeot e-Boxer is significantly more expensive than the diesel-powered Peugeot Boxer van. Rather than an in-house EV conversion, Peugeot sends the diesel model to a third-party company that strips out the engine and gearbox and squeezes in an electric motor and battery pack.
While you'll gradually recoup your investment through lower fuel costs, it's worth checking the math to ensure it's a financially solid investment.
Should I purchase one?
The Peugeot Boxer refrigerated van takes some beating in terms of efficiency and payload than the previous versions. It's quite good at ambient temperature transportation of goods, and that's what a refrigerated van is all about.  With some of the top ratings in this Peugeot boxer review, why not purchase a new or used Peugeot Boxer Refrigerated Van from us today?
Contact Glacier Vehicles: 0208 668 7579