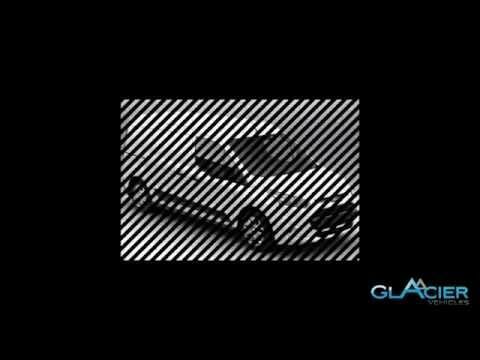 Mercedes are well known for the high quality of their passenger cars. They've been one of the most renowned vehicle manufacturers for many years. Their commercial vehicles are no different, so it's no surprise that the Mercedes Vito is one of the best medium sized freezer vans on the road.
The Vito comes in a range of permutations, and anyone looking for a medium freezer van will no doubt find a Vito for their specific needs. There are three different lengths: compact, long, and extra-long. The compact version has a load volume of 5.2 cubic meters. It's small, maneuverable, and perfect for urban deliveries. The extra long version can pack away 7.3 cubic meters of frozen goods. This length is extremely versatile, working just as well on long motorway journeys as it does in the city.  It has even been certified for use as a Taxi in the City of London
Loading up the Vito is extremely easy. There are two doors in the back of the vehicle, and a door on the nearside. The nearside door is extremely useful for getting into the back of the frozen cargo compartment if you are delivering to multiple locations. It's also useful when you are delivering to a retail location and you're parked up at the side of the road rather than in a loading bay or in a car park. Owners have the option to forego the two rear doors in favor of a tailgate, but this is a fairly unusual choice for a freezer van. The Vito also sits low on the ground, which makes loading particularly easy. Unusually for a rear wheel drive vehicle, the back is only 560mm off the ground. The design of the freezer cargo bay is also extremely helpful. It's possible to fit a standard sized pallet sideways between the wheel arches, even in the smallest model.
Safety is a huge concern for Mercedes's engineers, and it has been a huge selling point for the whole of their range for many years. The Vito is no different. It's clear that their engineers have put a lot of work into making the Vito an extremely safe freezer van to drive. Even the standard specification is absolutely packed full of safety innovations. These include a clever electronic stability program, which presides over the anti lock braking, acceleration skid control, and the electronic brake force distribution systems.  There is also an adaptive brake light on the back, which will flash if the brake is being pushed particularly hard in an emergency stop.
There are many other interesting features included as standard. One with potential to save businesses a lot of money is the ASSYST service computer. This will tell you exactly when your freezer van needs to be serviced, stopping your company from wasting money on unnecessary servicing. If you have a large fleet then the savings can quickly mount up.
Finally, it's also important to note that the Vito has incredible fuel economy. The precision engineered Mercedes engine can achieve 36.2 mpg on the combined cycle, and this can be boosted further if you opt to add the Mercedes BLUE efficiency package of fuel saving innovations.
New Mercedes Vehicles
Used Freezer Vans In Stock by Size
Mercedes Vito Van Refrigeration Systems
There is no shortage of refrigeration systems available to choose from. Temperatures in the Mercedes Vito refrigerated van change radically, from a moderate 30c for products which need to be kept room temperature in the peak of summer, to arctic conditions of minus 30c for exceptionally volatile products that need very cold temperatures.Whilst most companies need one loading compartment, many businesses need double (even triple) loading compartments, providing them with the ability to transport two / three products at several temperatures simultaneously. For specific applications, it's going to be necessary to possess a refrigeration van that can continue to work-even when the engine is switched off. This is most common with refrigerated van that will be used to serve cold food at outdoor occasions.In this scenario, a stand-by facility will be necessary. These sorts of freezer vans will then be connected to a peripheral power supply, generally a normal three phase or single-phase source. It's the result of keeping the goods stored inside chilled, even with the engine entirely off. Our relationships with major refrigeration van equipment manufacturers means that we are able to create great value bespoke solutions, irrespective of your requirements.
Freezer/Refrigerated Van Insulation
It is equally as important to choose the best type of insulating material for the Mercedes Vito freezer van as it is to pick the best type of refrigeration system. We use Styrofoam insulation exclusively, as we consider its blend of lightweight and thermal insulation qualities make it the greatest material to insulate a vehicle. The depth of the insulating Styrofoam will vary depending on which temperature is demanded. We'll typically use 50mm Styrofoam for chilled compartments, 75mm Styrofoam for freezer compartments and an extra thick 100millimeters Styrofoam insulation for deep freeze.Nowadays there are two primary types of 'finish' to the insulation; dryline and wet-lay. We believe that wet-lay is by far the superior method, as after the wet resin has been installed and completely dries, it creates a hermetically sealed environment for food products to be transported in. For this reason it's the only method we use.They are award winning engineers in their own right, and we are very lucky to have such expertise in the Glacier Vehicles ranks! Another benefit to the wet-lay process is that should the resin become damaged through pallet loading and so on, it's very easily rectified straight back to an as new condition. Dry-line is a more innovative method for creating Mercedes Vito freezer vans, but we feel it isn't an improvement to the standard wet-lay coating. It consists of multiple panels which are connected using a sealer, which can degrade and trigger the formation of mould, a large hazard in theTransfer of food.
Mercedes Vito Refrigeration Van Engineers
They are the key members of the team that we refer any customer questions to, and they are instrumental in insuring our Mercedes Vito freezer vans are shipped within our customers time requirements. Our engineers are also in charge of our incredible bespoke service, where they'll work to create a system made specifically for your bespoke mobile refrigeration requirements in both little and big Mercedes Vito refrigerated vans.
Van Warranty
Whether you are purchasing a new or late, low mileage used vehicle, the vehicle refrigeration conversions (both insulating material and refrigeration system) are brand-new and supplied with the full 12 month Manufacturers Warranty. Unless otherwise specified by the client, we fit GAH and Hubbard refrigeration equipment as these companies products are of amazing quality, and their after sales care is always to match. If any issues occur with the refrigeration compartment in your Mercedes Vito freezer van, these companies will both send an engineer to your location to mend the issue straight away, no matter where you happen to be.
Glacier Vehicles Video