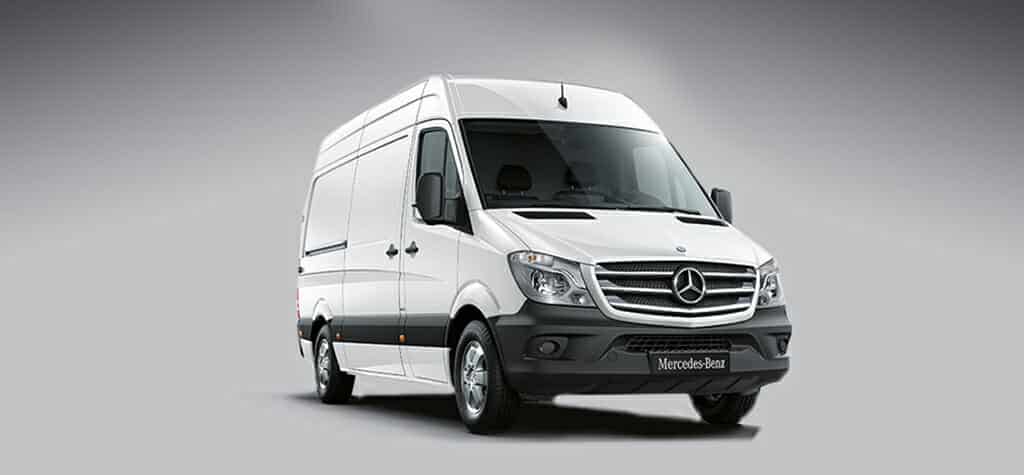 The Mercedes Sprinter class vans have enjoyed quite an enviable reputation amongst the UK refrigeration industry – usually referred to as the 'bigger brother' of the common Vito class of Mercedes vans.
The difference being that this van is especially geared towards the freezer van market, with its flexibility in tight spaces , its conservative fuel consumption for city driving and its various loading doors – but  more, and more detail, on all of that later.
For now, it's important to note that the 2016 Mercedes Sprinter 313CDI MWB HR is one of our most highly recommended refrigerated van models for those looking for an affordable, effective van for a diverse range of different delivery scenarios.
Let's get down to the nitty gritty.
Style of the 2016 Mercedes Sprinter refrigerated van
The first thing anybody is likely to notice about this class of Mercedes van is its distinctive style and appearance – there's no getting away from it, and indeed it's become something of an industry icon amongst the many freezer vans on the roads today.
But style doesn't just involve the aesthetics of the car – we're also taking a look at the style of driving you can expect when you jump behind the wheel.
Every aspect of the interior is ergonomically designed to a tee; it feels second nature to hop into the driver's seat, adjust accordingly and then hit the road with little to no learning curve for newer drivers, or fleet drivers getting used to a newer model.
It's immediately clear that this refrigerated van has been designed with longevity in mind. Everything feels sturdy, yet comfortable, not like some lower class delivery vans available on the marketplace which are prone to frequent breakdowns and repairs. The bedrock of a prominent delivery business is to maintain wheels on the road at all times, which is why this model sticks itself out in front with regards to rigidity versus affordability.
2016 Mercedes Sprinter Refrigerated Van Specs
Like we mentioned earlier in the review, even for a high roof refrigerated van (where'd you expect ease of access in any model), the 2016 Sprinter still manages to set the bar high with modular rear doors and side loading doors; all with GRP insulation and a GAH 300F refrigeration system to boot.
Ideal for tight city driving, key for delivery to busy urban areas, the 2016 Sprinter has a very tight turning circle of around 13.6 meters, from kerb to kerb, making manoeuvrability one of the key features of such a high volume, industrious van.
That said, although technically the van is a fantastic choice for the majority of delivery services; the engine and mechanics do tend toward the noisier side of some of the market's current engines, which although far from a deal-breaker, may make long haul deliveries that much more tedious in certain circumstances.