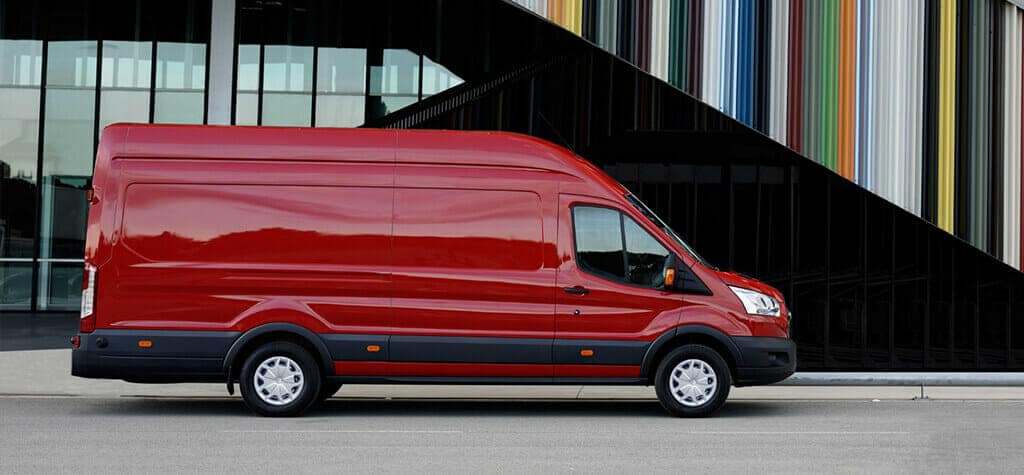 If you are looking to add a bigger, better refrigerated van to your current fleet, then the Ford Transit Jumbo could be a great idea. The 2017/2018 model of the Ford Transit Jumbo van still maintains its supersized physique but has also supersized certain subtle aspects about its design. Is this big cruiser the right size of behemoth for your business needs? Our review below should provide some insight.
Load Capacity of the 2017/2018 Ford Transit Jumbo
The Jumbo which is the largest variant of Ford's vans has a cargo space of 15.1m3. To make this space available, the Jumbo has sides that are more vertical as well as larger rear loading doors that make it possible to load and unload cargo from the van with a forklift.
Capability of the 2017/2018 Ford Transit Jumbo
The Jumbo has a simplified design that makes it easy for an owner to quickly and cheaply switch out components. And because the improved design of the vehicle makes it possible to spend less time servicing its rear brakes, owners of the Jumbo can spend more time using their freezer van to do business and less time and money at the mechanic's.
On the Road
In spite of its size, the 2017/2018 Jumbo still drives a lot like a car. Naturally, you can expect to experience a bit of roll when going at high speeds or cruising on uneven roads due to the vehicle's height, but it still handles very much like a car. The design of the dashboard also emphasises this car feel because of the way it's modelled to resemble existing dashboards from Ford's passenger car range.
There's also the lovely smooth engine that only makes itself heard after it has been truly pushed to the maximum. There's hardly any unnecessary noise while cruising the vehicle because the van is designed to block out wind and road noises. The Jumbo, despite its size and even when heavily loaded provides an impressively smooth ride and its steering ability is quite precise.
General Features That Come With the 2017/2018 Ford Transit Jumbo
The Jumbo freezer van has been designed to be comfortable, functional, as well as spacious. Below are some installed features that further improve the enjoyment of this supersized van;
Anti-Lock Brakes Electric windows
Key-operated bonnet release
Nearside sliding side load door
Safeguard Passive Anti-Theft System (PATS)/Immobiliser
Remote central locking
Electronic Stability Programme (ESP)
Driver Airbag
Radio/CD player
The Verdict
The 2017/2018 Jumbo is a good investment but most people might opt for a less costly and older version of the van. But such people need to keep in mind that buying a new model provides greater guarantee that you are buying a faultless vehicle. The Jumbo has a turbo diesel engine and a manual transmission that easily handles the van's bulk along with any added weight. So if you need a freezer van you can trust for long haul deliveries and good handling, the Jumbo which has been severally described as safe and predictable comes highly recommended. Call us now on 08455212036 for a test drive and see for yourself if the 2017/2018 Ford Transit Jumbo is what your business really needs.