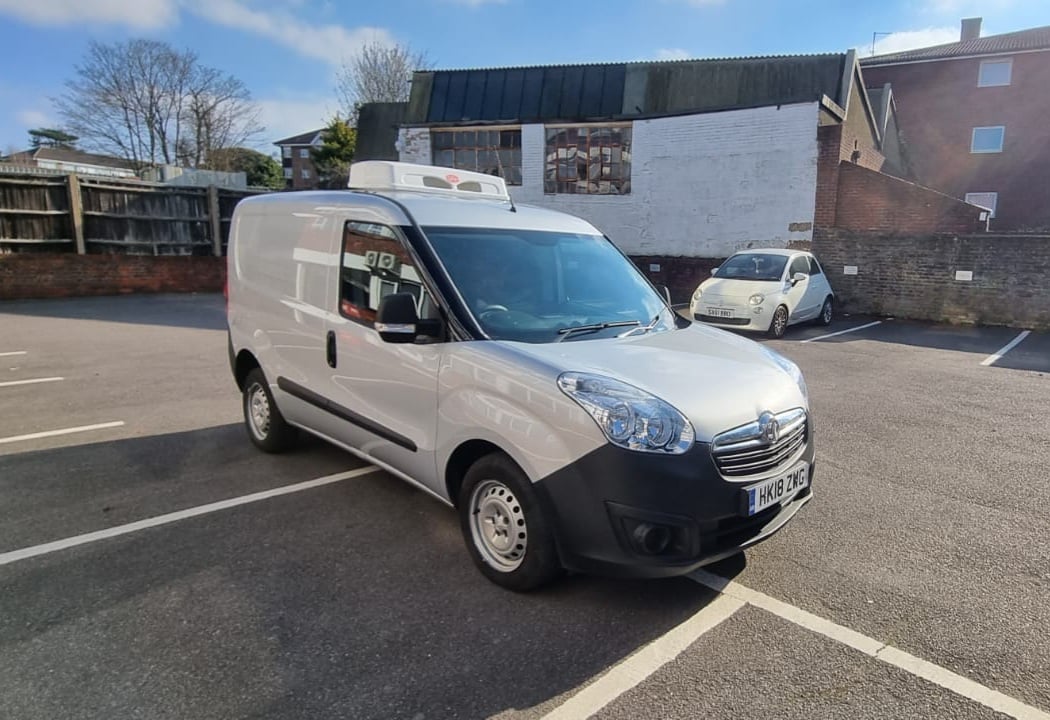 The Fiat Doblo is one of the most popular small refrigerated vans in the United Kingdom commercial vehicle market. It's a solid favourite of company owners in the food industry or medical supplies industry.
It's also considered a fun vehicle to drive, and the fact that it's especially well-suited for usage as a refrigerated van has earned it praise.
Fiat is known for making small vans that are compact on the outside but large on the inside. The Fiat Doblo Cargo range is a good illustration of this since it has more cargo space for transporting refrigerated goods than a Citroen Berlingo or the original Ford Transit Connect yet is the same size as these competitors when it comes to fitting into tight parking spaces.
The original Doblo, launched in 2001, was little more than a van with windows. As standard, it comes with five seats. And there was nothing wrong with that, it was an honest, reliable car that proved great value for buyers looking for massive space on a small budget. The Fiat Doblo retains the same dashboard and interior as the previous generation, unlike the left-hand drive models.
The Doblo has a well-deserved reputation, especially when utilised as a refrigerated van. When it comes to commercial vans of this size, there are few better options.
Fiat Doblo Van Refrigeration Systems
There are a number of different factors that can affect the temperature of goods during transport, including the weather, the type of vehicle used, and how long the journey takes. Inside refrigerated vans, temperatures can range from 8 degrees Celsius to – 30 degrees Celsius. These temperatures fluctuate depending on the products in the freezer.
Although most large refrigerated truck has a single compartment, many have multiple compartments that are kept at varying temperatures. It will be important to have a refrigeration van that will continue to perform even after the motor is turned off for specific purposes.
This is usually common with companies who require temperature-controlled vans to serve chilled products at outdoor events. The only way to accomplish this is to use a standby power supply.
This means that the product is kept cold throughout the event by drawing electricity from a remote power source, such as a standard single-phase or three-phase connection.
Glacier Vehicles obtains equipment from all of the most reputable Fiat Doblo refrigeration van equipment manufacturers, and we are happy to create a custom system to meet your specific requirements.
Call us today on 0208 668 7579.
Freezer/Refrigerated Van Thermal Insulation
It's very important to pick the correct thermal insulation for the Fiat Doblo. Here at Glacier Vehicles, we only use Styrofoam insulation because we believe it has the optimum combination of lightweight and thermal insulation capabilities for insulating a car.
For varying levels of insulation, different thicknesses of Styrofoam will be used, starting with relatively thin Styrofoam (50mm) in cooled compartments and progressing to 100mm thick Styrofoam in deep freeze sections.
Wet-lay and dryline are two different ways to 'finish' the insulating material. Wet-lay is the best way, in our opinion, especially for moving food.
A resin is applied to the inside of the compartment, which forms an impermeable coating on top of the insulation. Many of our Fiat Doblo freezer vans engineers have won honours for their expertise, and we consider ourselves fortunate to have them on our team.
The inside finish provided by the wet-lay insulation is also exceedingly easy to repair if the Fiat Doblo freezer van is damaged. Although the dryline is a more inventive method of producing Fiat Doblo freezer vans, we believe it is no better than the traditional wet-lay coating.
It comprises numerous panels connected by a sealer that might decay and cause the formation of mould, posing a significant risk in food transportation.
Other Fiat Doblo refrigeration van reviews for your buying guide
Fiat Doblo trim levels and equipment
All variants come standard with:
Remote central locking
Hill hold
Twin rear doors
Overhead storage in the cab
Sliding rear doors (long-wheelbase only)
Radio/CD player
Electric windows
Panelled bulkhead
Electronic brakeforce distribution
Stop/start
If you upgrade to an SX, you'll also get:
Upgraded CD radio
PVC lining in the load area
Electric mirrors
Bulkhead soundproofing
Height-adjustable driver's seat
Foglights
Driver's airbag
Lift-up passenger seat cushion with storage
However, it isn't until you reach Tecnico that you will find some necessities, mainly air conditioning.
Rear parking sensors
Cruise control
Stereo controls on the steering wheel
Air-conditioning
TomTom socket on the dashboard
USB and Bluetooth connectivity
Electronic stability programme
Upgrading to Tecnico spec will make the Doblo feel less like a commercial vehicle,
Finally, there's Sportivo, which adds the following:
Black metallic paint
Leather steering wheel and gear knob
Heated body-coloured door mirrors
Alloy wheels
Anti-lock brakes
What is the driving performance of Fiat Doblo cargo?
The Fiat Doblo Cargo's rear suspension technology is one of the main selling points Fiat offers. This is a completely self-contained system that has been modified to handle the severe load-carrying demands of a commercial refrigeration van.
It provides real improvements in terms of driving, with the Fiat having a smoother ride and more manageable handling, especially at low speeds. If you're looking for a small van with crisp handling, a Ford Transit Connect will still outperform it.
The long-wheelbase MAXI versions, unsurprisingly, have a more controlled ride and a rooted sensation in the corners that the standard-length vans can't quite equal.
The steering is light but not very precise across the board. It's fine for city driving, but for B-road and highway journeys, more weight and sharpness would be preferred. Even in the lofty high-roof models, there's very little body roll, so you can turn with confidence, which makes it all the more disappointing that the steering falls short. Because of the higher top's form, the high-roof models don't suffer as much from crosswinds as the normal Fiat Doblo cargo.
Is Fiat Doblo Cargo good for transporting refrigerated and chilled items?
When it comes to choosing a refrigerated van, there are many factors to consider. Fuel economy, space and functionality are all important considerations. But it's how you plan on using your van that will define what is right for you.
The Fiat Doblo is a refrigerated van that offers plenty of space for transporting temperature-sensitive goods. It has been specially designed for easy loading and unloading as well as superior durability and reliability. For many years people have enjoyed this van due to its versatility and spaciousness.
What about the comfort and design?
The driver enjoys sitting in an elevated seat with great forward and side vision reducing wind noise, and the driving position is easily adjustable to suit different drivers. The seat itself has enough padding and support to be comfortable for long periods.
An overhead cubby provides a considerable amount of storage while keeping items out of the passenger seat and other storage spaces. However, because entry to this cubby is not as simple as it appears, it is better avoided when driving.
Large door pockets give additional storage, while a lockable glovebox and slide-out tray beneath the passenger seat provide additional secure storage away from prying eyes. Furthermore, there is a compartment under the passenger seat base that can be accessible by flipping up the seat cushion, which is standard on SX versions.
A CD player and power windows are included as standard equipment on all Fiat Doblo models. Air conditioning, central locking, Bluetooth phone connectivity and steering wheel mounted audio controls are, however, all options. Anti-lock brakes are standard, but you'll have to pay extra for stability control.
Moving on to the cargo area, Fiat Doblo refrigerated van includes four baggage hooks on the floor and a loading bay that can hold 3.4 cubic metres in the regular model and 5.0 cubic metres in the high roof model. Depending on which Fiat Doblo Cargo version you choose, the maximum payload ranges between 750kg and 1000kg, but all are quite competitive in their respective markets.
Are there improvements in the diesel engines, gearboxes and handling of Fiat Doblo?
Under the bonnet, Doblo refrigerated van gets its power from a range of diesel engines available in four variants: The turbodiesel engine lineup, which starts with the 90PS 1.3-litre unit, is far superior. It performs well in town, with an official fuel economy of 58.9 mpg and emissions of 126 g/km.
They're powerful, punchy and incredibly efficient, keeping Fiat Doblo's CO2 emissions – and therefore running costs – down. It boasts a light and simple five-speed manual transmission. These diesel engines are a little short on puff on the highway, so it's only recommended for individuals who plan to use them in the city.
Sticking with the five-speed manual gearbox or six-speed manual gearbox also boosts the 1.6-litre's output to 105PS, however it comes at the expense of some efficiency and emissions. Regardless, this is a fantastic engine that performs admirably in all conditions. It's quick around town, strong on the highway, and always smooth and quiet. A 120PS version of the 1.6 is also available.
MPG, CO2, Running Costs of Fiat Doblo Cargo
The 1.4-litre petrol engine is the most affordable option in the Fiat Doblo Cargo lineup, but the MultiJet II common-rail diesel will be chosen by the vast majority of purchasers.
These vehicles perform admirably in terms of fuel economy or fuel consumption, with the 1.3-litre MultiJet II achieving 56.5mpg on the combined cycle. Of course, the entire EcoJet pack can help with fuel cost reduction. Running costs are further reduced thanks to the long service intervals of 21,000 miles.
Start&Stop, as well as an aerodynamics pack, low-rolling-resistance tyres, low viscosity oil, an intelligent alternator, and a variable displacement oil pump, are all available as EcoJet options. The Fiat Doblo Cargo 1.3 MultiJet II EcoJet achieves 61.4mpg while emitting 120g/km, making it one of the greenest vans in its class.
Fiat still has work to do before the van's residual values match those of its competitors, though this is for no other reason than imagined longevity worries. However, competing against similar models in Volkswagen and Mercedes in this category is always going to be difficult. However, list prices remain quite competitive. And this makes Doblo a good value for money.
What is the Load Space and Practicality of Fiat Doblo Cargo?
The Fiat Doblo Cargo comes close to offering the kind of expansive model choices we're used to seeing in the larger panel refrigerated van segment. The van is available in two roof heights and two wheelbase lengths, which is unusual for this segment of the market. Fiat's Doblo Cargo has one of the widest ranges of load volume and carrying capacity in the small refrigerated van market.
Fiat Doblo also offers a proper platform cab ready to accept all kinds of load-carrying modifications, as well as a factory-built pick-up called the Work-Up.
The XL type is the largest Fiat Doblo Cargo van, with a load volume of 5.0 cubic metres thanks to its long wheelbase and high top. With a maximum payload of 1,005kg, the van has the kind of carrying load capacity generally associated with the small panel van market.
There are competing compact vans that can now match the Doblo in terms of load volume and payload, but none can match it in terms of both.
Fiat Doblo Cargo vans come with a single sliding side door or two side sliding rear doors to provide you access to this spacious and usefully square cargo bay. A lift-up tailgate or twin asymmetric rear doors with or without glazing are other options.
Roof bars and carriers, tow bars, and internal storage add-ons are among Fiat's load-carrying accessories. In the Fiat Doblo cargo area, there's even a retractable flashlight, and the latest vans have specially engineered door handles that can be operated with just a light touch.
Is it safe to buy one?
Those seeking space and practicality at an affordable price should be drawn to a van-based MPV like the Fiat Doblo refrigerated van.
With an estimated retail price of £13,995 plus VAT, the Fiat Doblo Refrigerated van offers excellent value for money when compared to older and less economical popular models such as the Citroen Berlingo and Peugeot Partner.
Looking to buy a new Doblo Refrigerated Van to transport your perishable goods? Call Glacier Vehicles on 0208 668 7579.