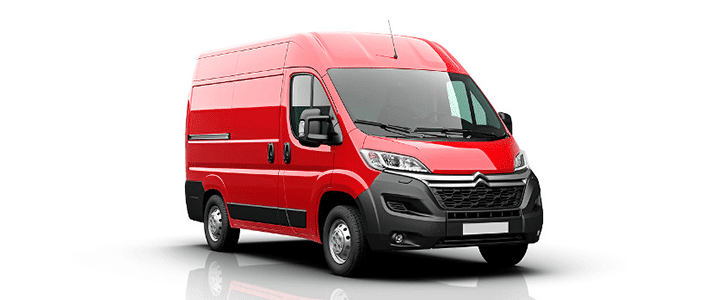 A cost-effective and reliable freezer van, the Citroen Relay boasts a wide range of specifications and options for your refrigeration needs, featuring the very latest in technological gadgets, combined with fuel-efficient Euro 5 engines.
Citroen Relay Freezer Van 2018: Engine
The Citroen Relay brand features Euro 5 diesel engines with a standard six-speed gearbox. Customers have the option of choosing from three different two litre BlueHDi engines, offering 110hp, 130hp and 150hp. Meanwhile, a three litre HDi engine with 180hp has been added to the Relay line up for customers seeking a beefier package. Fuel efficiency is a notable quality in the Citroen Relay, and all engines are designed to run on up to 30% biodiesel, without needing any modifications. Carbon emissions are low, ranging from 195g to 229g per kilometre.
Citroen Relay Freezer Van 2018: Load Compartment
The Citroen Relay is available in varying silhouettes, with three heights, four lengths and three wheel-bases. The L1H1 is the smallest option, while the L4H3 is the longest and largest. The load compartment ranges from 8m3 to 17m3, with a length of 2670-4070mm, height of 1662-2168mm, and usable interior width of 1870mm. The vans carry a payload of 1440kg for the smallest to 1870kg for the largest, with the gross vehicle weight clocking in at 3300kg for the smallest van and 4005kg for the largest.
The side doors slide open up to 1.25 metres., while the rear door opening has a height of up to 2.03m – making it the highest among vans in its category.
Citroen Relay Freezer Van 2018: Cabin
There are 13 storage spaces, including a lockable chilled glove compartment, spread throughout the cabin space. The front seats are designed with lumbar adjustments and armrests to provide maximum support to the driver. The gear lever is located on the dashboard, which in addition to the adjustable leather driver wheel, adds to the comfort of the driving experience. Two USB ports are also mounted on the cabin for your devices. An extendable writing panel provides a sense of having your own office right there in the cabin, though this can be removed at no extra cost.
For an additional cost, the cabin can be upgraded to the Enterprise specifications, which include: air conditioning, five-inch colour touchscreen with reversing camera function, steering wheel controls, rear parking sensors, full-height steel bulkhead and an alarm system. The touchscreen is also optional on the standard package.
Citroen Relay Freezer Van 2018: Safety
The Trafficmaster Smartnav and Trackstar (for tracking stolen vehicles) are featured in all Relay vans. Standard safety features across the Citroen Relay line include a driver's airbag, hill-start assist, hill descent control, Load Adaptive Control, traction control system, Anti-Lock Braking (which keeps brakes from locking in emergency situations), cruise control and speed limiter, tyre deflation warning system and lane departure warning system (which is optional for the L1H1, but standard on other models). A reversing camera connected to the touchscreen on the dashboard is also an optional feature. Rigorous test drives were performed on all models to ensure fully functional safety systems.
Citroen Relay Freezer Van 2018: Driving Experience
The Citroen Relay features light steering with good visibility. The suspended driver's seat is optional, but is beneficial for absorbing bumps on bad roads.  However, the suspended seat is not as comfortable on good roads. Improved shock absorbers ensure your load isn't adversely affected by road bumps. Road noise in the cabin has been reduced, based on customer feedback, though more could still be done to reduce wind noise. Meanwhile, the brakes have been adjusted to make them quieter and more effective. The van's handling is relatively smooth; however, for optimum performance, the van's power output should be chosen based on the expected weight of your refrigerated products.
Citroen Relay Freezer Van 2018: Durability
The Citroen Relay is a workhorse that has been designed for durability and low, long-term costs. The front bumper separates into three parts to ensure only one has to be replaced in the event of a small accident. The tyres chosen are common and cost-effective. The rear doors are reinforced with higher strength door hinges also included. The side doors include reinforced rails, runners and locks. The Relay is covered by a three-year/100,000-mile warranty, with service intervals every 30,000 miles.