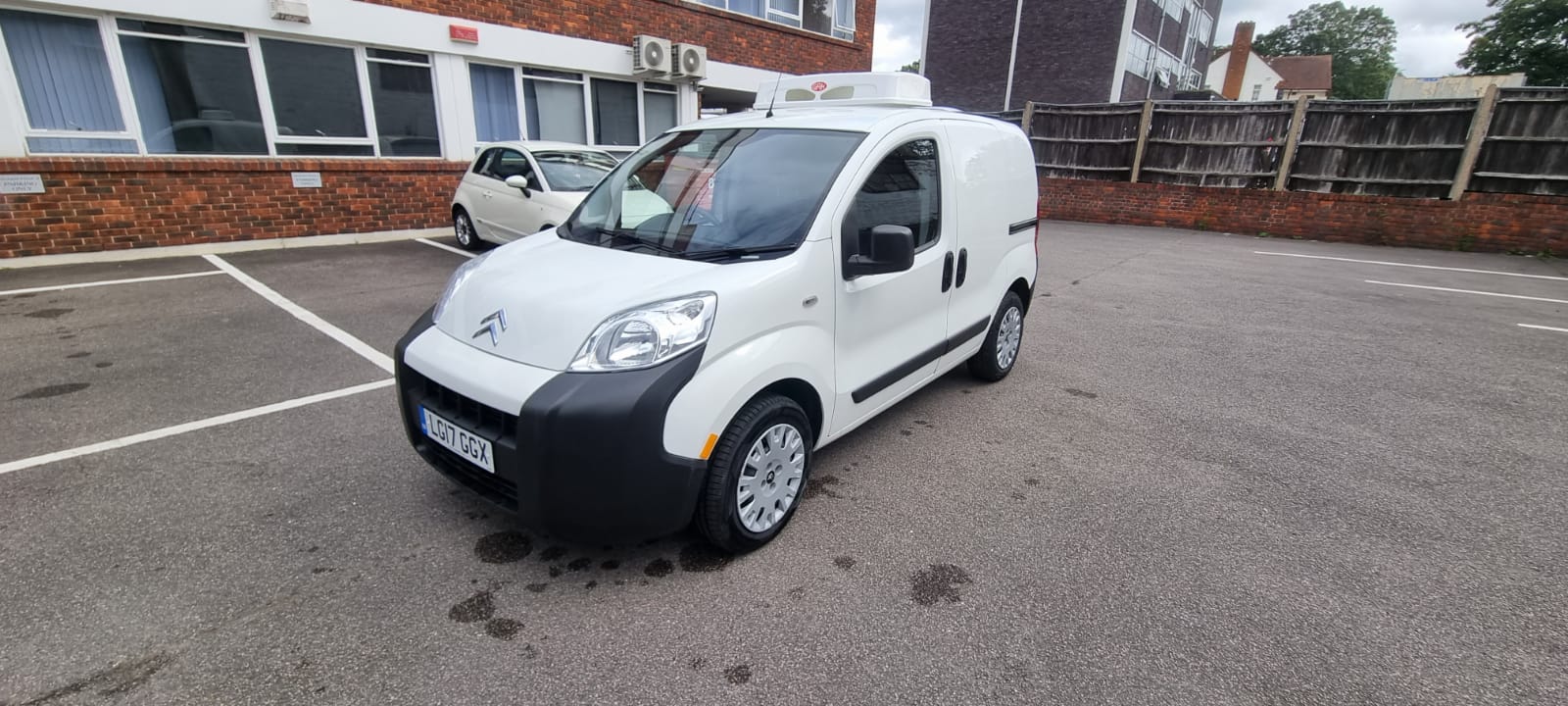 The Citroen Nemo is a small refrigerated van, even smaller than the Volkswagen Caddy or the Citroen Berlingo. It first went on sale in 2008 and lasted until 2017 in the United Kingdom, when Citroen decided to discontinue selling it due to a lack of demand for tiny light commercial vehicles.
This isn't to say that buying a used Nemo is a bad option; if the size is right for you, this small van is inexpensive to run, it's fuel-efficient and has a lot of creative design features. Glacier Vehicles has equipped this van with a standard refrigeration unit for those in the cold chain transportation business.
Also, Citroen engineers have worked hard to make this current edition of the Nemo van the best option for any company owner seeking a small refrigerated van that is incredibly cost-effective. This refrigerated van is well equipped with technological advances that help save money on gas.
There are two engines available: a 1.3HDi 75bhp diesel engine and a 1.4i 75bhp petrol engine. In city driving, the petrol version achieves an astonishing 55.4mpg, while on the combined cycle, it achieves 65.7mpg. This kind of efficiency can make a big difference in a company's bottom line, especially if you have a fleet of refrigerated vehicles.
We'll go over all of those features in this car review – which is now more of a used Citroen Nemo refrigerated van buying guide – as well as tell you how it drives.
Can such a small van be useful in transporting chilled goods?
In cold chain transportation, the type of vehicle used will depend on the amount and type of goods being transported. Nemo Multispace is a small compact van capable of transporting up to two refrigerated pallets with a total length of 2m 80.
Featuring a refrigerated compartment, this Citroen Nemo Multispace van is suitable for small deliveries and runs on diesel. It also comes with a roof rack to add extra storage space when needed.
With its lightweight, high position and small turning radius, Nemo Multispace guarantees an enviable level of comfort, safety and user-friendliness, allowing you to move comfortably in the city or on the highways.
Contact us today to find out more about this Citroen Nemo Multispace Refrigerated Van.
Citroen Nemo Van Refrigeration Systems
There are several refrigeration systems to choose from. Inside refrigerated vehicles, temperatures range from a relatively ambient 8°C to a minus 30°C severe freeze. The temperature inside varies depending on the product.
Although a single loading compartment is the most usual configuration, there are times when a Citroen Nemo refrigerated van will have many sections, each kept at a different temperature.
A Citroen Nemo refrigeration system can still work even when the engine is turned off. This is ideal if the refrigerated van will be utilised to serve chilled foods at outdoor events.
Refrigerated Van Thermal Insulation
The type of insulation used is determined by the required loading temperature. Styrofoam is the ideal material for refrigerated vehicle insulation because of its lightweight and high thermal properties, which is why we use it solely in our refrigerated vehicles.
The thickness of the insulating Styrofoam will vary depending on the desired temperature. For chilled compartments, we'll use 50mm Styrofoam, 75mm Styrofoam for freezer sections, and an exceptionally thick 100mm Styrofoam insulating material for the deep freeze.
Wet-lay or dry-line finishing are two options for insulating material. We've discovered that wet-lay is the ideal way, and we use it exclusively in all our temperature-controlled vans.
Below are other reviews on the Citroen Nemo refrigeration van
What are the different models of the Citroen Nemo?
The Nemo is only available in one compact body size, although it was also (briefly) marketed in the United Kingdom as the Citroen Nemo Multispace, a small but spacious MPV. In the years afterwards, it's become something of a cult hit on the micro camper scene.
The van was first released with Peugeot-own Citroen's 1.4-litre HDi turbodiesel engines, which were replaced in 2011 with (better) Fiat 1.3-litre HDi turbodiesels.
A 1.4-litre petrol engine was also available, although used samples are hard to come across, and the SensoDrive semi-automatic transmission is probably best avoided.
The X, LX, and Enterprise trim levels are available. The availability of each changed over the van's lifetime.
Running costs, MPG & CO2 emissions
The Nemo Multispace Refrigerated Van has low running costs and excels at efficiency, returning up to 67.3mpg with the EGS automatic transmission and 65.7mpg with the manual transmission. CO2 emissions of 112g/km result in annual road tax expenditures of £30, with parts, servicing, insurance, and tyres costing nearly the same as a conventional supermini.
Engine options for the Citroen Nemo
The Nemo was available with a 68hp 1.4-litre HDi 70 turbodiesel engine and a 73hp 1.4-litre (non-turbo) petrol engine when it was first released in 2008. The diesel engines were chosen by the majority of buyers, and it's easy to see why.
The diesel 1.4HDi boasts 160Nm of torque versus 118Nm for the petrol 1.4i, which is a significant difference in pulling power in a tiny van, making the HDi seem livelier and more responsive, even though the official 0-62mph acceleration time is slower. You won't be setting the road on fire, since both petrol and diesel require at least 16 seconds to complete the benchmark sprint.
The diesel also provides greater fuel economy, however, the petrol does not do terribly in compact vans (see the running costs section for more info).
Optional gearboxes for the Citroen Nemo
The Nemo comes standard with a five-speed manual gearbox; no six-speed manual gearbox has ever been offered. However, diesel vehicles with the Citroen SensoDrive transmission are available.
This is an electronically driven five-speed gearbox that is sometimes referred to as the EGS transmission (Fiat calls it Dualogic). It is not a traditional torque-convertor automatic.
This means there's no clutch pedal, and it'll shift gears for you – albeit slowly, cautiously, and not always smoothly. If you really must have a Nemo without a manual gear lever, avoid it.
What is the handling and ride quality like in the Citroen Nemo?
The compact size of the Citroen Nemo Refrigerated Van is one of its distinguishing characteristics when it comes to driving, not because it feels cramped, but because it gives this van exceptional nimbleness.
It can squeeze in and out of gaps, weave through traffic, and park in places that larger vans couldn't. Even when the Nemo is loaded up with goods, it retains this feeling of deftness thanks to light steering and handling that lets it zip around corners.
The driving position is upright and affords a good view of the Nemo's surroundings, with the seat and the steering wheel offering a good range of adjustability. A tight turning circle also aids in this and contributes to the Nemo's agility.
What equipment does the Citroen Nemo have?
The Nemo was available in three trim levels: X, LX, and Enterprise.
The model's availability and standard equipment changed throughout time, although the basic X model lacks sliding side doors, which is something to consider.
However, all versions of the Nemo came standard with a CD player, power steering, driver's airbag, anti-lock brakes and height-adjustable seatbelts. Later in the model's existence, the Extenso passenger seat was included as well.
LX variants added a passenger-side sliding side door (a second sliding door was optional), remote central locking and deadlocks, and luxury features including electric door mirrors and a height-adjustable driver's seat.
Only Enterprise comes standard with air conditioning (make sure it works), as well as rear parking sensors and Bluetooth.
The 'all-road' pack, which featured slightly higher suspension, wider wheels, and more body covering, is one option to keep an eye on. The Nemo is now more suited for use as a refrigerated van.
In 2015, the Grip Control option was offered, which enabled sophisticated traction control for slippery situations.
Are there any other cars that compare to the Citroen Nemo?
The Peugeot Bipper and Fiat Fiorino are two vehicles worth considering. The only real distinctions are in style and branding, though the Fiorino has always been powered by Fiat engines, so an early model should be more refined than the Citroen or Peugeot.
The Fiorino is the only one of the three that can still be purchased brand new. The Ford Transit Courier, on the other hand, is the only other suitable super-small van. These are also still available new and are less expensive than the most recent Fiesta Van.
Contact Glacier Vehicles today to get a refrigerated model of this Citroen Nemo Van
Glacier Vehicles has a range of Citroen Nemo Multi Space Refrigerated Vans for sale. At any given time, Glacier Vehicles has over forty new and used refrigerated vans in stock, all of which come with a guarantee to perform up to maximum standard from day one of purchase.
So no matter whether you are an established business looking to add to your fleet of refrigerated vehicles or just an individual starting their own business from scratch.
We can offer a refrigerated model of this Citroen Nemo Van, with a tailgate winch and a roof rack that can both be removed if required.
Call us today on 0208 668 7579