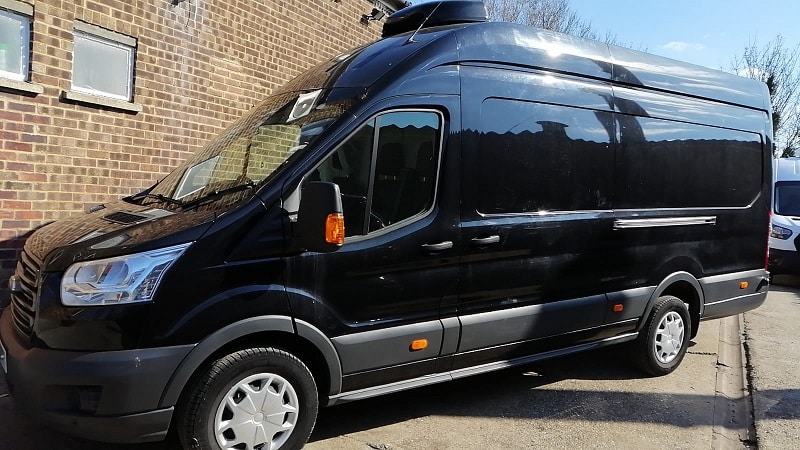 The Ford Transit Refrigerated Van is one of the most successful and iconic commercial vehicles in the world. Built to meet the tough demands of professionals who rely on their Ford Transit van to get their temperature-controlled logistics done, it's a vehicle that will stand up to any task – whether it means cold chain transportation of goods stored at different temperatures.
The sixth-generation Ford Transit van is the subject of this 2022 Ford Transit review. Ford has been selling the Transit in the UK since 2014, and it was extensively revised in 2019. The introduction of the 100% electric E-Transit is the big news for 2022.
Recent updates include a 10-speed automatic gearbox for rear-wheel drive Transits. This helps make heavy-duty models more enjoyable to drive while still delivering reasonable fuel economy. The Transit Trail trim level, which debuted in 2020 adds tough new looks and added capability for slick conditions.
Glacier Vehicles has added a refrigeration unit in this vehicle for ambient temperature transportation of temperature-sensitive goods. People in the medical supplies industry, pharmaceuticals industry, food industry or even beverage industry will find this van well adapted for their daily deliveries.
Furthermore, Ford's household name now has more payload capacity than ever before thanks to a new 5.0-tonne Transit model.
In addition, the FordPass Connect on-board modem is now standard on all Ford Transit variants. This works in conjunction with the FordPass Pro smartphone app to provide additional functions, such as greater security via a forthcoming Guard Mode.
Can I get a Ford Transit custom fitted with a temperature-controlled freezer compartment?
Ford Transit Custom models can be fitted with a temperature-controlled freezer or refrigeration compartment.
Keep your goods chilled to -12 degrees in this temperature-controlled van. Maintain your food supply at its optimum temperature with a Ford Transit fitted with a sizeable freezer compartment.
These refrigeration units are available on all Glacier Vehicles fleet vehicles. The unique feature will help prevent the premature deterioration of perishable products and is ideal for transporting food and chilled goods.
Ford Transit Van Refrigeration Systems
There are different refrigeration systems to choose from. Temperatures in the Ford Transit refrigerated van range from an average of 8°C for goods that should be maintained at an ambient temperature throughout the summer to arctic conditions of minus 30°C for extremely volatile materials that require extreme cold.
While most firms only require one loading compartment, many require twin (or even triple) loading compartments, allowing them to deliver two or three products at different temperatures at the same time.
Another consideration is whether the refrigeration system will be required to operate independently of the engine.
Other factors to consider include the size and weight of the load, the distance to be travelled, and any special handling requirements.
You'll need to use a backup power system if this becomes necessary. The auxiliary electrical supply will almost always come from outside, and it will be three-phase or single-phase. Even after the motor is turned off, the item remains chilly.
Our Refrigerated/Freezer Van Thermal Insulation Option
The type of thermal insulation employed, as with any refrigeration system, is determined by the loading temperature necessary. Glacier Vehicles only employs Styrofoam insulation because we believe it has the best combination of lightweight and thermal insulation capabilities for insulating a vehicle.
The degree of insulation is determined by the thickness of the Styrofoam. We utilise 50mm Styrofoam for cooled compartments, 75mm Styrofoam for frozen sections, and 100mm Styrofoam for deep freezer compartments with temperatures as low as minus 30°C.
A protective 'finish' will be applied after the insulation has been installed. There are two methods for doing this: wet-lay and dry-line. Wet-lay is the more traditional method, which Glacier Vehicles prefers because it has been demonstrated that after the 'wet' GRP resin is applied and dried, the loading area is completely sealed, washable, and hygienic.
Ford Transit body types, trim levels, and variants
Our Ford Transit temperature-controlled vehicles come in a variety of configurations, including a regular panel van, a Double-Cab-in-Van (DCiV) with the second row of seats, a chassis cab (including a lightweight skeletal chassis cab), and a minibus.
The Ford Transit panel van is the subject of this review, which has been available in two equipment trim levels from its launch: Base (now known as Leader) and Trend.
The Transit Limited, a higher-spec third trim level, was added to the lineup as part of the 2019 redesign, with the Trail following in 2020.
Three-body lengths (L2, L3, and L4), two wheelbases (SWB and LWB), and two roof heights are available for the panel van.
The refrigeration unit includes:
Evaporator
Condenser
Compressor
Fan
Temperature sensor
Controller
Defrost timer
Heating element
Door seal
Gasket
All these features are fitted to make cold chain transportation efficient.
Ford E-Transit electric van
The widely awaited electric Transit arrived in 2022. The Ford E-Transit has a 196-mile range, which is more than any other big electric van on the market at the time of its launch. Remarkably, this is feasible at a lower cost than the competition.
It is available in a version with a 269hp electric motor driving the rear wheels (there is also a detuned version that still comes with a strong 183hp.) With a payload of 1,616kg, this is an electric van that should be at the top of your temperature-controlled logistics vehicle fleets if you're considering going electric.
Gearbox options for Ford Transit Refrigerated Van
All Transits of this generation come standard with a six-speed manual gearbox with a responsive, dashboard-mounted gear lever.
With the introduction of the Euro 6 engines in 2016, a six-speed automatic transmission became offered as an option for front-wheel-drive versions for the first time.
Even while this isn't a cutting-edge design (it's been used in other Fords for over ten years). Useful for drivers who are frequently stuck in traffic, although not the most popular option on this model.
What is the 10-speed automatic gearbox like on the Ford Transit?
The new 10-speed automatic transmission, which was introduced as an option for rear-wheel-drive Transit in June 2020, is far superior to the old six-speed auto.
As the number of ratios suggests, this is a lot more modern design, and it's essentially the same as the 10-speed found in the Ranger pickup, albeit it's much smoother in operation in the van than it is in the truck.
It has many innovative features, including the capacity to alter its shifting logic in real-time based on the weight of the van, how it's being driven, and the weather. Even when tested on difficult rural and urban driving routes, we found it nearly hard to catch up.
Ford Transit Euro 6 MPG
There is no Econetic counterpart for the newer 2.0-litre Euro 6 engine range yet but claimed fuel economy in the pre-facelift range was as high as 42.2mpg, and these should be more efficient overall.
However, the 2.0-litre engines have a 21-litre AdBlue tank, which will need to be refilled every 5,000-6,000 miles, increasing your costs.
The revised 2.0-litre engines installed following the 2019 facelift promise a 7% increase in real-world fuel efficiency, even though the on-paper best fuel economy is lower at 40.9mpg.
Because the official testing technique has changed to a new WLTP procedure, even though Ford (and many other van manufacturers) are converting the data back to the former NEDC format, there is still a change that should make them more realistic – and thus lower on paper.
The new EcoBlue Hybrid vehicles with the updated engines are touted to enhance fuel economy by 3% in general driving and 8% in city driving.
Ford Transit's standard features
Following the 2019 redesign, the Ford Transit is available in three trim levels: Leader (also known as Base), Trend, and Limited. Ford also introduced the Trail variant in 2020 as a more hard-working alternative to the Limited.
Highlights of the Ford Transit Leader/Base standard features:
Easy-clean rubber flooring in cab
Bluetooth and USB connectivity
Ford Transit Sync infotainment with a 4.2-inch screen
Two 12v power sockets
Full steel bulkhead
Ford EasyFuel capless refuelling flap
Vehicle Maintenance Monitor
Selectable drive modes
Unpainted bumpers
Large, double-lensed door mirrors
Dual passenger seat with under-seat storage
Fold-out front passenger seat table
Glovebox with A4 file storage
Electric front windows
Electric parking brake
Remote central locking
Four-way adjustable driver's seat
Reach and rake adjustable steering wheel
Highlights of Ford Transit Trend standard equipment (in addition to Leader):
Front foglights
Cruise control with adjustable speed limiter
Ford Transit Sync 3 infotainment system with 8.0-inch touchscreen, Bluetooth and USB connectivity
The easy-clean load floor
Driver-assist
Lockable glovebox
Pre Collision Assist
Heated windscreen
Blind-spot monitoring
Automatic lights and wipers
Front and rear parking sensors
Automatic emergency braking
Electric mirrors with heating and power-folding
Highlights of Ford Transit Trail standard equipment (in addition to Trend):
Mechanical limited-slip differential for FWD models
Option of AWD (but no RWD)
Full-leather interior
Air-conditioning
Lane-keeping assist
FORD grille
Exterior body cladding
Black 16-inch alloy wheels
Highlights of Ford Transit Limited standard equipment (in addition to Trend):
Premium instrument panel
16-inch alloy wheels
Side Park Assist
Body-coloured front bumper (a first for the big Ford Transit; looks a little weird in some colours!)
Bi-xenon headlights with LED daytime running lights
Air-conditioning
Ford Transit safety
Driver's airbag, front passenger airbag, side airbag, and thorax airbag are all optional.
Curve Control, which is software that individually brakes particular wheels to help prevent the van from running wide if it enters a bend too soon, is standard on all Transits.
There's also Trailer Sway Control, which brakes individual wheels as needed to decrease the effect of a trailer that's started to sway.
Active Ford Transit safety measures are also available as options, including:
Tyre Pressure Monitoring
Static Cornering Lights (which shine in the direction you're about to turn – standard on Trend models)
Adaptive Cruise Control
Pedestrian Detection
Lane departure warning (which uses cameras to monitor the van's position and vibrates the steering wheel to warn the driver if they begin to drift out of lane unintentionally)
Which Ford Transit engine is the most efficient?
Both the original 2.2-litre and the later 2.0-litre engines provide a pleasant driving experience; however, the 2.0-litre motors are more refined and provide more low-down torque, despite some reliability difficulties. This makes them more enjoyable to drive for your next cold chain transportation.
The additional torque is particularly important because it means that even the entry-level 105hp 2.0-litre engine has enough strength (360Nm) to move a loaded Transit. In these scenarios, the older 100hp 2.2-litre engine is far less capable.
The more powerful engines (125hp and 155hp in 2.2-litre Transits, 130hp, 170hp, and now 185hp in later 2.0-litre Transits) are still helpful improvements, especially if you use it to deliver frozen or chilled goods at highway speeds frequently.
Similarly, if traffic is expected to be a constant companion on your daily commutes, an automatic transmission is worth considering — it's not only easier to drive, but it should also prevent premature clutch and tyre replacement caused by clumsy driving. If we had to choose, we'd go for the 10-speed automatic transmission, which is only available with rear-wheel drive.
What is the best Ford Transit trim level?
Most buyers looking for a reliable temperature-controlled delivery van usually opt for the Transit's entry-level Base specification, which comes well equipped as standard and offers good value for money.
If you're willing to pay a little more for the higher-grade Trend, you'll receive a lot more features, such as front and rear parking sensors, a heated windscreen, automatic lighting and wipers, cruise control, and a superior multimedia system, all of which are handy in a huge van. The load area has also been reduced to half-height. As a result, Trend has a high value.
Ford added a higher-spec Limited variant with the 2019 facelift, and then the rugged Trail model in 2020, in response to the demand for better-equipped vans. Both have air conditioning as a basic feature.
Contact Glacier Vehicles today for your temperature-controlled refrigeration vans
If you are looking for temperature-controlled vans, then give us a call. We can help you with the best deals on your new or used refrigeration vans.
Climate control vans from Glacier Vehicles are available with a wide range of temperature settings. We offer fully customized temperature controlled refrigeration vehicles, from single compartments to multi-compartment vans. To learn more about our temperature-controlled van sales, contact us today on 0208 668 7579.