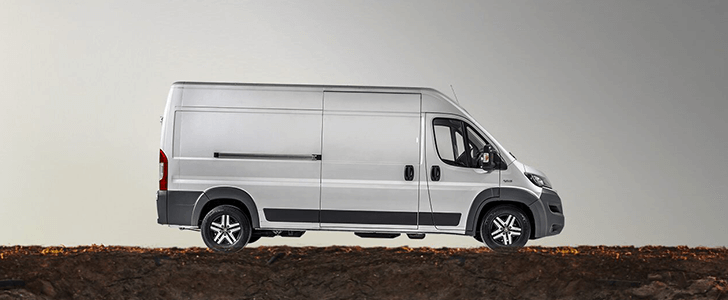 The Fiat Ducato is one of the most high-tech and economical panel vans on the market. The Ducato essentially runs itself, with a variety of features guaranteed to give you peace of mind and allow you to focus on the refrigeration aspects of your transport business. The Fiat Ducato brand has a credible history of reliability and is becoming increasingly popular in the UK and European markets.
Fiat Ducato 2018 Freezer Van: Engine
The Fiat Ducato van uses MultiJet engines with different specifications, depending on the model you opt for. All engines run on diesel, with the exception of the 140 Natural Power MultiJet engine, which is a petrol/methane hybrid. All engines operate with four cylinders in line, as well as electronically-controlled direst injection, intercooler and variable geometry turbocharger. The two-litre diesel engine provides an output of 115hp, while the 2.3-litre diesel engine can provide three power outputs at 130hp, 150hp and 177hp. Meanwhile, the three-litre hybrid engine provides a power output of 140hp. Fuel efficiency is high, with models that function at up to 47.9miles per gallon and produce emissions as low as 157g per kilometre.
Six speed gearboxes are fitted on all manual versions of this van. Notably, the Fiat Ducato brand allows you to choose the specifications that fit your refrigerated transport needs.
Fiat Ducato 2018 Freezer Van: Body Specifications and Load Compartment
The external length of the Fiat Ducato ranges from 5 to 64 metres, with an external height range of 2.3 to 2.8m. The load compartment has a maximum length of 2.7 to 4m, and a height of 1.7 to 2.2m. It can carry a weight of 2800 to 4300kg, with a load volume of 8 to 17m3. The width of the rear door is a little over 1.5m. Different body types allow you to choose a van based on the type of products you deliver for your refrigeration business; this ensures you can fit any type of insulation in the load compartment, without compromising on space or weight.
Fiat Ducato 2018 Freezer Van: Cabin Interior
The Ducato is very user-friendly, with a comfortable cabin and plenty of storage space. The gearbox is well-positioned and the seats are comfortable.  A clipboard mounted on the dashboard can serve as a holder for your phone or tablet. A touchscreen infotainment system is also integrated into the dashboard. There are many cubbyholes, deep door pockets, a large glove compartment, and under-seat storage. The steering is well-weighted, while the windshield provides good visibility. The door mirrors are large, with wide-angle lower mirrors that can be individually adjusted. Overall, the cab interior provides a comfortable driving experience.
Fiat Ducato 2018 Freezer Van: Security and Durability
The Ducato comes with a well-secured steel bulkhead between the cab and load compartment, a lock-fitted glove box, as well as standard-fit deadlocks. An alarm system can be installed if you're willing to pay extra. Also introduced to improve the van's durability are: upgraded door hinges, additional body reinforcements, upgraded brakes, adjusted front suspension and an entirely new clutch system.
Fiat Ducato 2018 Freezer Van: Safety
The Fiat Ducato is equipped with a wide variety of safety features, all designed to keep you and your products safe. The ESC monitors speed, grip, acceleration and steering wheel data, using this information to regulate torque and the braking system. ESC automatically takes over in emergency situations. Load Adaptive Control (LAC) calculates the weight of the van and centre of gravity, feeding the data into the ESC and subsequently making adjustments for greater efficiency. The Traction+ improves grip and uses data from the LAC to transfer torque to the wheel with the best grip, preventing slip and improving the handling and stability of the van.
Other safety features include Roll-Over Mitigation, tyre pressure mounting system, hill descent control, hill holder, high beam recognition, variable speed limiter, land departure warning system, as well as rain and dusk sensors.