Get Our Unique Glacier Refrigeration Vehicles for Your Pet Food
A healthy meal means a healthy pet. Whether wet or dry kibble, canned or raw meat, you know it needs to be delivered to you at the right temperature to avoid spoilage. That's why at Glacier Vehicles, we deliver a fleet of refrigerated vehicles to ensure just this. We have served the UK refrigeration market for over a decade, providing individual refrigerated vehicles and commercial ones in various sizes.
Our happy customers trust us to design and manufacture their fridge van sets to perfectly suit their daily business. Here are some of the reasons we are the leader in the pet food refrigeration sector.
Our Refrigerated Van Set
Getting the right refrigerated van for your business is crucial, and this is why we take the time to explain to our customers what they need to know about our refrigerated van set. We have two types of vans for this purpose: Fridge vans Fridge vans and freezer vans.
Fridge vans, also known as chiller vans, come with a light layer of insulation. The insulation is usually between 0C to 8C, so they are able to keep the fridge environment just at a cool temperature. Wet and dry kibble, as well as some canned and semi-moist pet food is suitable for delivery in these types of Fridge vans.
Our freezer vans have a different type of insulation. The layers are thicker and can keep the interior temperature of the van down to as low as -18C. The insulation cables are filled with a type of gas to allow the temperature to remain so low. So, our freezer vans are ideal for transporting some kinds of canned meat, fish, poultry and raw meat for your pet food business.
Talk To A Cooling Transport Engineer Today
Refrigerated Vehicle Conversions
At Glacier Vehicles, we understand that the competition in the refrigeration industry is high, and this is why we created our innovative fridge van conversions. These are vans with bespoke,
temperature control
systems to offer you the best quality for your pet food. The interior is fitted with alightweight and durable GRP sheet that is reinforced at surface level. The insulation comes with extra attention paid to the finer details, like using extruded polystyrene boards so that we have more efficient control of heat penetration.
The design of our conversion vehicles allows us to convert the panel to fridge or freezer depending on the type of pet food you want delivered. Our manufacturing facilities are state-of-the-art, with expert engineers working to find solutions to your daily pet food business needs.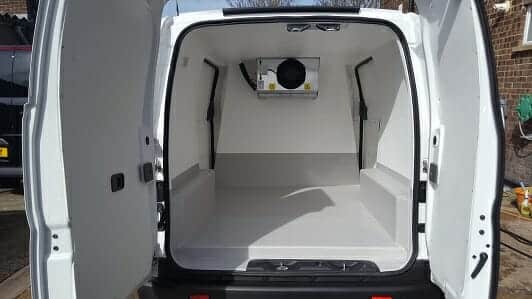 Add-On Features For Our Vans
The economy drive system on vehicles in the UK means vehicles need to be more fuel efficient to help protect the environment. When this was introduced, we knew it was a serious challenge we would need to tackle head on. The effect on the refrigeration industry meant that panel vans would have to kill their engines every now and again, especially when stopping at traffic lights. And we understand the threat this has on raw meat and fish, which require a consistent temperature to remain fresh.
Although there are now Euro 6 engines available in the car market in the UK, we are not relenting in our search for an engineering add-on feature on all our vehicles. With "Start/Stop" technology fitted on all our vans, our compliance to the Euro 6 emission standards will be undeniable. This is just one of the innovative strategies we have employed to ensure you get fresh and healthy pet food delivered to you all the time.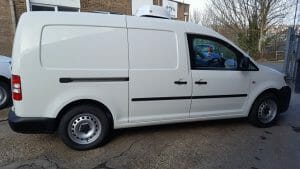 Specialists In Quality Control
Your dogs and cats deserve nutritious meals, which is why we pay maximum attention in the design and manufacturing of all our refrigeration vans. We are a fully accredited refrigeration vehicle specialist in the UK with the ISO 9001 certification to show for it.
Our vans are hygienically floored and fitted with drain holes to eliminate food contamination. They also feature racks for storing pet food and rails for hanging meat. They are also fitted with high quality PVC strip curtains to regulate the interior temperature during multiple deliveries. PVC curtains help to prevent heat from altering the interior of the van as well as preventing pests from getting into the van.
Lead Time
Glacier Vehicles are unique since we have our own engineers, who are always available to ensure that design, manufacturing and installation are done in the shortest time possible. This gives us a better lead time to help you start your refrigeration business whenever you want to. We will always stay in the loop with you during each stage of the building process so you don't have to worry about missing the big day to start out.
If you order a bespoke design, our engineers will ensure they use the specified equipment and installation kit. And we will always keep you in the know.
Temperature Monitoring Systems
Apart from being able to offer the best lead time in the refrigeration business in the UK, we have taken our innovation up a notch with the introduction of temperature monitoring systems. This bit of tech is installed on our vans, so drivers can monitor everything in real time and show proof of the temperature range at any point of their delivery journey. What does this mean for your business?
Perhaps, you want to be sure that your dog food was maintained at the right temperature before it got to your house or office? So, you can request that the driver give you a print-out of the temperature range. In addition to monitoring, the system allows us to have clear insights on the temperature difference that is required for different kinds of refrigerated food. And with this knowledge, we are able to personalise our refrigeration vehicles with fixed or moving bulkheads for efficiency.
We are proud to be the leading refrigeration vehicle manufacturing company in the UK for all kinds of pet food. Thanks to our innovative ways, expert pool of engineers, excellent customer service and the manufacturing of various different kinds of vans. So, if you are in need of a professional refrigeration van manufacturing company in the UK, you can count on us.
Contact Us Today For A No-Obligation Consultation