Refrigerated Vans for Flowers from Glacier Vehicles
Temperature is very important, as it affects flowers' value, so it is vital to keep flowers in low temperatures during transportation. Exposing flowers to high temperatures and re-cooling them after is not the best option for them.When re-cooling the flowers in destination, flowers have already been exposed to very high temperatures, free moisture / high ethylene levels and for a long transit time. In this time, botrytis has been allowed to develop and there is no way back. It is important to keep flowers in the right temperature at all times. This enables the flowers to remain cooler during transportation and have a higher quality when they arrive at their destination. The process reduces the undesired exposure, which not only reduces losses, but also enables the flowers to reach their destination in the required quality.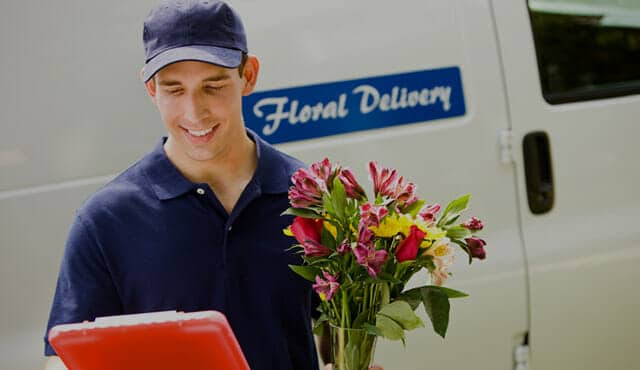 Some florists use their vehicle's own AC to attempt to keep their flowers fresh during transportation. While this may prevent the flowers from wilting, the quality will surely have reduced. Your vehicle's engine needs to be running constantly if you want to keep the AC running, but what happens when you have to make multiple stops, especially when on particularly long journeys?
To take your business to the next level, you have to invest in insulated refrigerated bodies. Having a refrigerated truck is definitely the way to go. Here are three reasons you should invest in a refrigerated flower-delivery vehicle to keep your flowers fresh and beautiful when on the go.
The Perfect Temperature
The perfect temperature range for flowers is between 33 and 35 degrees Fahrenheit. This temperature will do more than just prevent your flowers from wilting; it will prevent their fruits from releasing ethylene gas and give them a longer lifespan when they arrive at their destination. Your car air conditioning unit is not adequate for this, but a refrigerated van is. Transporting flowers in refrigerated vans will keep them in the best condition when they reach their destination. A bouquet of wilted flowers will impress no one.
Delivering Customer Satisfaction
Customers satisfaction is incredibly important for your business. Your customers expect to always get beautiful, high-quality flowers from you. With each delivery, you aim to satisfy them even more. Wilting flowers or flowers that are almost dead on arrival will not cut it. You need a refrigerated delivery van to adequately satisfy your customer.
Unique Advertisement
As effective as the refrigerated van is for its purpose, it does even more than that. It serves as a marketing and advertising tool. A unique-looking vehicle will make a significant difference to your enquiry levels. It will create a strong identity for your brand. The design and body shape of your van provides a unique form of advertising.
Factors To Consider When Choosing The Right Delivery Vehicle
Efficiency
There are specific flower delivery needs that are particular to your business. That is the beauty of our refrigerated delivery vans: they are customized to your needs. The right van goes a long way in you delivering your goods effectively and efficiently. Consider the kind of service you provide and the areas that you service and get a van that suits those needs.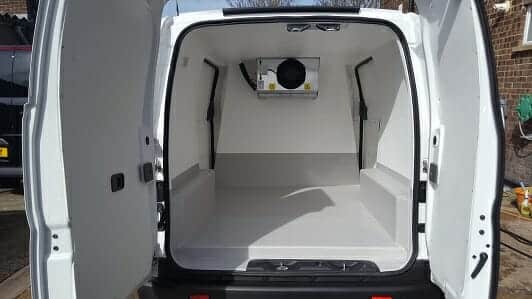 Graphics
As mentioned above, your van does more than just transport your flowers, it advertises for you. It is a marketing tool that can create a lasting impression on the people who see it. You can have your logo, website, slogan and contact information displayed uniquely on it, so you can be sure to keep advertising your floral business while making deliveries.
Refrigeration
There are different kinds of refrigeration systems for different purposes and businesses. You will have to state clearly what your preferred temperature range is and your van will be modelled accordingly.
Space
What are your space requirements? Do you supply in bulk? Your space needs will also determine the kind of refrigerated vehicle you want. Do not just go for any van with interior shelving.
Top Delivery Vans For Florists
Thinking of which van is perfect for your business? Take a look at four of the best vans we have for you below.
Mercedes Benz Citan 109 LWB
This is one of the best small refrigerated vans, and is perfect for florists. The Mercedes Benz Citan 109 LWB is the smallest cooled vehicle by Mercedes. It is a versatile van that is suitable for urban deliveries and short distances. It has three versions, with the smallest van having a capacity of 2.3 cubic metres while the largest version can easily carry up to 3.8 cubic metres.
The cargo bay distinguishes it from other vans. The Citan engine comes with several innovations that help minimizes fuel consumption. It achieves a fuel efficiency of 65.7mpg which can amazingly be improved further and further by adding the Mercedes BlueEFFICIENCY package.
Ford Transit Connect
This vehicle which was based on Ford's original Transit gets huge approval in the automobile industry. The strongest qualities of the Transit have been successfully packaged into a smaller vehicle. It has two variants you can choose from – 2.9 cubic metres of space and 3.6 cubic metres of payload and can conveniently cater to your bulk floral delivery needs.
Vauxhall Corsavan
This is the van version of the Corsa supermini. The Vauxhall Corsavan perfectly mixes a range of high-tech features with speed. When you get great fuel economy, stylish looks, and an almost car-like driving experience with its compact dimensions, you are sure to excel in delivering your flower supplies.
Volkswagen Crafter
This is a refrigerated van designed to conveniently move large quantities of flowers. The Volkswagen Crafter gives you a variety of wheelbases and roof heights from which you can choose based on your floral delivery needs and preference. It offers other attractive features, such as a steering wheel with reach and rake adjustments, power steering, heat reflective glass, etc.
Now that you have this handy list of the top flower delivery vans, what are you waiting for? It is time to drive your floral business forward with a good refrigerated van!
Take your business to the next level – invest in refrigerated transport today and stand out from the competition. Contact Glacier vehicles today and let us help you do it.
Contact Us Today For A No-Obligation Consultation