Glacier Refrigerated Vehicles: Courier and Transport Market
Are you looking for a reliable fridge van to deliver your goods while keeping them in the perfect condition? Are you trying to find a more modern fridge van as a replacement for the one you currently use? Don't worry, because we at Glacier Vehicles have you covered. We understand the importance of keeping track of the temperature in the van and having proofof this temperature available at any point in time, and that is why we go the extra mile to ensure your specific needs are always met.
The transport and courier market is fast growing and the latest advancements in technology have made it possible for us to be able to incorporate temperature-monitoring systems in the fridge van conversions we use. This enables our fridge van drivers to easily access the temperature range and keep track of real time coolness. Our drivers are also capable of making printouts of the journey, available anytime as needed. Our technicians install the system to make it easier for the driver to see what's going on with the goods as well.
Described by critics as one of the most reliable fridge van courier and transport service providers in Europe, we have delivered multi-temperature refrigerated vans to companies and individuals to enable them to grow their business and be more effective. We do not only deliver these vans to buyers, but we also help install systems that can enable them to track their vans during any delivery. Whether they wish to know how many times the door was opened during delivery, how long it was kept open, or whether there was a temperature drop, our state of the art vans and equipment makeall of these details available at point of delivery.
Furthermore, we have the right tools and equipment to help customize every temperature conversion to suit your request. In the courier service sector, we know that different goods require different temperatures to be properly preserved. Therefore, we have bulkheads that can be fixed to the fridge vans and the ideal refrigeration units are fitted as well. This provides dual or triple temperature throughout the delivery cycle – ensuring all your goods remain in their best condition. Whether you are transporting food, drinks, pharmaceuticals or even flowers, we can help you get it to your customers' doorstep without breaking a sweat with our refrigerated vehicles.
Customer-Focused Service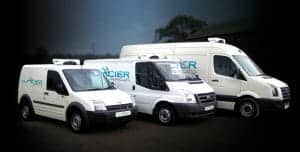 Over the years, customers have sought a
refrigerated van
courier and transport service that does not only care about delivering their goods, but making sure that they also get a monitored delivery cycle where they can have a record of how their goods fared before they arrived. Glacier Vehicles offer you a customer-focused service wherever you are in the UK. We understand the nature of the industry and that emergencies can occur at any time, hence our having a nationwide team of specialists ready to get to you within the shortest possible time to fix you vehicle should any problem arise.
Part of being customer focused involves keeping an open line of communication. We put the requests of our customers at heart as we deliver a professional and friendly service. So, we are always ready to hear from you and to update you on your vehicle order, or any other service, anytime you call us. We also have customer support specialists who work round the clock to ensure your needs are met. If you have any questions, enquiries or suggestions to make, we are always here to listen!
Overcoming Refrigeration Challenges
Every industry comes with its challenges, that is why Glacier Vehicles have an expert team whose responsibility it is to train and guide drivers of temperature-controlled vehicles on how best to operate the facilities in the vehicles. We know that goods need to be transported at specific temperatures and some of these are extremely delicate and should be handled with care. So, we make sure we provide all the information needed to help drivers keep track of temperature range and conversion while also ensuring timely delivery.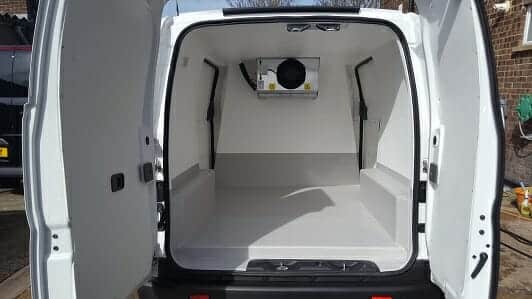 Instead of leaving the condition of your goods to fate, we also make use of the latest technology to deliver goods – even if they are multi-temperature consignments. We also follow the guidelines of the Medicines and Healthcare Products Regulatory Agency (MHRA) in the UK. We comply with the rules and regulations of the EU Good Distribution Practice, the standards of the Goods Distribution Practice (GDP), Standard Operating Procedures (SOP) and every other regulatory authority to guarantee global-standard service to all our clients.
Prompt Delivery
The use of bespoke tools and equipment has not only been used by us to help you keep your haulage at their ideal temperatures, but also to ensure timely delivery of all consignments – no matter how small or bulky. Our vans have overnight standby facilities to keep your goods safe and intact,for If we need to travel all night to get to your destination. They are calibrated to high standards, and go through temperature mapping which keeps your consignment in perfect condition all through the delivery cycle.
Keep in mind that refrigeration does not necessarily mean we just keep goods cold. Do you want your pharmaceutical products to travelat -20 degrees Celsius? Are you looking at keeping other goods at +18 degrees Celsius? We at Glacier Vehicles can still help you! Temperature loggers are fitted into the vans to provide you with print outs of temperature records when we get to your location.
Choose Glacier Vans
Transporting goods doesn't mean breaking any rules or going below standard. We know the requirements that come with carrying perishable items in the UK, the effects of spillage on the environment, and other such issues. Therefore, we carry out routine cleaning and maintenance of sold refrigerated vehicles and also service the units for better and more effective service delivery. We also make sure that our vans are made in line with ATP specifications.
What are you waiting for? Contact us right now, and let us help you get your goods to their destination in real time!